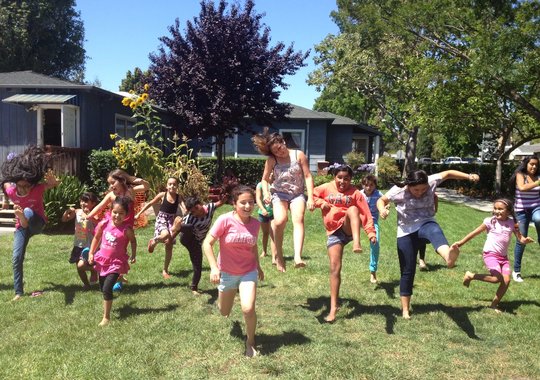 Our 2013 Summer Session was lively, varied, and, in short, action-packed! Thirty-two girls, 20 volunteers and interns, and 3 staff members joined together to create a rich variety of hands-on activities and workshops. 91% of the girls are Latina, 3% are African-American and 6% are Asian-Indian.
This year's summer theme was 'Self-Development.' Through it, the girls reflected-upon and explored their self-awareness, personal potential, and identity.
In the first week, girls participated in community-building exercises. Our aim was to establish an atmosphere of trust in which girls could navigate the influences that affect self-development.There's a lot of pressure on girls regarding 'beauty' and physical appearance, and such pressures can make it difficult for girls to find their own authentic values. To address this, the girls analyzed their own definitions of 'beauty' and where these ideas come from in society. They reflected on their discoveries through group discussions, journal entries, and a variety of artistic creations, from collages to poetry. The girls also defined the expectations they have for themselves and others. One popular exercise involved creation of 'Goal Boards,' where each girl wrote-up her own goals and added them to a community display, meant to illustrate how bettering ourselves involves supporting others.
Field Trips Every Monday and Wednesday morning, the girls took swimming lessons at the local YMCA. They also went on field trips to three different locations this summer: The Chabot Space and Science Center, the Monterey Aquarium, and the San Francisco Exploratorium.
Workshops Lead by Women Professionals Seventeen professional women lead a variety of activities introducing their careers and vocations. Through these high-achieving mentors, our young participants caught a glimpse of many different career options and, more importantly, saw that women are leaders within them. Workshops covered anything from poetry, to renewable energy, journalism, and engineering.
Family Night During our festive family night, each group of girls presented their various artistic, poetic, and other creations with their age-graded summer group. The youngest 'American Girls,' in grades K – 2, sang a short song they wrote. The 'Eaglettes,' girls in grades 3rd – 5th, took turns reading their goals from their 'Goal Board' outlining their aspirations. The 'Cheetah Girls,' girls in grades 6th – 8th, read their 'Just Because' poems – poems on debunking stereotypes imposed on them. It was most rewarding to witness the pride with which parents saw their daughters take the stage. Our Family Nights let girls see how much their community believes in them – and we don't think that there's a better way to bolster girls' self-confidence.
Our goal was for our participants to leave the summer program with a better understanding of themselves, and with useful tools for self-discovery. Judging by the responses which we saw in the girls over the course of Summer Session 2013, we believe that, with the help of our parents, volunteers, and interns, we succeeded in that aim.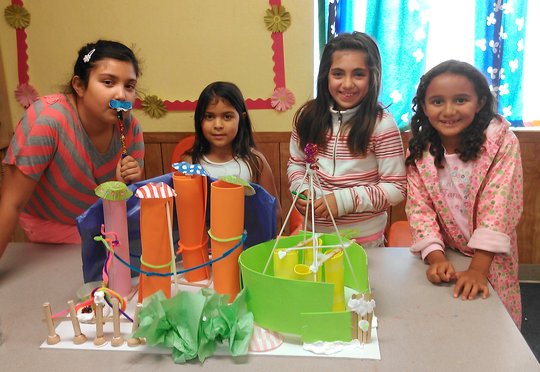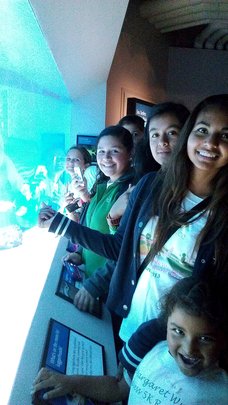 Links: