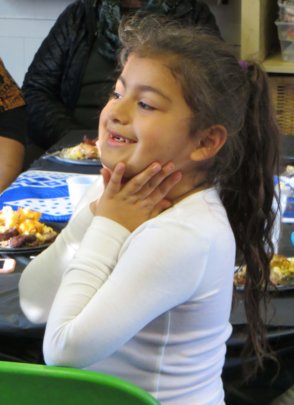 A few sunny days are gracing our facility, allowing us to dry out a bit here on the San Francisco Peninsula after one of the rainiest two months anyone can remember. There's been talk of sowing rice in the marsh which had been the back lawn.
Along with the lengthening days have come a warming-up of activities here at 'g2W' after the flurry of activities ending the Fall Semester and subsequent vacation-time during Holiday Break.
When our girls returned in early January, we got right down to business with a re-focus on basic academics & reestablishing study-habits. Our literacy & reading volunteer Maureen facilitated love-of-reading activities to keep our girls advancing their English Language Arts skills (given that nearly a third of our girls are English Learners now). All girls continued to benefit from the provided by Ruth, our Math Expert In-Residence. Ruth's been with us for going on 2 years now, and the girls, our tutoring volunteers, and staff have all benefited from her skillful tutoring and volunteer tutor-training.
Just one example is 'Begonia,' one of our late-elementary Latina girls, who was unskillfully told to her face by her formal classroom teacher last semester that she just 'didn't get it' about math at her level, and was discouraged from applying to academic-track middle school. But after her parents, hearing the story from their daughter, contacted us (understandably annoyed, we might add), we teamed up with Ruth, staff, and parents to help Begonia bring her math comprehension and grades up. Begonia has already improved her math scores significantly, and aims to apply to those academic middle-schools very soon. We think that she'll be accepted.
Along with academics, we offered, as we always do, broad-spectrum programming in the arts; multiculturalism; health & fitness; empowerment & leadership development; and fun for fun's sake.
With February being Black History Month, we organized a month of programming meant to broaden understanding of 'cultural minorities' at a time when national events are bringing a new focus to questions of race, ethnicity, and culture.
For example, we split girls into groups to discuss different topics about Blackness (and, by extension, being Of-Color generally). Our younger girls (ages 6-9) watched Disney's Princess and The Frog (the protagonist, 'Tiana,' is the first Black cartoon princess). After watching the movie, they examined how her storyline is different than those of other, non-Black, 'princesses' or depictions of young woman-ness in popular culture.
Our middle and older girls (ages 10-13) read a story from Fannie Moore, a Black woman, who was born a slave. For this activity, middle- and older girls were asked to read and then address a set of discussion questions. In addition to that, we asked them to create a secret coded letter such as those composed by escaped slaves on the Underground Railroad. These exercises allowed our girls to analyze and feel viscerally how much sacrifice and love went into winning one's freedom, keeping a Black family together, and sheer survival at that time . .
On a somewhat lighter note, other February activities included extensive computer lab time to help our girls get over the 'digital divide' that can leave low-income kids with less information technology familiarity and skills even here on the northern edge of the Silicon Valley. Our staff also facilitated arts activities, where the girls created a variety of Valentine's Day items to share (our girls being mostly so young) with friends and family. As winter storms kept outdoor activities somewhat curtailed, we also took the opportunity to emphasize cooking for good nutrition as a key pillar of lifelong health. Our in-house culinary instructor Karen taught a series of recipes which include vegetables that the girls can grow here or at home -- or example, the girls had the satisfaction of making salads with the winter vegetables which they'd grown here at g2W. Gardening teacher Terry also imparted information on correct cultivation, which the girls hope to put into practice when things dry out enough for them to get out and do some gardening!
On the subject of health, we're planning our 6th Annual Margaret Wright 5K Wellness Run/Walk for the end of March. The event has grown into a community institution which motivates a population at-risk for chronic health outcomes to focus on fun, fitness, health, and the outdoors. Now if only the rain will hold off on March 25th . . .
And of course our academic support activities continue. Planning on that score is going into our forthcoming Summer Session 2017 (our 11th consecutive) already. With sufficient funding, we hope to bring local academic support nonprofit group ALearn on board for a math intensive segment that will boost math comprehension and future academic options for our relatively large proportion of middle-school girls.
That just about brings us up to the present. Let us express our thanks to all of you -- donors, volunteers, parents, staff, and community partners -- who make 'g2W's' programming possible. It's a community thing that wouldn't exist without all that you do to 'support our girls as they design their futures for successful womanhood.'
Links: