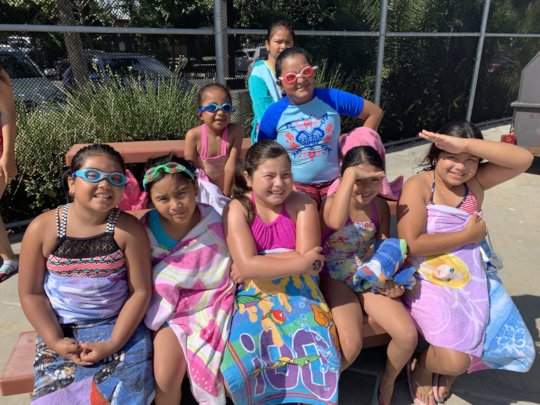 Greetings to all of our donors, volunteers and other supporters.
At the end of July we wrapped-up our 11th consecutive Summer Session program. With 'g2W' still in the market for a permanent new program-capable facility, we sited Summer Session 2019 at the local Seventh Day Adventist Church on Beech Street, not far from our former home (where we still retain our administrative office and modest activity space.
This year's program ran 5 weeks, Monday thru Friday, between June 24, 2019 and July 26. Twenty-nine girls ages 7-14 from Latinx, African-American, Asian, and Pacific Islander cultural groups participated.
But before our summer program began, all the activity leaders had a one week training the week prior which took place in our Girls to Women office. During that week we finalized and ran through the entire 5-weeks' curriculum elements
Two of our activity leaders were college graduates who demonstrated excellent abilities with program delivery and group dynamics management throughout the summer. Our third leader was a recent high school graduate gaining experience before she headed out to begin her post-secondary education at UC Davis. We valued being able to share and exchange knowledge with this trio of great young leaders!
Each program day began with 'Circle Time' where all staff and participants convened to discuss each day's plan. After circle time was the morning's scheduled activity. After a lunch emphasizing good nutrition and presentations from the cultural traditions of our participating girls, there were unstructured, elective activities, emphasizing quieter such as arts, reading, or math games intended to minimize 'summer slump' learning loss between school years.
In particular, journaling and other topical writing during the summer, we find, keeps girls moving forward with English skills.That's important for any student, but even more so with our nearly 50% immigrant-background and English-Learner girls.
Recurring Summer Session 2019 activities included:
Nutrition and culinary arts learning & practice on Mondays;
Digital video and photography on Monday and Wednesday afternoons;
Swimming Tuesday and Thursday mornings;
Arts and dance activities on Tuesday and Thursday afternoons;
Hiking in regional open-space and natural areas like Skyline Open Space, Rancho San Antonio, and other parklands every Wednesday morning;
Stage acting and crafts on Fridays.
The older girls 11-14 extended the digital photography activity into photo-essay explorations of what in the local community supports, or detracts from, community environmental health -- a significant Mid-Peninsula issue. This awareness and self-expression building exercise was led by local journalist Kate Bradshaw, who published a related article in our local Almanac (see attached article). A showing of selected photos on this topic was subsequently held by our supportive friends at Menlo Park's Cafe Zoe .
Parental involvement at all levels, from hiking field trips chaperoning to nutritional support, added to the safety and smooth functioning of Summer Session 2019, thanks again, Parents!
Since the summer ended we have rolled into our School Year programming. While our popular new Family Hikes series is on-hold for the rainy season (and here's hoping that we get some very soon to abate recent extreme fire danger!), we're otherwise continuing with mindfulness practice; life-skills support for transition-age young adults; digital photography; our new Congolese dance series; and an ongoing monthly parenting support and skills-building meetings.
For example several of our girls attended the Facebook Family Hackathon event as well as a Streetcode Academy session . . . we engage our girls in these activities to address the lingering 'digital divide' which results when lower-income communities don't have adequate access to information technology exposure and learning.
In late September our Founder/Director Pat Foster received a Local Hero award from the Mid-Peninsula Media Center (see attached YouTube clip). Many of our families attended and dispensed enthusiastic support for her at the award event. Congrats to you for this well-deserved recognition Patricia!
More recently, we had a Day of the Dead ceremony for our primarily Latinx cohort of girls and their families at St. Francis of Assisi Church here in East Palo Alto. We received numerous 'Thank Yous' and, well, we could not be more proud. The gathering drew in a number of new-to-us families, who expressed gratitude and no small suprise that a girl-centered program like this exists in town. It makes us happy to realize that, little by little, we are making a difference in these girls' lives, and in those of their parents and families generally.
And it is the support of you donors, volunteers, and other supporters who make that possible. THANKS AS ALWAYs and Happy Harvest Season to you all!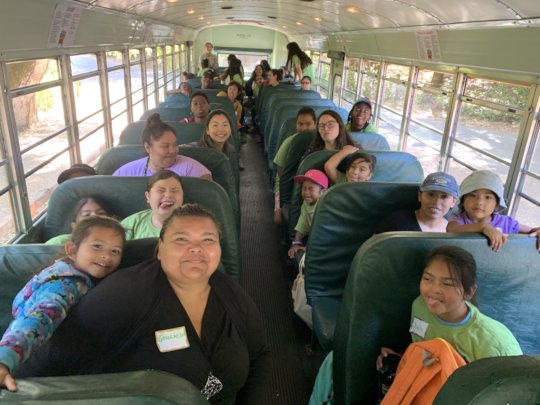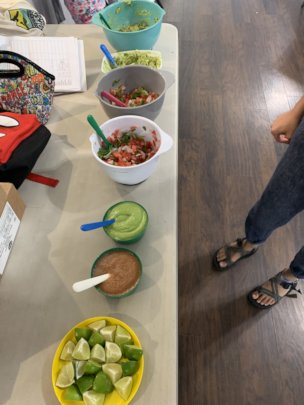 Links:
Attachments: