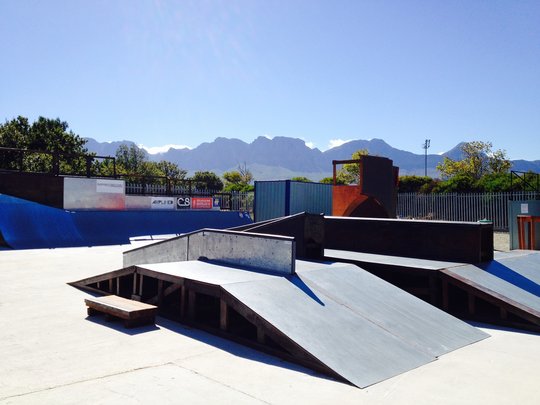 This report is written by GlobalGiving's In-the-Field Traveler, Chi Nguyen, who is traveling throughout the nine countries of Southern Africa to visit GlobalGiving's partner organizations.
On Tuesday, March 4th, 2014, I was able to visit Inspired2Become's multiple project sites with founder Chris van der Merwe. Chris and I2B have been successful in filling a gap within the surrounding communities of Stellenbosch and Cape Town by providing a space where children can be active and creative, a place where they can feel safe to express themselves through motion.
The government of South Africa has made the effort to build things such as skate parks and recreational sports areas for children to play in after school so that they may avoid the boredom that can often lead to substance abuse. However, the government can only do so much - the communities have found that after the recreational play areas have been built, the children still did not have access to skateboards, roller blades, or any other sports materials that are necessary complimentary components for a skate park to be of practical use. Unfortunately, this has often led to the parks having the exact opposite desired effect - lacking the materials needed to ensure the parks are used for their intended purpose, the parks have then often turned into meeting grounds for children to partake in substance abuse together. This is where Chris and I2B have stepped in to help - Chris locates and obtains skateboards, rollerblades, skim boards and more and makes them accessible to youth for recreational play and development. Each club has a dedicated hour scheduled for them every week: 45 minutes of recreational play, and 15 minutes of self-development and discussion during which they cover a new character development topic every week.
Not only has Chris found that they have been very successful thus far in their mission, he has found the demand to be growing. Children from surrounding communities on the outskirts of the towns that hold I2B centers walk long distances to and from the park every week to enjoy time with their friends and focus on improving their skills on the ramps. To help the youth avoid such long travel distances, Chris is currently in the process of locating funds, materials, and equipment to expand and build new centers so that more youth have access to the recreational play and competitions I2B holds as well as the self-development and character building programs I2B has to offer.
Inspired2Become
- updates
What we do every month to inspire the youth!
Alternative action sports by Chris
-The I2B Skim Camp in Fishoek
The campsite:


Christo flexing before the skim and Curtley preparing a braai broodjie:


Small waves but good fun:


Some worship and Bible reading before hitting the sack:



-The I2B Skate Daytrip
The first park we visited in Cape Town was Bridge Town public skatepark:


The second one was Valhalla public skatepark.



-Leveling the floor of the I2B skatepark- Thanks Stefanutti Stocks for supporting us further in this project.


More ramps :)



-The Huzhou Extreme Games in China- It was an honor that I got invited to this event last month. There were 8 competitors in the final and I got 8th place. Even though I didn't do that well I could still come home to tell the I2B clubs that life is not about always winning but about giving your best for the One who has given you the talent.


A 7 star hotel, we didn't stay here :) The food was still good where we stayed:


The skatepark for the contest:


I met these two awesome people on the plane. They both love the Lord and we prayed together after the flight.



Athletics for people with disabilities by Fanie
-In Memory of Clive Langenhoven- Clive Langenhoven grew up as a talented soccer player, playing for the Sparkling stars and Maties. After a head injury and severe migraines, Clive was diagnosed with a brain tumor. He had a brain operation that effected the one side of he's body and needed to learn how to walk and write again, but even with these adversities Clive always saw hope and made use of his second chances, and grabbed his opportunities, he started with athletics for people with disabilities and later on became a student at ETA (Sports College). Clive was always keen to help me and assisting and motivating the other athletes, he had a real interest in coaching and even coached his own soccer team in his community. A few months ago he heard the tumor was back, but he's request to the Lord was that God should please use His life! I believe God used his life as a testimony, being positive and having hope, always in these difficult circumstances. Clive passed away at the age of 24, thank You Jesus that we can Celebrate Clive's life, and that your plan and will for Clive's life is good, we ask that the impact of his life would leave a legacy of hope In Jesus Name, Amen!
In the photo below is Clive, myself and Candy, Clive's training partner which he use to call "Pit bull".



-Western Province trials- The season is up and running with a few local races to look forward to.



-Awards Evening- I was a guest at Steenberg High School's award's evening.



-Stellenbosch Rugby Academy- I shared my testimony at with the sportsmen at the event called week of hope.

Inspired2Become - updates

What we do every month to inspire the youth!
Alternative action sports by Chris
-Skimboarding day trips during July holidays


Most of the Gordon's Bay skimboarding club kids go to the after care in Temprence Town. Emanual from Gemany volunteered there and he introduced us to the after care and we decided to pay a visit during the school holiday.



-Encounter conference- I2B set up some ramps at the Hillsong Encounter Conference again this year.



-Hermanus skate park project- The project is in the planning phase. I2B will be assisting and we are looking at a potential club there.



-The I2B skate park's progress- It is in Somerset West at Radloff park. We need to buy another 30 galvanized sheets for phase one (covering the existing wooden ramps). It must be 2mm think and it is R650 a sheet. This is a community project and we are encouraging people to consider sponsoring one (or half) a sheet. Please see the banking details below if you need it. Thanks for your support!



Athletics for people with disabilities by Fanie
-World Champs Lyon 2013- The championships was interesting but a great experience with some disappointments, but definitely great highlights as well, the relay being one of them. My relay team won silver. I also won a silver in the 200m and placed 4th in the 100m and in the 400m (T37 class).


Well done to all for giving it your best and going out with faith in Christ. It is sad to say that Denswill Maans had a freak accident colliding into another team mate on the warm up track, leaving him with concussion and unable to compete. Thank You Lord that You were with us through the ups and downs and that we could learn from our experiences.


After the competition we had time to go and explore Lyon, great day out with the team.

JOIN THE I2B SUPPORT TEAM
You can make a donation in support of the following sport & life skills clubs: (Your donations help us to buy equipment, build facilities and cover running costs.)
Skate Clubs:
- I2B Somerset West
- I2B Strand
- I2B Cloetesville
- I2B Kleinvlei
- I2B Belhar
- I2B Bonteheuwel
Skimboarding Clubs:
- I2B Strand
- I2B Gordonsbay
Athletics for people with disabilities:
- Alta du Toit
- Pioneer school for the blind
- Individuals

Prayer requests:
-For I2B to impact the next generation.
-For financial, material, equipment and volunteer support.
-For the blessing of God on our support team and our projects.
Thank you for your support and interest!
Chris and Fanie van der Merwe


E: chris@inspired2become.org
C: 072 99 27 408
W: www.inspired2become.org
WARNING: Javascript is currently disabled or is not available in your browser. GlobalGiving makes extensive use of Javascript and will not function properly with Javascript disabled.
Please enable Javascript
and refresh this page.