I2B updates
What we've been doing to inspire the youth....

Alternative action sports by Chris
-The Christian Skaters/Surfers Conference- We did an I2B tour to JBay for the conference.


More info on the Christian Surfers and Skaters National Conference


We also made a one night stop over at The Yard skatepark in Knysna.


Dawnie skim session in Buffel's Bay.


-The I2B Skim-Chair Race- The aim was to have this event for young people in wheel-chairs but it was a challenge to get them to the beach. This was however just a test run and we hope to do a big skim-chair event for people with disabilities next summer.


We ended up just having the race between the I2B club members. The fastest team over the stretch of 100m won.


The two fastest teams below. Each guy won an I2B T-shirt.


Thanks to my friend Josh who built a skim-rail for some extra excitement on the day.


-The I2B Kogel Bay Skim Camp- We went to camp directly after the Skim-Chair Race.


Three kids got baptized at camp in the ocean, between the mountains, how awesome is that?!


-Thanks to Godfrey and Scott- from Shofar Somerset West. Godfrey (on the left) is the new supervisor at the I2B Somerset West Skatepark and Scott is a faithful volunteer. We are busy putting the bowl in. We are hoping to put a roof over the bowl at the end, in order to keep the rain out. Please let us know if you want to be involved with this project.



Athletics for people with disabilities by Fanie

-Outreach at National Championships- We had an amazing time at Nationals this year, sharing testimonies and having fellowship with athletes. It was great to see athletes respond to the Gospel of Jesus Christ. It was the first of hopefully many more, thanks to the SSC (Stellenbosch Sport Coalition), Niel Louw, SCAS and everyone else involved.


SSC and some volunteers


We are proud of our athletes


-Sharing my life story- I had the opportunity to share my story with Tannie Hanlie and her friends, which is a group of ladies that get together on a monthly basis, we had a delicious meal together at Tannie Hanlie's house after I shared my story with them.


-Grand Prix Series- We kicked off the series of competitions in Brazil, the following races are taking place in Europe. It is the first year that they are hosting this series.


-Sports Ministry Training- Some of the I2B members joined the training for the outreaches we will have during the soccer world cup.


-Presidential Awards- I was privileged to receive an award, the order of Ikhamanga for excellent achievement in Paralympic sports. I had the honor of going with my dad.


Thank you for your interest and support!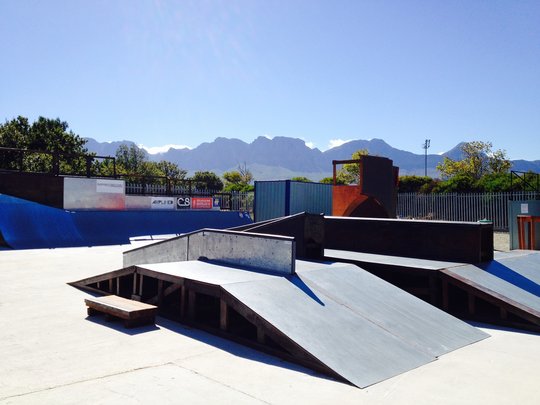 This report is written by GlobalGiving's In-the-Field Traveler, Chi Nguyen, who is traveling throughout the nine countries of Southern Africa to visit GlobalGiving's partner organizations.
On Tuesday, March 4th, 2014, I was able to visit Inspired2Become's multiple project sites with founder Chris van der Merwe. Chris and I2B have been successful in filling a gap within the surrounding communities of Stellenbosch and Cape Town by providing a space where children can be active and creative, a place where they can feel safe to express themselves through motion.
The government of South Africa has made the effort to build things such as skate parks and recreational sports areas for children to play in after school so that they may avoid the boredom that can often lead to substance abuse. However, the government can only do so much - the communities have found that after the recreational play areas have been built, the children still did not have access to skateboards, roller blades, or any other sports materials that are necessary complimentary components for a skate park to be of practical use. Unfortunately, this has often led to the parks having the exact opposite desired effect - lacking the materials needed to ensure the parks are used for their intended purpose, the parks have then often turned into meeting grounds for children to partake in substance abuse together. This is where Chris and I2B have stepped in to help - Chris locates and obtains skateboards, rollerblades, skim boards and more and makes them accessible to youth for recreational play and development. Each club has a dedicated hour scheduled for them every week: 45 minutes of recreational play, and 15 minutes of self-development and discussion during which they cover a new character development topic every week.
Not only has Chris found that they have been very successful thus far in their mission, he has found the demand to be growing. Children from surrounding communities on the outskirts of the towns that hold I2B centers walk long distances to and from the park every week to enjoy time with their friends and focus on improving their skills on the ramps. To help the youth avoid such long travel distances, Chris is currently in the process of locating funds, materials, and equipment to expand and build new centers so that more youth have access to the recreational play and competitions I2B holds as well as the self-development and character building programs I2B has to offer.
Inspired2Become
- updates
What we do every month to inspire the youth!
Alternative action sports by Chris
-The I2B Skim Camp in Fishoek
The campsite:


Christo flexing before the skim and Curtley preparing a braai broodjie:


Small waves but good fun:


Some worship and Bible reading before hitting the sack:



-The I2B Skate Daytrip
The first park we visited in Cape Town was Bridge Town public skatepark:


The second one was Valhalla public skatepark.



-Leveling the floor of the I2B skatepark- Thanks Stefanutti Stocks for supporting us further in this project.


More ramps :)



-The Huzhou Extreme Games in China- It was an honor that I got invited to this event last month. There were 8 competitors in the final and I got 8th place. Even though I didn't do that well I could still come home to tell the I2B clubs that life is not about always winning but about giving your best for the One who has given you the talent.


A 7 star hotel, we didn't stay here :) The food was still good where we stayed:


The skatepark for the contest:


I met these two awesome people on the plane. They both love the Lord and we prayed together after the flight.



Athletics for people with disabilities by Fanie
-In Memory of Clive Langenhoven- Clive Langenhoven grew up as a talented soccer player, playing for the Sparkling stars and Maties. After a head injury and severe migraines, Clive was diagnosed with a brain tumor. He had a brain operation that effected the one side of he's body and needed to learn how to walk and write again, but even with these adversities Clive always saw hope and made use of his second chances, and grabbed his opportunities, he started with athletics for people with disabilities and later on became a student at ETA (Sports College). Clive was always keen to help me and assisting and motivating the other athletes, he had a real interest in coaching and even coached his own soccer team in his community. A few months ago he heard the tumor was back, but he's request to the Lord was that God should please use His life! I believe God used his life as a testimony, being positive and having hope, always in these difficult circumstances. Clive passed away at the age of 24, thank You Jesus that we can Celebrate Clive's life, and that your plan and will for Clive's life is good, we ask that the impact of his life would leave a legacy of hope In Jesus Name, Amen!
In the photo below is Clive, myself and Candy, Clive's training partner which he use to call "Pit bull".



-Western Province trials- The season is up and running with a few local races to look forward to.



-Awards Evening- I was a guest at Steenberg High School's award's evening.



-Stellenbosch Rugby Academy- I shared my testimony at with the sportsmen at the event called week of hope.

WARNING: Javascript is currently disabled or is not available in your browser. GlobalGiving makes extensive use of Javascript and will not function properly with Javascript disabled.
Please enable Javascript
and refresh this page.