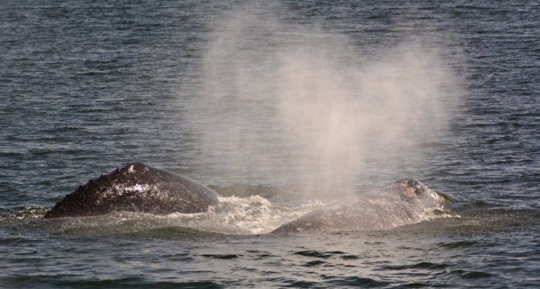 The inland Salish Sea has been exceptionally busy since our last update. The North Puget Sound Grays returned as they do late February/early March, 10 in total this year; an abundance of Bigg's/Transient mammal eating type orcas have been cruising inland waters in small and large groupings; Southern Resident Orcas have mostly been absent; good news and sad news on humpbacks and grays; we continued our educational talks and presentations for various communities, schools, and organizations; and we held our annual Welcome the Whales festival weekend where people from all over have a chance to participate in the parade and festival, educational events, and benefit cruise and this year the added beach clean up in partnership with Empty the Tanks' annual beach clean up. This all made for a full, meaningful, wonderfully connected weekend which offers a fun way to extend our education and awareness campaigns of the whales of the Salish Sea.
GRAYS
The last two days of February brought reports of grays in Port Susan, but it was not until March 2nd that we had a confirmed sighting of the first of the returning North Puget Sound gray whales; the most iconic and well known, #49, Patch. In the following days and weeks nine more (21, 22, 44, 53, 56, 356, 383, 531, & 723) joined #49 to feed in the areas they know so well around Possession Sound, Port Susan, and Saratoga Passage. Port Susan, south Camano, Oak Harbor and Hidden Beach/Baby Island seemed to be favored spots this year early on with the Hat/Gedney Island more in the latter part of their season.
Sadly, on the morning of April 23rd, near Hat/Gedney Island, one of the Sounder gray whales was struck by a small recreational boat. Captains, naturalists, and guests aboard several whale watch boats witnessed a cabin cruiser running over the back of one of three gray whales that were feeding together off Hat Island. No blood was observed. NOAA, WDFW, Cascadia Research Collective (CRC), local stranding networks, and our Whale Sighting Network volunteers were notified. The investigations of both the whale who was hit and the boater are ongoing but CRC has determined gray whale 22 (Earhardt) as the likely whale since she has new injuries consistent with the incident. "At this point it is hard to judge the depth or severity of the injury or the associated blunt force impact that occurred associated with this but the limited extent of the visible injury is encouraging for now." -John Calambokidis, CRC
BIGGS'S/TRANSIENTS
Large lovely groups of Bigg's are meeting up and meandering their way in search of marine mammals throughout the inland waters of the Salish Sea. A Spring profusion of Bigg's/Transient matrilines in the greater inland basin this past month brought orcas from great distances including the exciting discovery of a pod of unknowns who had never before been documented in the Salish Sea. First seen early April off Victoria with the T68Bs, they followed the T68s and probably T68Bs into Puget Sound, were part of a number of matrilines (T68s, T90s w/T2b, T10s, and T124s) in several locations April 21st, and have spent nearly a week roaming the southern most reaches since. Our Whale Sightings Network staff and volunteers were able to track these whales' movements and get good documentation. It is interesting to map out the travels of the many matrilines and individuals, as well as who they are associating with, through the various reports and photos submitted and gathered through the network. People along the shores watching the whales contribute to the collective gathering of data and do an excellent job of watching for harassment by watercraft. This is especially so in the south Sound as there are fewer public places with a lot of boats in tighter inlets where the orcas have little room to escape. We have increased our Share the Water campaign to help bring more awareness and educate all watercraft users of the federal regulations and Be Whale Wise guidelines while in the company of whales and all marine mammals
SOUTHERN RESIDENT ORCAS
J pod has been traveling split up into their matrilines across the Salish Sea and out west off the Pacific coast. An April 3rd encounter and photo showed the J19s off the northern Washington Coast. That same day the J16s were in Haro Strait, while the J17s and L87 were in Puget Sound. Some salmon was to be found in Haro Strait as J16, J42 and J50 pounced on a salmon, putting up a lovely chase…we hope in the end they have all been successful in finding enough salmon to sustain them. The J17s and L87 have been encountered in inland Puget Sound on several days early in April and again with the help of our Sighting Network do we know where most all of the Js were on April 3rd.
HUMPBACKS
The juvenile humpback who was overwintering in the Tacoma area stayed over until at least February 11th. Another juvenile joined the grays in Saratoga Passage, confirmed since April 1st and probably the whale in question for a few days before that. With regular sightings reported to us we were able to determine this whale stayed around until at least the 13th in Baby Island/Holmes Harbor area of Saratoga. Sadly, another very emaciated juvenile humpback whale our network was tracking made her way to South Puget Sound where she finally beached, deceased in a cove on Anderson Island.
Puget Sound (and all of the Salish Sea) are seeing a return of many whales that were once extirpated from the area during the whaling years; humpbacks, minke, fin; and due to high prey availability a significant rise in mammal eating Bigg's killer whales/Transients in the inland waters. This means sightings are happening year round and our Whale Sighting Network staff and volunteers are busier and needed more than ever. Sightings provided to Orca Network have enabled us and researchers to track and see these changes in occurrence of different species (i.e., CRC, Fred Sharpe, etc. using mainly Orca Network humpback data to show the increase in Salish Sea/Puget Sound humpbacks; as well as NOAA Fisheries and the Center for Whale Research using our Puget Sound Transient reports and winter Southern Resident Orca reports to show the increase in use by Transients, and decreased sightings of Southern Residents in Puget Sound).
This just helps to demonstrate that every sighting helps provide the bigger picture, and the data ends up being used in published scientific papers that show these changes over time. We could not do all of this without the support of YOU, to keep the Whale Sighitng Network going. Thank you for your support!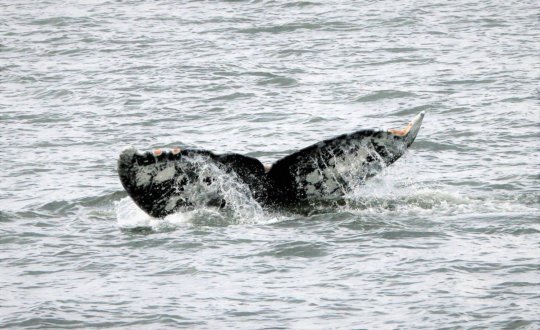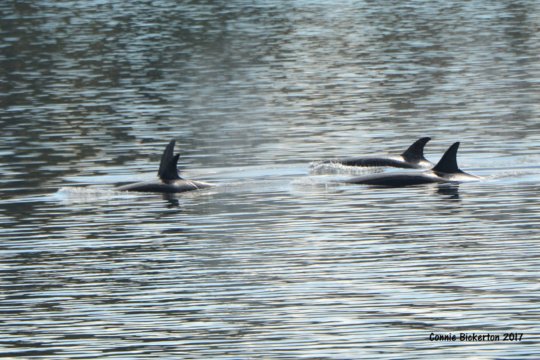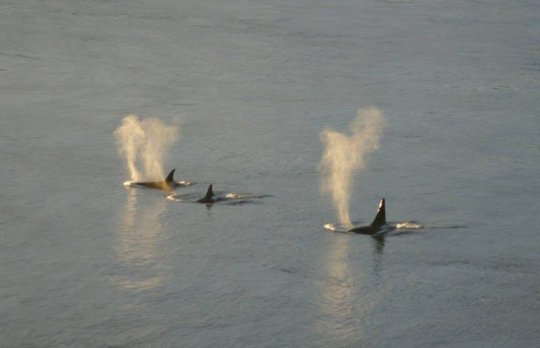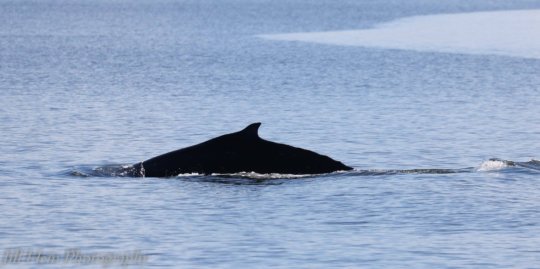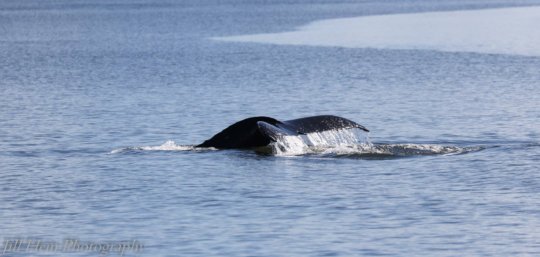 Links: