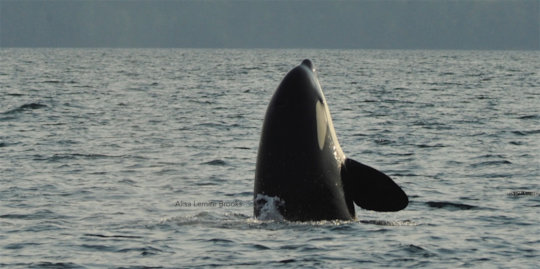 SOUTHERN RESIDENT ORCAS
As noted in our previous update, this past summer was brutally heartbreaking for the Southern Residents. Losing any of these precious members is heartbreaking but the losses this past summer, and watching the decline of this majestic clan is disturbing and hard on our beings. Each fall those of us living further inland wait in hopeful anticipation knowing they follow the fall chum salmon runs in Puget Sound. After their first visits in September we did not see them again for six weeks. Without the rains to fill the streams there can be no chum.
2018 was the first October since we have been keeping track for 18+years without any inland forays by members of J, K, or L pods. With November came heavy rains and the Southern Residents! The morning of November 4th J pod and L87 showed up off Kingston/Edmonds and stayed in Puget Sound for two weeks! K pod joined them for four of those days. Since that initial visit both Js/L87 and Ks have been inland several times foraging and feeding on fall chum salmon. To date (December 16th) none of L pod has come in to Puget Sound, but some of L pod spent time inland around the San Juans for a few days.
NEW WHIDBEY ISLAND HYDROPHONE
We are so pleased to include the news that our new BUSH POINT HYDROPHONE went online this fall, affording us the opportunity to listen for whales, especially the Southern Residents, coming and going in Admiralty Inlet. December 7th we had the privilege of listening to J pod/L87 while on their way out Admiralty, their sweet vocals streaming over the airwaves. This marks the first time Southern Residents have been heard on the new hydrophone. Thanks to Scott Veirs for putting together THIS SYNOPSIS with audio clips.
The Bush Point hydrophone was sponsored by Orca Network as part of the OrcaSound Salish Sea hydrophone project. Many thanks to Scott Veirs of OrcaSound/Beam Reach; Lon Brocklehurst of LAB-core System/ RoboTEK/Lab-Vu and OilTrap Environmental Products, Ken Balcomb of the Center for Whale Research, WhidbeyTelecom, and the Bush Point Bed and Breakfast for partnering with Orca Nework to make the Bush Point hydrophone possible.
BIGG'S/TRANSIENT ORCAS
A few families of Bigg's Transients, including some of our beloved more "resident" Transients, have been traveling the Salish Sea and inland Puget Sound, including the sweet addition of several new calves born to the population of the mammal eating orca ecotype. The T46Cs welcomed a new calf who was first documented by our staff and volunteers in late October/early November in southern Puget Sound. DFO in Canada who tracks Transients determined the calf was in fact the 4th offspring of T46c and gave the calf her/his official designation of T46C4.
HUMPBACKS
In October Puget Sound was lively with Humpbacks and grays! At least five humpbacks (several knowns) foraged in a few hot spots throughout the Sound. One of those knowns stayed for over five weeks, much to the delight of those lucky enough to watch from Puget Sound shorelines and ferries.
Humpback CRC-15936 aka MMX0128 aka Vivaldi primarily kept to southern Puget Sound favoring Dalco Passage (between south Vashon and Point Defiance) and the Tacoma Narrows. Vivaldi became a part of peoples' daily lives, attracting much attention, and just by being present enlightened and educated many residents and visitors on the whales of Puget Sound. Vivaldi like so many others has now become a much beloved part of people's whale stories. Along with the meaningful personal connections shared, we received daily reports, images, and videos important in helping researchers keep track of the humpbacks in Puget Sound.
GRAYS
Thanks to the many reports to our Sighting Network we know the two newbie grays (CRC-2234 and PCFG CRC 185), who stayed over summer when the other North Puget Sound grays left in Spring, have kept a presence into fall. Late November/early December a third new gray (last spring's Unknown #1) was confirmed again feeding off the Snohomish Delta where s/he was photographed one day in March! This is the first year we've any record of grays staying over to feed through summer and fall (and now possibly overwintering) since researchers began their studies on the North Puget Sound grays in the early 1990's.
In addition to our staff and volunteers, many who follow and participate in the Whale Sighting Network continue to contribute information, images, and videos that go into our Whale Reports. All contributions provide valuable information adding to the stories of the whales like J pod/L87, Vivaldi the humpback, and the grays who have stayed over, as well as providing information on travel, foraging and feeding habits, socializing and other behaviors for research on these magnificent marine mammals with whom we share these waters. And with the addition of the new hydrophone we can listen for whales and gather more information on their travels in the dark or during low visibility days especially during the winter.
Every donation from each of you enables us to collect, compile and disseminate this important data, and enable hundreds of people to watch whales from the shorelines of the Salish Sea, inspiring and motivating them to want to help and become advocates for our finned friends and their habitat. Thank you for your support ~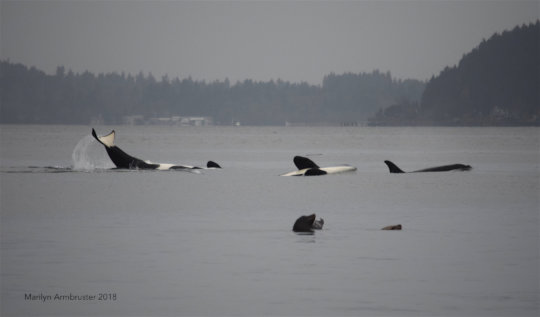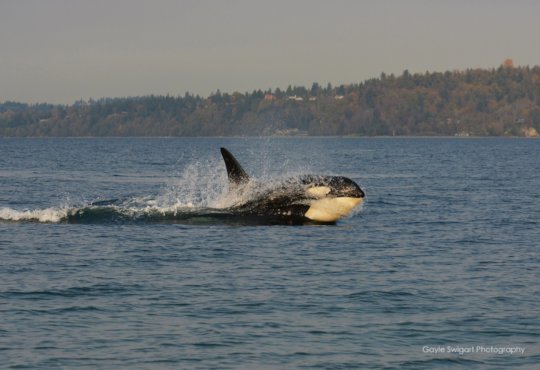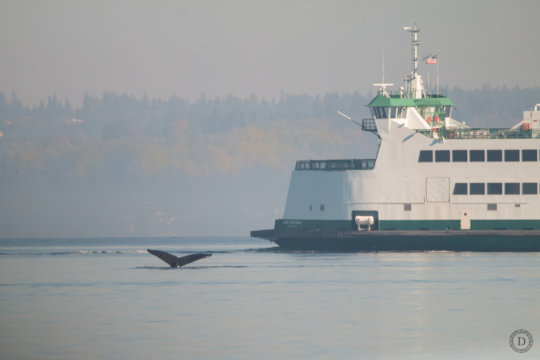 Links: