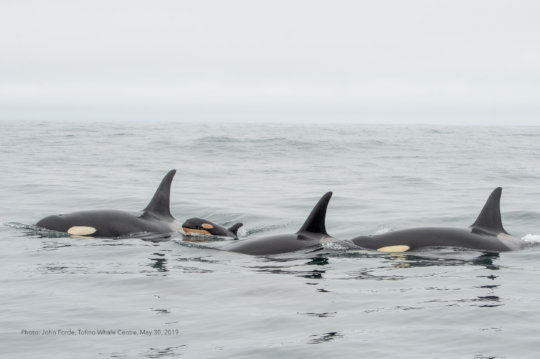 This update brings a mix of joy and heartbreak…you might need a hankie ~
SOUTHERN RESIDENT ORCAS
Just a week after sending out our last report, news that L pod had showed up in Monterey Bay, California reverberated through the community! No word since on their whereabouts, but with no inland sightings it is safe to say still out in the Pacific somewhere, same with K pod who hasn't been seen since January when in Puget Sound.
Hopeful and heartwarming news came in late May which is the last confirmed sighting we have of any of the Southern Residents:
The Center for Whale Research has received photographs taken by the Tofino Whale Centre of a calf accompanying J pod off of Tofino, British Columbia on May 30, 2019.
Researchers at the CWR have confirmed that the calf is a new addition, and based on its coloration and body condition was likely born some time in the last 1 to 3 weeks. The calf was photographed in association with several J pod females, including J31, J46, and J40. More field observations are needed to confirm the identity of the calf's mother.
Prior to 2019, the Southern Resident killer whale population had no documented successful births since 2016. This calf marks the second birth of 2019, following L124 in January.
Orca Network looks forward to meeting and helping document the life and travels of this new little one when J pod returns to inland waters of the Salish Sea. Prior to their travels out to the Pacific, Js spent winter/early spring in the upper Georgia Strait with time in the lower Gulf and San Juan Islands, and two April days in Puget Sound, one of which they spent feeding on Blackmouth Chinook one sunny Sunday in glassy calm seas in the great wide open between Edmonds, South Whidbey, and the Kitsap Peninsula
BIGG'S TRANSIENT ORCAS
In this last period, dozens of matrilines of Bigg's Transients (mammal eating type) have been traveling the inland waters feeding on the smaller cetaceans of the Salish Sea. As I write this report one of the more resident families, T137s, a mom and her three offspring, are on their fourth day in Puget Sound.
Another more resident family, the T65As spent several weeks accumulatively over April and May in Puget Sound. They were here around this same time last year for stays with a new calf, the now one-year-old T65A6. The excitement meter rose one April afternoon when one of the males traveling with this family turned out to be T63 aka Chainsaw (named so due to his distinct dorsal fin), presumed to be the older brother of T65A. While seen in the San Juans within the past two years, it had been many years between sightings in Puget Sound proper.
GRAY WHALES
Of the "Sounders" (North Puget Sound grays) 10 of those known prior to 2018 showed up this year along with two of the 2018 newbies who hung around. We don't yet have an accurate picture of how many of the 2019 newbies were feeding regularly around North Puget Sound, but at least five to six. Numerically there are 10 new whales in 2019, but not all found the bounty this far inland. Along with the healthy whales, a large number of whales are showing up in poor condition and as a result many have died. These numbers all up and down the migration route are well above the norm.
We have been helping track the arrivals and deaths of the grays this year during what has now been declared by NOAA Fisheries as an Unusual Mortality Event (see links below), some one time sightings, and others who were in poor condition when they arrived and died in our inland waters.
The Sounders and at least several of the new grays by all accounts were looking healthy and well fed during their stay here this spring. As of writing this update (mid June) it appears at least all of the old-timers have exited Puget Sound except #21 Shackleton who on most days can be found in Port Susan feeding and traveling about. Along with Shackleton we are still receiving reports of others around Puget Sound proper and in the eastern reaches of Juan de Fuca Strait off west side of Whidbey Island.
We've no idea what effect so many new grays in search of food will have on the ghost shrimp resources that feed our returning population of grays. The reason for the influx of grays is in response to a shortage of food at the northern end of the gray whale migration. In response to the increase in deaths NOAA declared an Unusual Mortality Event.
NOAA Fisheries declares elevated West Coast gray whale strandings an Unusual Mortality Event
"NOAA Fisheries is declaring an unusual spike in strandings of gray whales along the West Coast an Unusual Mortality Event (UME) providing additional resources to respond to the strandings and triggering a focused scientific investigation into the cause…."
NOAA has also created a Dedicated UME website
HUMPBACK HIT BY WSFs
Happily humpbacks are streaming in in good numbers throughout the Salish Sea. Sadly, at the end of May a young humpback whale was struck by a Washington State Ferry in Elliott Bay, along the downtown Seattle waterfront just minutes after the ferry left the dock. By all accounts the whale was unaware of the presence of the ferry and surfaced just feet in front of the bow. Many entities, including Orca Network, are working to take measures to lessen the impacts of boats on all of the whales with whom we share these waters. You can read more on this heartbreaking story as whale strikes could get more common as humpback numbers grow.
A recent sighting submitted is a great example of the value of our Whale Sighting Network and the Whale Sighting Report: a gray whale who was observed, photographed, and reported to Orca Network feeding in western Juan de Fuca Strait early June turned out to be a match to a gray whale who was in Sooke Harbor, BC mid May. Because this was a repeat sighting and provided information the whale was hanging around the area for a length of time, Cascadia Research gave her/him the ID of CRC2257.
As more people become aware of and concerned for the needs for healthy food and clean habitats, especially in times of births, deaths, UME's etc, the work of the Whale Sighting Network increases. Orca Network simply could not provide the resources and accomplish all the work we do without support like yours to this ever growing Whale Sighting Network. We are grateful to you and thankful for whatever support you can contribute at this time.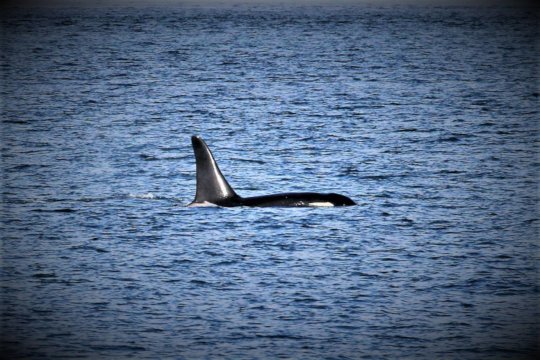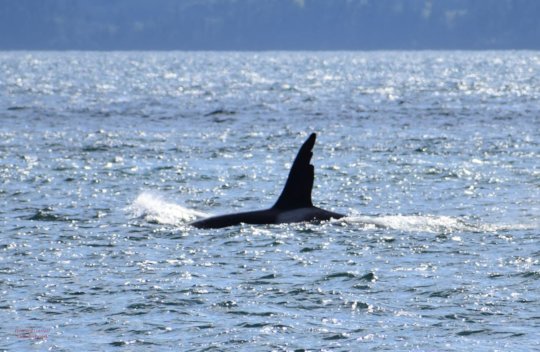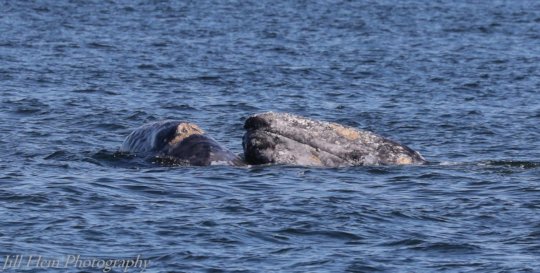 Links: