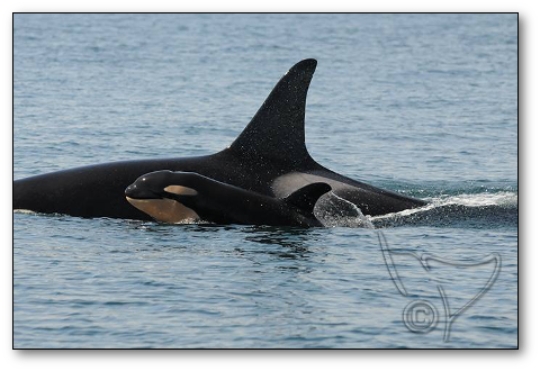 Each of our last two reports brought the amazing news of newborn Southern Resident orca calves, and we are amazed and thrilled to again report TWO MORE NEW CALVES!
Baby L122 was born in September, first photographed September 7th by the Center for Whale Research. The calf is a male, born to L91, "Muncher".
Baby J53 (the FOURTH new J pod baby this year!) was first seen by researcher Mark Malleson on October 24th, born to J17, "Princess Angeline". The gender of J53 is not yet known.
Researchers who have been measuring the orcas' girth via hexacopter, also believe there are several other Southern Resident females who are pregnant and likely to give birth soon - welcome news for this endangered population. And though this is exciting news, we must remember that there were NO births for two and a half years before this "baby boom", and it will depend on the robustness of future salmon runs all along the Pacific coast whether or not all the new babes will survive, or whether there will be more deaths in the community (50 year old L27 is listed by the Center for Whale Research as "missing" as she was not with her family during several encounters in late summer/early fall).
But these new calves give us much hope for the future of the Southern Resident orcas, and we hope the next report will have news of even more births. The Southern Resident orcas typically begin their fall/winter forays into Admiralty Inlet and Puget Sound in early October. They were a month late this year and didn't appear in the inland waters until November, but they have been sighted and tracked by Orca Network's newly trained Whale Sighting Network volunteers and many "citizen scientists" and whale watchers along the shores of Puget Sound and on board the many ferries that criss cross these waters several times a week so far this month.
Along with the excitement of new calves, we are pleased to be seeing an abundance of Humpback whales in the inland waters of the Salish Sea - there have been one to two Humpbacks feeding daily between N. Kitsap Peninsula and South Whidbey Island for the past several months, and more sightings near Gig Harbor and the Tacoma Narrows. Six to eight different individuals have been documented, including a mother calf pair. The humpbacks with their majestic pectoral fins and acrobatic breaches and tail lobs have provided much delight for shoreside whale watchers. Humpback sightings were rare in this area until recent years, and this is the first year we have had a number of them sighted daily in the inland waters. We believe this is a sign of Humpbacks beginning to re-populate former habitats as their population continues to rebound, after being severly depleted by hunting many decades ago.
It is wonderful to have these success stories to share, and we have one last success story for this report: Orca Network's Langley Whale Center after a successful year and a half has now moved into a larger building next door to our former location (now at 115 Anthes, Langley, Whidbey Island, WA). This larger area provides room for additional displays, and space for holding presentations, classes and events. It is a big step for us, but we have already seen an increase in visitors, and it provides a much needed larger facility to share our displays about the whales of the Salish Sea, and educate people year round. The Whale Center is open Thursdays through Sundays, 11 am - 5 pm, we hope you can stop and see us sometime soon!
Your donations enable us to keep up with the whales in the Salish Sea, and to educate the public about them and how lucky we are to have them in our midst - thank you!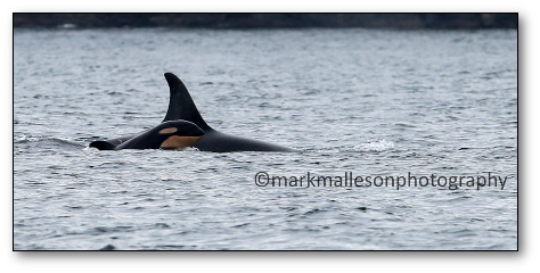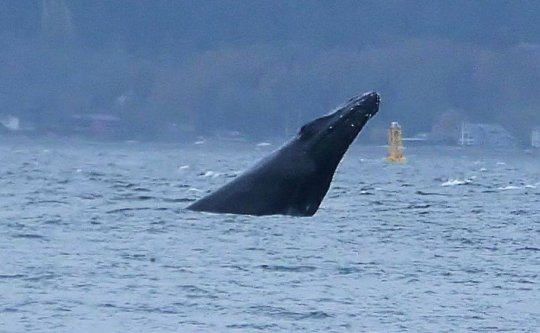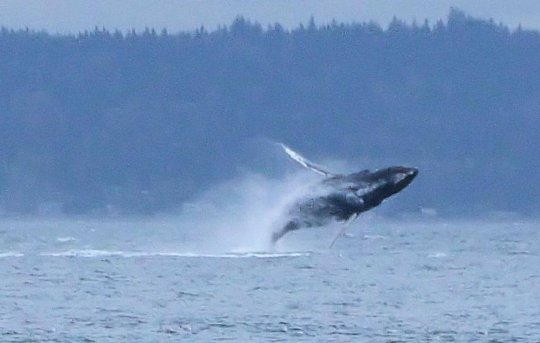 Links:
Attachments: