Dear Friends and Partners,
We have come to the end of yet another successful year. It was successful because we had friends and partners like you who continued to believe in our cause. Who supported us through and through. Towards the end of 2015, we requested for some funds to send 21 children back to school and you did it. We managed to send them in Janaury 2016 and they have already enjoyed 1 complete year in formal school. That's a great achievement you made in their lives. Thank you.
Besides sending back children to school, you also helped other children who are still out of school to continue to attend the second chance education classes at our centre. Your support is tremendous , at least 100 children continued to come throughout the year attending lessons 3 days a week through the accelerated learning program. They received stationery, furniture was provided for and at least a hot meal each day they come. That's big. Thank you so much.
We appreciate your unconditional love and support and in 2017 we are sending 20 children more back to school. As you enjoy your festive season, kindly share with family and friends about our cause and continue to support us. We still need money for school fees, stationery, uniforms, stipends for volunteers and food for the children.
I wish you a happy festive season and prosperous 2017!
With gratitude,
Dear friends and partners,
It's summer time here in Zimbabwe and the last term of the school year. We are happy that all the children 112 of them, managed to come back to school and ready to complete another term in school. We want to thank you all our partners for standing with us throughout the year, believed in our cause and saw it fit to part with your hard earned cash to ensure that children get a second chance to go to school.
This term we have improved our approach to learning in the second chance education program. At some point , I shared with you that we now have a disability class for children with learning disabilities. So far it was good to have that class, until we learned that disability inclusion brings out the best developmental outcomes for children. Beginining this month, we have reintegrated the children with learning disabilities with their peers in the mainstream classes. We have assisted the class facilititators with disability training and counselled the other children to reduce the chances of stigma and discrimination during learning. We will be watching out for progress in that regard, but the signs are good.
Let me also take this opportunity to kindly remind you that it's the time of the year again when we start preparing for reintegration of children into formal schools! We will be positing a project for you to support. If we are late on that, kindly continue to use the main project "Second Chance Education for orphans in Mbare". We need funds for stationery, textbooks, uniforms, school fees, food, furniture and teacher stipends. Kindly share with your friends and relatives. Continue to do the good work by spreading news about our cause. You can visit our Face book page for more stories on what we do- Chiedza Child Care Center
with gratitude,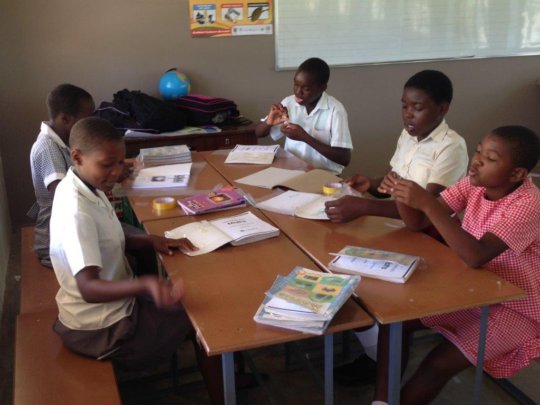 Dear partners,
Thank you very much for your support in helping to send back 21 children to school in 2016. You have done it! And most importantly some of you have continued to support us on a monthly basis to keep the children in school. Keep the good work going.
I am writing to update you that all the 21 children that you supported to be reintegrated beginning of the year are still in school. That's a success. In preparation for reingration of some more children in 2017, we are currently deactivating this project for some few months. We will bring it back with a new target for 2017 towards the end of the year. I encourage you to keep supporting us through the main project, " Second Chance Education for orphans in Mbare" We are still running the catch-up classes at our center in preparation for reintegration. Currently we have 112 children attending classes. And for those who contributed to the building of the classrooms, the children are attending the lessons in a warm environment this winter-this year have been very cold in Zimbabwe. Thank you again.
We still need text books, work books, furniture, food, computers, school fees for reintegration to support the children to access basic education. Kindly envite your friends and family members to like our facebook page : Chiedza Child Care Center and give online.
This project has been wholly sustained by people like you, keep telling others.
With gratitude,
WARNING: Javascript is currently disabled or is not available in your browser. GlobalGiving makes extensive use of Javascript and will not function properly with Javascript disabled.
Please enable Javascript
and refresh this page.