Title of Report : Chiedza reintegrates 21 children into formal schools
Project Title: Send 21 orphaned children back to school! (22766)
A warm hello to all our friends and partners!
This time around, the good news that we have is that in January 2016 we managed to reintegrate into formal school 21 children as planned. We thank you for your usual and historical support. The children are now enrolled in a formal school called Gwinyai Primary located in the hearts (Mbare community) of Harare Southern district of Zimbabwe. We wish them in all their endeavours. Now that the first school term is ending on the 23rd of March 2016 we will assess their school performance and share with you!
We are continuing with the second chance education program at our centre, we now have a total of 114 learners including 21 new ones who replaced those who were reintegrated into formal schools. This year will be an exciting year for the children in the second chance education program because we came up with an innovation which will see them improving their English communication skills. We identified a local volunteer who will train and mentor some of children on social skills, presentation skills using both formal instruction and interactive sessions such as role plays, quiz and poems. This will help the learners to improve their English command.
More exciting news very soon!
Mr. Felix Madya
M&E Coordinator
Chiedza Child Care Centre
37 Strachan Street
Ardbennie
Harare
Zimbabwe
Cell:+263 773 799 316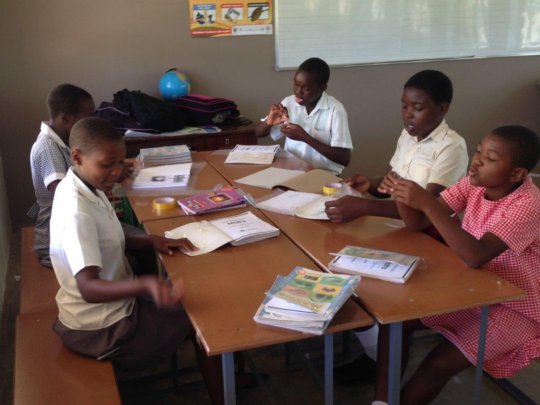 Dear Friends and Partners,
We last spoke in November 2015, talking about children ready to go to formal school. I am always happy to bring updates because every time we ask, you respond. We were requesting for money to buy uniforms, books, pay school fees for those ready for formal school as well as maintaining classes in the out of school study group and you did it again. Thank you.
We finally managed to send the 21 children who were ready to go to formal school in January. We were anxious as the target seemed huge and impossible, but you made it easy for us. Thank you. Twenty-one children were enrolled at a local primary school. Thanks to the school head who accomodated all the children at his school. At least, they will support each other in their journey to attain basic education and shaping their future. Usually, there is fear among the children to go back to school after some years out of the school system, but reintegrating them in numbers especially in one school will easy the problem.
Our joy did not end with reintegration, the support you gave us helped us to enroll more children in the out of school classes hence more and more children are benefitting. This year we managed to enroll 50 new children in the out of school classes giving hope again to those who would have lost hope. I wish you would be able to visit us and see the great work you are doing.
Thank you very much. Kindly continue to suport this project, as the need is huge and we are only able to help a few at a time. We need money to buy food for children in the out of school classes, stationery, text books, furniture and pay school fees for those that are ready to go to school.
I invite you to like our facebook page; Chiedza Child Care Center and kindly help spread the word and invite your friends to like it too.
With gratitude,
Dear Partners and Friends,
Thank you for supporting us over the years and in 2015. The burden of supporting orphaned and vulnerable children does not get easier but we always get comfort in your support.
We are about to close out our year and the school term is ending the 3rd of December including for the children that you have been supporting in the second chance education program. We have 102 children that were coming for the out of school study group lessons since January 2015. Thirteen of these children have learning disabilities. This is critical time for these children as they go through formal school readiness assessments: they all look forward to be considered as ready for formal school so that they can go and join their peers in the formal school set up. They look forward to go back to school to learn and fulfil their dreams with their colleagues.
The assessments were done and 21 out of 102 children were found to be ready to go back to school. They are excited, they are happy, they can't wait for January 2016. We thank you for supporting their journey so far. We still need your support so that you can hold their hand throughout the education journey, so that they fulfill their dreams. We need support in form of school fees, uniforms and stationery. Kindly support our Micro Project on Global Giving-Send 21 Orphaned Children Back to School in January or continue supporting us through this project.
Help us spread a word about our project to your colleagues and relatives this Festive Season so that they may also share with a child in need of school fees in Zimbabwe.
As we enter the Festive Season, we wish you joy until we speak again in 2016.
Thank you
WARNING: Javascript is currently disabled or is not available in your browser. GlobalGiving makes extensive use of Javascript and will not function properly with Javascript disabled.
Please enable Javascript
and refresh this page.