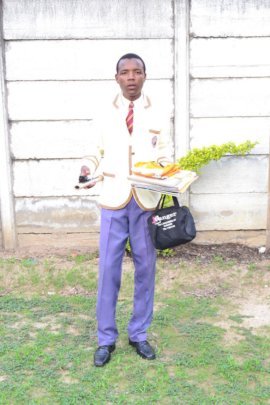 Dear Partners and Friends,
The support you have been investing over the years is beginning to show impactful results. In this update, I want to share with you Peter*'s Story. "To many it never dawned that one day Peter wil be an inspirational figure and role model to many kids with the same background as his. Surprisingly today he is one of the most emulated boys in his community and school at large because of his academic prowess, hardwork and humility. In Peter's words, he believes
"background does not determine your future but your mentality and attitude"
Peter's mum died when he was still a toddler and had to be raised by his father who works as a commuter omnibus driver. Life has never been easy for Peter and his young brother as they had to put up with difficult living conditions which they are exposed to daily. In 2011, Peter had to drop out of school since his father could no longer afford paying school fees. Having been out of school for a couple of months, Peter was identified by one of Chiedza volunteer retired teachers who recommended that he could be enrolled in the Out of School Study Group program at Chiedza Child Care Centre. Peter attended lessons at the study group for one year and was reintegrated into formal school at Gwinyai Primary school were he completed his primary education with 5 units, which is excellent, the gold standard was 4 units, so Peter did very well.
He proceeded to Secondary school with the support of Chiedza Child Care Centre and in 2017 he wrote his O' Level public exams and passed with flying colors. Currently, he is pursuing higher education , that is A' level at the same school he completed the secondary education. He was the headboy of the school learners leadership until he completed his secondary school. The same school accepted him for A' Level and he retained his position of being a headboy. He is currently studying Physics, Mathematics and Chemistry and wishes to be a Medical Doctor.
Thank you very much for your profound support. Keep telling your friends, colleagues and networks about our cause. There are more children like Peter who are out of school and are waiting for a chance. The funds are used to buy stationery, books, school bags, food, pay school fees, pay volunteer stipends, furniture and construction of classrooms.
*Peter-not his real name