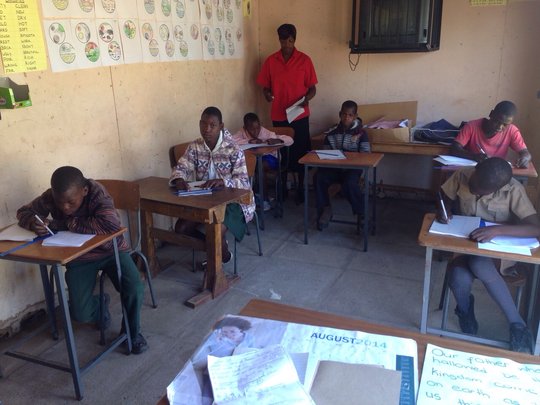 Hello Friends and partners of Chiedza,
How time flies and we are already at the end of another year. We are always grateful as we look forward to the year end and beginning of another year.
We are encouraged by your suppport which keeps us going as we look forward to support more and more children in need of second chance education. We have continued to support 100 children in the out of school program through your support.
However, this quarter I want to share with you something new that we have learned in the program. We have realised that as we prepare the children for reintegration in the formal schools, there are some children who seem not to be getting ready within the expected time. We observed and learned that, it is not because these children are dull but they are living with some disabilities!
We used to have these children in three different classes catering for level 1,2 and 3 but because of this observation we have added a fourth class. With the support of community facilitators and the teachers we now have a seperate class of children with disabilities which hamper their comprehension of lessons at the same pace with other children. The children are taught by a trained community volunteer who takes her time to support these children individually. Through your support the program has started successfully and we know you will continue to support these children to reach their potential despite their condition.
The impact is demonstrated by the changes and happiness you see in these children as they attend classes regularly despite the learning challenges. Of interest is a young girl 13years, Gladys* who started to attend the disability class lessons in August 2014. She used to cry when the mum leaves her for lessons, but now she has changed, she has developed positive attachment with her peers and teachers. She also takes responsibility in some class assignments and duties and always wearing a huge smile on her face.
All this is because of your support. Thank you.
This festive season, kindly donate to keep children like Gladys in school. The funds will be used to buy stationery, furniture, uniforms, food and pay school fees for reintegration.
Continue to like our face book page: Chiedza Child Care Center and kindly invite your friends and relatives to like it too.
Follow us on twitter @chiedzaccc as well.
Enjoy your festive season!
Spiwe
*Not her real name