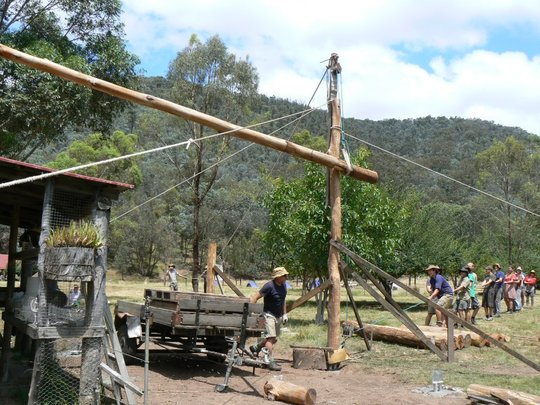 Thanks to your support, Wollangarra has raised $4,475 this month and earned a permanent spot on GlobalGiving.
Here are a few photos showing the progress we've made on our outdoor kitchen facility throughout the year.
Things take time at Wollangarra. We don't have any electricity or generators, so we use mainly hand tools. Most of the materials we use are second hand, having been donated, purchased or salvaged from old houses that are being demolished in the area. The only new materials we use are things like cement, paint and nails, but often we straighten out old bent nails and use them again.
We also use timber from the property, cut straight out of the bush. This in itself is a great lesson in cause and effect. Often young people don't even think about how much wood goes into building a house, but at Wollangarra, it's obvious.
All of the materials we bring in have to be carted up a little track and then sent across the river on our famous flying fox. It's pretty hard yakka, especially when it comes to lugging railway sleepers around. Helping with a project like this gives young people a real appreciation of just how rewarding a hard day's work can be.
Everyone who works on the project is a volunteer. We don't employ professional tradesmen or labourers, so when you donate to Wollangarra you know that your hard earned dollars are going straight towards purchasing stuff that we really need, and keeping our course fees affordable in the process.
A big thank you to the following donors for their support: Ivan Mort, Lucy Labram, Andrew McLeod, Sarah Carter, Sandie McKoy, Yvonne Thompson, Julie Wilson, Stuart Thompson, Geordie McCallum, Anna Moscovitch, Kurt Neville, Tess Macrae, Eliza Barlow, Paul Nichol, Shinead McLaurin, Rob Cowan, Matt Davidson, Carmel O'Brien, Jess McMahon, Dan Abikhair, Clare Bennetts, Hannah Ford, Matt Gray, Lucy Hunt, Catherine Allison, Russell Gladigau, Josie McLachlan, Chris Balmford, Andrew Parsons, Al Macrae, Emma Dean, Bonnie McWilliam, Russell Smith, Ross Davis, John Brydon, Eliza Zanuso, Jim Phillipson, Suz Christison, Helen Collins, George Georgiou, Ross Richards, Kev McGennan, Kathleen Collins, Brad Woods, Hedge Thompson, Bill Bainger, David Collins, Riss Robbins, Elizabeth and our three anonymous donors (you know who you are!).
Regards,
The Wollangarra Team