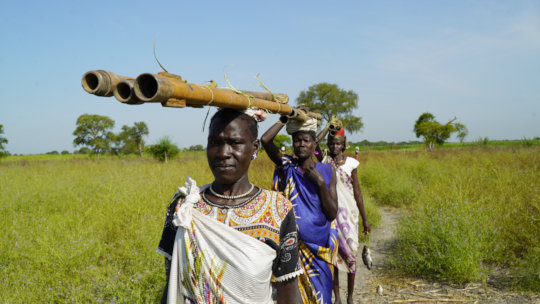 When the ASMP boat pulled ashore, ten minutes down the Pho river from Old Fangak, we were met by the women of Wangnyanuor. Their village is a 30 minute walk inland. A place where refugees from the recent civil war are being encouraged to settle.
The woman divide the drilling equipment into pieces they can carry, on their heads, then are off. Our plan is to drill two boreholes. One at Wangnyanour and a second at Wongmok. Both are areas with many refugees. Village elders and the local government have identified these areas as most in need of a source of clean drinking water.
Our ASMP drilling team, with their "Alaska Team" shirts and coveralls were eager to get to work. They understand the importance to their community and the refugees who are settling here. Clean water is the foundation for good health.
Every day we receive new requests from villages in this part of South Sudan which have no clean drinking water. Our challenge, and commitment, is to bring our Alaska spirit, our resolve, and our caring hearts to this great need.
During a meeting with the village chiefs we are told that clean water is their number one request. So many people are still living without a source of clean water. So they drink from ponds or the river and that alone brings disease.
Old Fangak had been a modest size village of around 5,000 people when we first came to help in 2008. The civil war which eruped in 2013 changed Old Fangak forever. This "small" village became home to over 50,000 people. They came on foot and by the river. In some cases floating on small bunches of soil and grass which broke off from the river's edge and became their raft.
A long cue of people wait at one of the wells near the center of the village. The women will wait for hours for their turn to fill the Jerry cans with water and return to their homes. They might do this several times a day. This is because the exploding population is taxing the available wells.
Over the next few months, neighborhood by neighborhood, we will be working to provide new sources of clean water. The only real obstacle is money. Each well requires around $5,000 in materials (pumps, pipes, casing, gravel, cement) and another $5,000 to bring those materials from Juba to Old Fangak. We are in this for the long haul and have promised the people in this part of South Sudan that we are going to help. Together we can get it done.