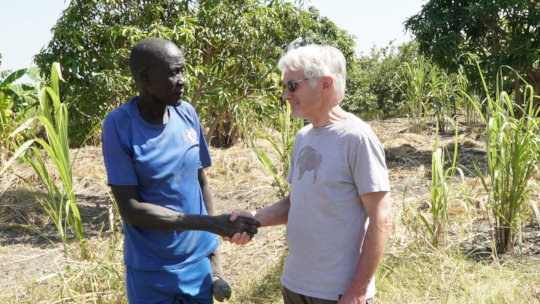 The seasons of South Sudan. Dry and wet. Planting and harvesting. Food or famine.
The recent news reports coming from South Sudan are dire. Heavy flooding damaged the current years crops across a broad portion of South Sudan and almost a million more people are facing food insecurity. That in a country where over half the population does not know where their next meal will come from.
The international aid organizations are mounting efforts to help the current crisis. Our goal is to help long term by providing the seeds, tools and training to fight food insecurity one family at a time. Seeds of hope.
It starts with seeds and seedlings. Onions, okra, tomatoes, melons, papaya. With a few seeds, a hoe and a watering can, the fertile soil can yield nutritious results. When we distribute the seeds, the farmers smile. They are so grateful.
On a recent visit to Old Fangak, ASMP Board President Jack Hickel wanted to visit with farmers, hear their concerns and needs. As we walk from homestead to homestead, we are told that $5 watering cans we provide change the life of a family. Watering a small garden with a gourd can take hours. The watering cans we bring in from Juba cut that time tremendously. A family can expand their garden, grow more vegetables, and help themselves fight the food insecurity.
Training is another tool. Stephen, our Old Fangak Manager, visits each farm to observe their progress and technique. In the coming year our plan is to beging offering classes in Old Fangak. Helping through education.
Our mission is one of hope and health. By providing seeds, tools and guidance our project takes the teeth from famine's bite. It puts food and hope on the table in South Sudan.