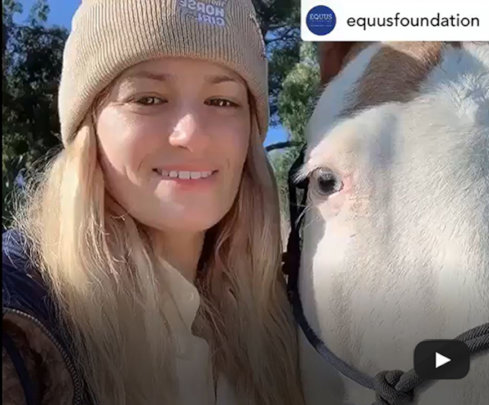 Helping horses in transition find their next chapter to be useful, protected and loved is what the EQUUS Foundation is all about.
That's why actress Beth Behrs ("Two Broke Girls", "The Neighborhood") who is also an equine/animal advocate and rescue horse owner, contacted the EQUUS Foundation for help in finding a solution for some neglected Thoroughbreds on the East Coast. View her video here.
All too often animals can become victims of unfortunate circumstances, even when their owners mean well – which was the situation with these unfortunate Thoroughbred horses who were owned by an elderly couple. When the husband passed way, the widow tried to continue to care for her horses, but with the arrival of winter, it became impossible.
"The horse community is unlike any community I've ever had the gift of being a part of," said Behrs. "The way that horse lovers show up to support each other and the animals always makes me so emotional. I love the community of horse people I've made in real life and on social media. When my friend Caitlin of Rancho Relaxo Rescue desperately needed help, I had no doubt EQUUS Foundation would be up for the challenge. I'm so happy I was able to help connect two incredible horse warriors in order to save these beautiful four-legged souls in dire need of help."
It was the best of social media at work. Caitlin Cimini at Rancho Relaxo Rescue had intervened, but they were at full capacity and could only take two. Valerie Angeli, VP, Engagement, EQUUS Foundation, immediately reached out to EQUUS Foundation Guardian, Rising Starr, and its founder, Kelly Stackpole.

Just like that, in a major team effort, two more horses, Jonathon and Drew, got their freedom ride out of a freezing cold, tumble down, makeshift barn to the safety and comfort of Rising Starr's brand new facility in Wilton, Connecticut.
Rising Starr is an outstanding example of the ever-growing list of EQUUS Foundation Guardian partners across the country.
The EQUUS Foundation Guardians program nationally recognizes equine charities dedicated to the highest standards for horse care that demonstrate their willingness to be fully transparent by making their policies and horse care practices available for public scrutiny.
"It is a very powerful force for good when people come together for horses in need and pool their expertise and resources," said Angeli. "We need to work together to save lives. All horses deserve hopeful, happy lives and a humane and dignified end of life."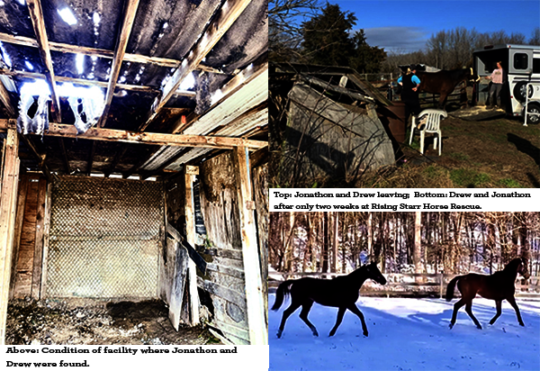 Links: