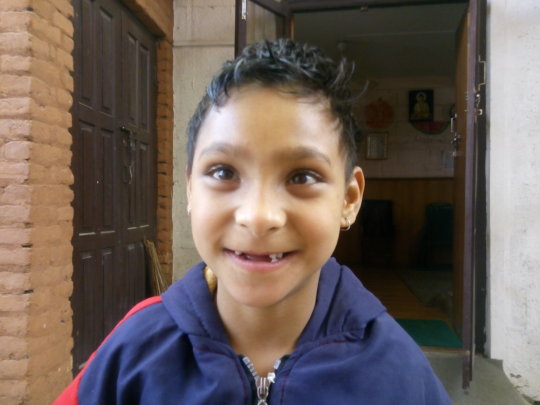 Thank you very much for your continuous support to our project. Special thanks from the children of Nepal and from our side for those who donated for the December 2015 "Year End fundraising Campaign" in which you gave more than $2000!. We expect continued cooperation from you during the days to come.
Rama (name changed), a child with disability identified as Diplegic Spastic CP, joined Patan CBR 4 years back . When she joined she couldn't walk without support and couldn't communicate well. She required bilateral hands support, feet are internally rotated and flexion of toes of bilateral feet while walking. Yet, she has difficulty to change posture from kneeling to half kneeling .
We started our work with number of goals like,
To make her able to walk independently by improving her kneeling position from kneeling to half kneeling and then standing.
Improve gait pattern
Prevent deformity of bilateral feet
Make her functionally active
Recent Exercises we provided are
Stretching of bilateral calf
Stretching of toes of bilateral foot
Standing with foot flat with minimal support
Balance exercises- standing without AFO and reach out activities with minimal support
Walking independently
Sit to stand with AFO
Bridging
Her treatment of Physiotherapy gained momentum especially from two years back when we started to hire a professional physiotherapist with support from donation made by the Global Giving donors. Our Therapist measured the change as
"Now she can walk at least 500 meters independently without support if there are no obstacles. Also her speech has improved and can communicate with others now. Also she can stand independently without support with foot flat on ground. Usually, improvements of these types of children are very slow but her improvement made her parents very happy". Her mother has to say this:
"I'm very happy that my daughter is on the way to start walking. I know it still takes a lot of time to make her walk but due to the regular physiotherapy work carried out by Patan CBR Organization, it became easier for me to make walk during her school time. Before, I had to carry her with me. Thank you donors of Global Giving of Patan CBR Organization"
Our physiotherapy coordinator has these words "I have been continuously watching her development, I'm quite happy that she improved a lot within a short period of time. I would like to extend thanks to the donors of Global Giving without support of whom the change was not possible".
Besides these, 4 children from Patan CBR performed a dance in Convention on the Rights of the Child day in . Also, this time kids from CBR performed dance on the Talent Show program on December 2015 on the occasion of the World Disable Day 2015.