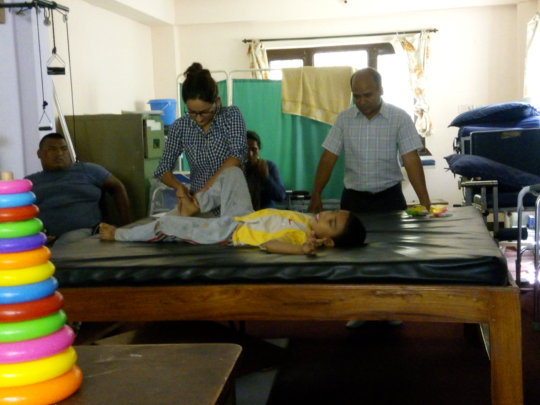 Greetings from Nepal!. Thank you all for continuously dona­ting to the children in need. We raised US $13058 till now, AWSOME! We hope we will achieve a "Superstar", the highest level of partner of GG. This time we are going to participate in the "Little by Little by Little Campaign" which will be held from 29th Nov to 31st Dec 2016. Hope we will get support from you this time also as usual. We plan to raise at least $ 2000 for this event.
This time I'm reporting about the change in our children Ram (Name Changed).When he joined Patan CBR 5 months back, he was at the age of 8 years and was from a middle class family. He was born with vaccume delivery and did not cry while birth. He was born after a long delivery time of his mother than normal time of delivery.
When he joined, he could not walk properly even after the support from one person. There was a presence of more dystonic (Dystonia is movement disorder characterized by sustained or intermittent muscle contractions causing abnormal, often repetitive, movements, postures, or both. Dystonic movements are typically patterned, twisting, and may be tremulous) and ataxic (Ataxia is a lack of muscle coordination which may affect speech, eye movements, the ability to swallow, walking, picking up objects and other voluntary movements. A person with persistent ataxia may have damage in the part of the brain that controls muscle coordination - the cerebellum) movement while walking, tip toe gait, does not have right hand grip and has difficulty in speaking.
Immediately after he joined Patan CBR, we assessed him and planned the following activities:
Gym Ball exercise and reaching activities for the core muscle strengthening, from sit position to stand position with walker, reaching activities for his effective hand functioning, bridging exercise for the core muscle strengthening, walking exercises like stepping on blocks with forward, backward and sideways, stretching tendo achilles, sole of foot deep massage, half kneeling, in prone alternate upper limb reaching and hand motor activities like gripping velcro exercise, keep botton and unbutton of shirt etc.
Our physiotherapist has to say regarding him "with the cooperation from his family and good effort and facilities of CBR he could improve his Activities of Daily Living (ADL) with very short time. I feel very happy to see the change in Ram".
His grandmother who frequently comes in contact with us said "we are really thankful to the effort of Patan CBR with the improvement in his ADL activities, I felt regret for discontinuing his rehabilitation service at Patan CBR when he joined for the first time 3 years back. He was here at that time for the 3 months only"
Our Physiotherapy coordinator said" it is just because of the donors from GG which helped us in managing resources to continue our services to the marginalized"
We are happy to let you know a small improvement in his daily living activities. Now, he is able to walk with the support of one person's hand. He has learned how to hold the hand while one give him hand to walk. Now, while walking, he walks slowly and dystonic movement has found to be reduced a lot. Also, he is able to hold object with right hand.
Now our future plan for him is to stand him independently, make indoor walk with walker and make walking independently, further improve the right hand grip, make him able to eat himself, make him able to dress himself.