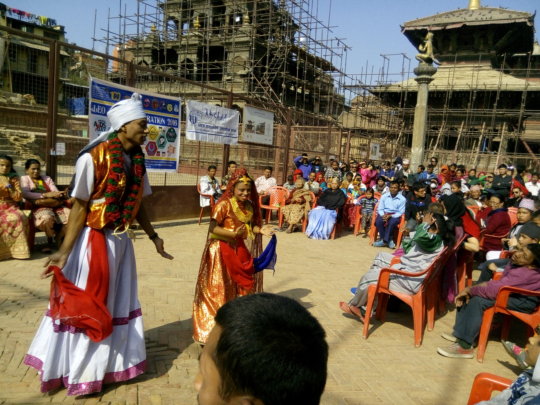 Thank you very much for your kind cooperation towards our project. Till now altogether our project got 164 donations, 129 donors and $14180 donations, GREAT. It is because of you that we are able to provide services to the Children with Disabilities.
As of today, our project "Rehabilitation for 50 Children with Disabilities" ranked 409 out of 22093 projects at GlobalGiving and we are the "Superstar", the highest level, partner of GlobalGiving. It was possible only because of you. GREAT THANK YOU TO ALL.
This time I'm reporting about the program organized by the Secretariat, Lalitpur Disability Coordination Committee on the occasion of world Disable Day marked on 3rd of December 2016 and activities in the Physiotherapy unit of Patan CBR.
It was a mass program on talent show by Children with Disabilities (CwDs) organized at Mangalbazar, a place of mass gathering and heritage site. Altogether, 10 dance items were performed amidst a huge mass out of which 2 were from the children of Patan CBR Organization. The attraction of the program was the dance by the parents of CwDs. The president of Patan CBR chaired the program. During the same program, Leo club members present in the program raised NRs. 2309 for the children of Patan CBR Organization.
Also, there was a dance performance by the CwDs of Patan CBR at the Annual program by Inner wheel Club, a club of wives of Rotarians.
Physiotherapy Activities
It is our immense pleasure to let you know that we were successful in making sponsored the physiotherapist from one profit making organization. Under the guidance of the physiotherapist a number of international physiotherapist and the students are getting opportunity to serve with the children in need. Nowadays, there are altogether 15 children who need physiotherapy. As we have only one physiotherapist, they are getting physiotherapy services three times a week as per the structure of physiotherapy unit.
Every Sunday home visits have been scheduled for those who are not able to come to the CBR school because of their problem.
The following treatments have been used for the children
Relaxation
Muscle stretching
Muscle strengthening training
Core muscle strengthening
Balance exercise
Coordination exercise
As international volunteers working with the physiotherapy unit are increasing, we are revising our working modality. Every Thursday, we are carrying presentation of one children of the centre to the newcomer international volunteers. This gave us a great feedback from the volunteers and becoming an increasing platform of sharing knowledge from around the world.
Our therapist Sami has to say this regarding her work "I feel proud to work in this Patan CBR therapy unit as I get opportunity to share and update my knowledge with the therapists from around the world and also to gain knowledge from them, it is possible only with the help of the donors like you."