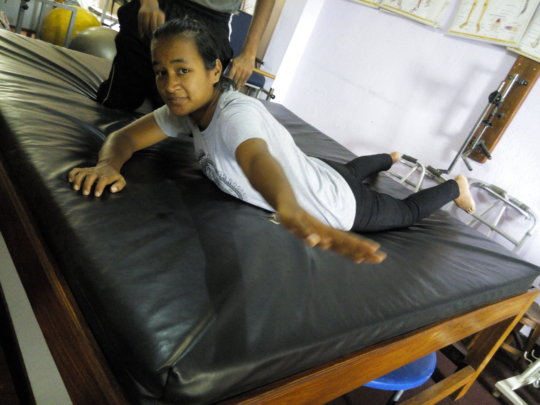 Greetings to all from children of Patan CBR , Thank you very much for your great support to Children of Disabilities of Nepal. It is my great pleasure to let you know that all together you gave US $ 15,417.06. Due to this, we fill encouraged to continue our work with one of the needy and marginalized group of community. Hope for your continue support in the near future. Great THANK YOU to all. This time, I'm writing you about the development of one client named Radha (Name Changed. You can view the list of the donors till date to our website http://www.patancbr.org.np/
Basic Information:
Name: Radha (name changed)
Sex: Female
Type of disability:
Low vision
Mental Disability
Epilepsy
Activity Limitation: The client has learning disability. The client cannot perform her own activity by herself and cannot be independent.
History of Impairment, disability:
When the mother of the client was pregnant she took medicine to abort the client which was not a successful one and the client was born. At 4 years old, after the client was born, she suffered from goiter and took excessive medicine. Due to the excessive medicine the client suffered from mental disability.
Goals, activities and achievements planned for the client:
Short-term goals (6 months);
In the area of awareness and counseling, the goal is to make the client socially acceptable.
In the areas of impairment, the goal is to make her do her own activities, manage her stuffs and do household works.
In the areas of disability, the goal of the agency is to involve her in physical activities.
Long-term goals;
Make her able to read and write.
Make her participate in social activities and do her own activities.
Involve her in vocational activities.
Activities planned for the achievement of the goals:
Teach her to perform her own activities and manage her things in class.
Vocational training activities such as;
o Candle making
o Cleaning activities
Daily activity record:
Reading and writing.
Drawing and coloring.
Recreational activities.
Goals and activities that have been achieved for the student:
The activities that have been planned for the student at the class for her daily routine has been observed to be implemented and improved quiet well than her initial stage. There have been positive changes in the student. The student herself have seen trying her best to learn and improvised. As mentioned the student's daily activity record are;
o Reading and writing,
o Drawing and coloring,
o Recreational activities,
The student has been doing well in her writing and reading works. Her daily class routine covers classes of Mathematics, English and Nepali. And her personal activities in Mathematics include simple addition and subtraction, in English and Nepali includes writing general words and its explanations, spellings and handwritings.
The student has also been showing interest in drawing and coloring even she cannot give her full attention and concentrations. She tries to draw what her teachers or her volunteers directs in the class and colors as she wishes.
The recreational activities in her class includes playing indoor games, making puzzles, finding word games, dancing, singing, outing to park, movie watching and more. In these activities the student does not really show interest and cannot give her time in it fully. She gets easily distracted.
She has not been able to do her vocational activities and trainings. She cannot learn properly and do not show interest in these activities at all. So, she has not been doing vocational activities lately.
The student's short-term and long-term goals were to make her involve in physical activities such as doing her own work, doing household chores, making her responsible of her own stuffs. The goal of the agency was also to make her responsible of her own activities and behavior and with time making her learn good habits and actions.
The goal has been achieved to some extent, as she is able to do her household chores, looks after her own things in the classroom, does her own activities and knows what should be done to have good habits. She can distinguish between what is wrong and what is right so her actions are shaped according to it. She mostly have mood swings because of which her actions are rude and negative sometimes but she is learning to control her actions.
The student has been helping in the class to look after the students and class. She also helps to look supervise the students of other classes whenever the teachers are busy. She does few simple tasks that have been directed from the teachers, volunteers and staff members.
Overall, till date the activities of the students have been developing in a positive way and she has been contributing in her activities as much as she can.