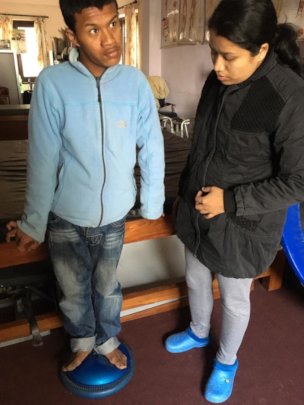 Greetings from Nepal! We raised US $ 17,847 till now. Thank you so much for your donations and good wishes. We have been able to continue our services only because of you. Thank you for bringing positive changes in the lives of children with disabilities in Nepal.
This time I am reporting about a child, Mahesh (name changed). Mahesh lives with his parents, a sister and a brother. His mother does tailoring work and his father is a sculpture. Mahesh has been visiting Patan CBR since 16 years but it is very difficult for him to come regularly without an escort.
Mahesh is getting physiotherapy services along with education at Patan CBR. He speaks basic English, Nepali and Newari languages. He has dysarthria (difficult or unclear articulation of speech that is otherwise linguistically normal).He is independent with toileting and eating; can get dressed by himself basically except buttoning and tying shoe laces.
History of the child
The mother suffered from typhoid at 2nd month of pregnancy. He was born full term by forceps delivery. Doctors had indicated possible abnormality at the time of birth. He had stiff muscles and was slow to start sitting and standing. As an infant he was unable to speak and dependent for activities of daily living. He has ataxic cerebral palsy (Ataxia is a lack of muscle coordination which may affect speech, eye movements, the ability to swallow, walking, picking up objects and other voluntary movements. A person with persistent ataxia may have damage in the part of the brain that controls muscle coordination - the cerebellum). He also has intellectual disability and speech impairment.
Effects after intervention
After regular physiotherapy for so many years, he has improved significantly.
Mobility: Mobility is independent but at times very unsteady. Before he used to have lot of falls when he started to walk. Now he is able to walk longer distances. But still he needs to be escorted to prevent any accident. There is hyper tonicity (fluctuating type) in left side more than the right side.
Balance: As in ataxic C.P the children mostly have problem with balance and co-ordination. He had problems in static and dynamic balance before. After regular physiotherapy, balance in standing has improved a lot. Now, he is able to stand on one foot, feet together and maintain balance in dynamic settings.
Upper limb function: Hand eye coordination has improved a lot. He can do his activities of daily living and can help the mother in domestic chores by doing simple tasks. He is able to write with right hand.
Speech: Because of dysarthria, he had difficulty in speaking and he tend to use gesture more than verbal communication. Now he is able to speak more clearly.
Education: Now he is able to read and write simple words and can do basic calculations. Patan CBR tried a lot to admit him in normal school but the school denied admission due to his physical and intellectual disability. He participates in drawing competition and indoor sports like boaccia.
Mahesh's mother says, "There has been a lot of improvement in my son after attending Patan CBR regularly. My son is nearly independent in his activities of daily living and also tries to help me with simple house chores like making tea, giving water to plants, sweeping etc. He is very eager to learn and regularly does homework given by his siblings. Without the physiotherapy and education provided by Patan CBR, I can't imagine my child being what he is today. "
The Physiotherapist at Patan CBR says," He is a very motivated and active child. He is very serious about doing regular exercises. He daily exercises in home for 1 hour on self. When children are motivated and active, they improve surely."
Mahesh's father says," He had delayed development and did not walk till 6 years of age. After receiving daily physiotherapy at center and practicing it at home, now he is able to walk and do his Activities of Daily Living. It would not have been easy to raise him if we did not have all the support from Patan CBR."