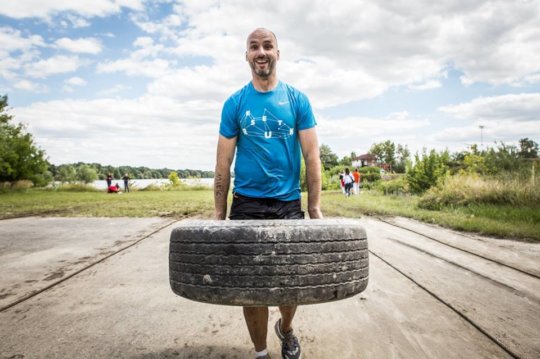 Runners at the Race Tvrdák (Tough Guy) proved that it is possible to be tough and have your heart at the right place at once.
Running through series of hurdles, swimming in ice-cold water and carrying buckets full of stones uphill – these are just some of the hurdles that this year's contestants of the race had to overcome. There is no doubt that creators of the race layout unleashed their creativity when they put together the total of 26 hurdles on 6 kilometers long track.
Even though the race really tests your stamina, for some participants there is more to it than just proving who is the strongest. The race traditionally has its charitable dimension. Participants can choose to donate their starting fee (30 Euros) to a non-profit organization (NGO), which they wish to support. Furthermore, they raise awareness among their friends, family and colleagues about the NGO's mission and activities and why they run to support it. These Tough Guys basically start a fundraising campaign of their own.
At the track, they all received a sticker saying, which organization they run for. Unfortunately the sticker sticked for no longer than few hurdles and then under the weight of mud, cold water and sweat hopelessly flew away.
How did we involve Great Country?
21 men and 15 women attended the race in Bratislava and Košice to support 4 Slovak NGOs, which are part of the "Great Country". Some of the attendants were experienced runners who take part in the race every year and some of them wanted to try something new - stepping out of their comfort zone for a good cause.
In the end, it was all worth the reward. Besides donating their starting fee to an NGO, there was another strong motivation for every Tough Guy. The fastest male and female runner won another 200 Euros for an NGO of their choice. This year, both cathegories were dominated by employees of software company ESET. Fastest Tough Guy and Tough Gal from ESET donated their reward of 200 Euros to project Generácia 3.0, which aspires to bring positive changes in education.
In total, Tough Guys donated an incredible amount of 2200 Euros which they fundraised from their friends and family as well. This contribution was donated to 4 Slovak NGOs from various fields: youth (Mládez ulice), education (Generácia 3.0), socially disadvantaged children (Ulita) and women in IT (AJ TY v IT).
Teaming up with the Tough Guy Race turned out to be a great fundraising opportunity. You can prove your friends and family that if you are willing to withstand this amount of mud, you really take your support of the organization seriously. And if they want to encourage you, they may too become donors of the NGO.
We congratulate to all the Tough Guys and Gals and are looking forward to next year!