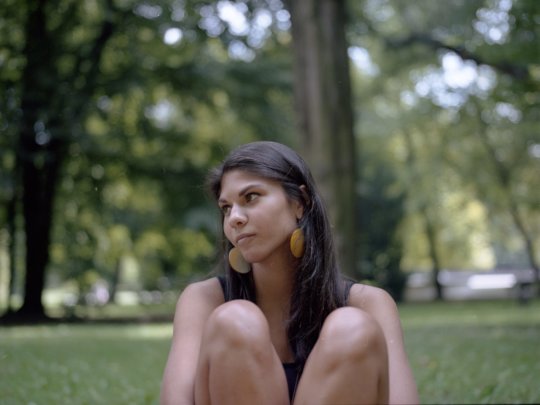 Natalia is 19 years old dancer, senior at high school and a living book. She became a part of the Living books project 3 years ago together with her parents. During the readings, she reflects on her life as an adopted child.
She was born on April 28th, 1996. "I was given life by a wonderful woman, who unfortunately died two months later due to hearth failure." Natalia's father never acknowledged her as his daughter and never took interest in her, so she ended up in an orphanage.
Adoption
Before adopting Natalia, her foster parents had been to many orphanages from Bratislava to Košice without any luck. They recall a story where they came to the orphanage in Prešov for the first time. The director asked them whether they were interested in white or Roma children. Her father realized that it was not going to be so easy, so he decided it did not matter to him and asked to see both.
They found Natalia's stepbrother first. Her father then found Natalia in a room where everybody else was sleeping; only Natalia was screaming her head out. Her mother did not want to have a girl, but when she saw Natalia, she could not resist her. Natalia is very grateful for the adoption. She thinks that if her parents did not take her, or her mother would have lived, she would have probably ended up in a Roma settlement in Sabinov (where she is originally from), and would probably have been a mother of her own. She does not want to meet her biological father. She says that he gave her life, but that it ends there. Her grandmother was willing to take care of her, but when she realized that she would have to take care of Natalia's siblings as well, she agreed to the adoption.
School, love and prejudices
"As every child, I also attended preschool, which was hell. There I encountered racism for the first time – children refused to play with me even in preschool. One little girl asked my father why I was so dark. My father replied that it was because I drank too much cocoa. I started to use the same reasoning, but it only worked for a short time. '
At elementary school, Natalia had to get used to being humiliated. On her first day, she came back crying, because she was afraid of the reactions from her new classmates. Her mother then gave her strength by saying: "Natalia, you are an extraordinary human being, do not forget that. Nobody can ever humiliate you because you have dark skin, or because you have Roma origins. Think of it as a gift from your mother, which you were given and have to carry with you, as it might cause you problems."
She was thrown banana peels at, she was locked in dressing rooms, in bathrooms, and she was hurt in many ways. At first, she did not know how to respond. She made up excuses not to go to school or to dance practices, only to avoid being harassed. In her final year at elementary school, her classmate told her, that she "should hang herself for being a Gypsy, and that if he was a Gypsy, he would have killed himself."
When she was seventeen, she fell in love for the first time. After a year and a half long relationship, she encountered racism in love as well.
"My then boyfriend told me, that he could not go out with me anymore, because I was a Gypsy."
It was hard on her and Natalia was afraid that she would have to deal with the same issue in her further relationships. After a while she told herself that this could not bring her down. "I told myself that I should actually thank him. He taught me that when somebody humiliates me, I have to rise above it, work on myself and make him see that he had made a mistake."
New perspective and the Living books project
At one moment, she realized that she was looking at all this from a wrong angle. When she was five years old, she started to dance. Later on, she did a lot of dance performances on TV shows and in concerts with famous dancer Laci Strike. Currently, she teaches children Latin-American dances. She told to herself: "Why? I am a normal person, just like anybody else, why should I hide myself?"
The Living books project helped her a lot. She joined the project thanks to Janette, who has been supporting Roma children and youth in Slovakia for many years. She admits that she ran away from the first training crying, as she was touched by the stories of Living books.
At first, she did not want to participate in the project. She was afraid that the readers might react to her story in a similar way to how she did. Finally, she decided that it was a right thing to do. When she realized, that by telling her story she might help somebody else who is dealing with similar issues, but does not talk about them, it changed her perception. She realized that there are dark sides of this work, but she should take it easy.
"It is difficult to have many readings during one session. You have to relieve the memories again and again. It is good that the person can talk out the experiences, but I most probably would not do it under other circumstances. However, I understand that the children really need to hear it. And not only children, but also adults, who might be carrying some issues with them. They need to see somebody like me. They might say to themselves: I have these issues, she has these issues, and somebody else has these issues as well. We are all on the same boat, but she is steering her boat in a different course and with different speed."
Living books is a project by managed by Amnesty Interational Slovakia. Thank you for your support.