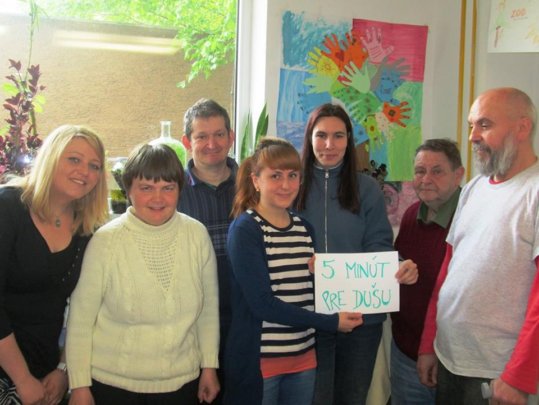 Thanks to your donations, we were able to carry out a lot of different activities to raise awareness about mental health!
On May 5th, the League for Mental Health organized another year of the campaign #5 minutes. This day has now become the day of the talk about mental health. Thanks to this campaign, we were able to exploit the potential of social networks and emphasize the need to talk about feelings, about various mental health or interpersonal problems.
We want to show that you don´t have to be an expert to enjoy talking about your feelings with loved ones. If you don´t know how to do it, we are also able to give you some tips.
Here are the Ten Commandments on how to acquire mental health care, which can serve as a guide for talking about feelings, joys and sorrows:
1) When talking about feelings, don´t talk only about mental health problems. Start talking about normal everyday things. Keep in mind that the issue of mental health is just one tiny part of the person in front of you. People do not want to be defined by their problems in the field of mental health
2) The actual time you spend with a person allows him to experience the feeling that you do care about him and can help you understand what he is going through and what's bothering him.
3) Avoid phrases which do not help at all, such as: "Go out", "Don´t sit at home, come and have fun because they may even harm! Try to keep an open mind and not to be critical. You do not always understand what is happening in the soul of another human being, but the mere willingness to listen to him is crucial.
4) Recall your loved ones your participation and support. Sometimes little things can be big enough just so he knows he has "a friend on the phone," someone to whom he can rely.
5) Talk, but also listen: either simply present - already that in itself means a lot.
6) Try to be relaxed and open. It probably goes without saying that yawning or regular monitoring of the watch does not go unnoticed and the sincerity is then rather discouraged.
7) Finally, one more point. Some people prefer to write text messages or e-mail rather than talking face to face or over the phone. Maybe when they feel ready they will come back to you. For him it is important to note that you are here, and when he is ready, he can make contact with you.
On June 23rd, we went to a high-school in Bratislava and we had a wonderful afternoon talking to young people about mental health, and this was very useful as we managed to destroy some prejudices they had, especially about schizophrenia.
Thank you for supporting our project and for allowing us to continue carrying out more and more campaigns.