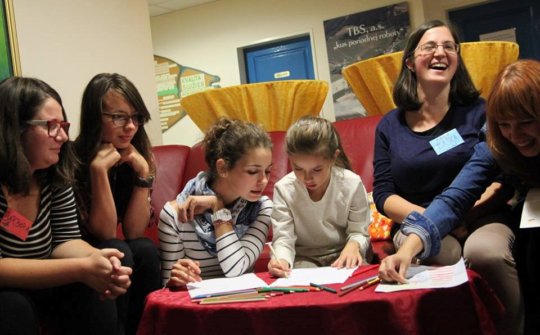 The last weekend in September, as every year, we organized a weekend meeting for the families from our Home care. During our therapeutic weekend they have opportunity to meet other families, share with them their grief, talk and support each other. On the following lines we would like to approach it through the words of our volunteer Kristina. Please accept our warmest thank you.
Uff, it´s done, everything is prepared, playroom is full of toys, crayons, pillows, lounge is bedecked, but the most important thing is still to come, we are waiting for families ...
I hear the opening of front door, I get up from the couch. I glimpse the first family that unlike me has come to look bold. I reach out to parents to welcome them and introduce myself: "Hello and welcome, I'm Kristina, a volunteer." Behind mommy popping pair of eyes, mischievous, a little shy. "Oh, it's Emka!", The girl who I met on a summer therapeutic camp - Call of the Wildeness. We are sitting on the couch and Emka begins to draw. I ask her: "Emka, what will it be?" Did not answer right away, just stare at me. After a minute or two she says, "It will be a surprise. And also a surprise that for whom it will be." I smile and watch the drawing…
After dinner, we meet with the families in the lounge, where to meet. First, introduce volunteers and staff of Plamienok, n.o. , also speak to us our counseling center director, psychotherapist Iván Gómez and then what? Getting to play. "Deducted - first, second, first, second,… . The first will be built here, others here. Your task in the shortest time, sort by size, by month of birth, according to the first letter of the name." When first entering the job I see in the faces of children and parents surprise and amusement. In addressing the first award was a surprise and amusement changed to smile and have a laugh of it. Introductory evening goes by producing bracelets. Colourful beads, shimmering, beads with letters, sundry animals, all these families and they choose with their smile was handed coloured laces. It is beautiful to observe each other cooperation between parents, between parent and child and even more beautiful is to see the joy of the result. Together bracelets photo on their hands, and shared hug at the end already ringing the bell, "quickly to cribs, because already the moon shines say goodbye to the cat. Good night to you, children! " (To Iván: it was the song, which Ondrej played on the end of evening. It is a song from fairy-tale).
In the morning we meet for breakfast ready for tourism, the weather wish to us. Slowly we climb into the forest, meet nice villagers here and there to blow away that is already enough, but drives us inner strength and curiosity of how far we come and to discover. It was worth it - beautiful forest environment, view tower, and common game!
After lunch we all face in lounge, where we go do or seek stars - our lost stars. With tears, smiling, quietly and uproar we hang their to give us shine .... We move out and we remember the children, siblings, whom we have lost, the beautiful moments that we have experienced with them and write them on hearts, into our hearts. Tree, around which we work symbolizes life and stability, permanence that children, siblings, though they are not here, they are part of us, the tabernacle of our hearts.
"You see now the ground?" "I see, I see, I see nothing ... still water everywhere ... always the cold, salty, deep water ... wait! There, there, do you see it? Somehow pirates! Go here. "With children we set out on a treasure hunt. We met various pirates Vratinoha, Scary eye, who's accompanied us in the journey full of pitfalls, challenges surprises. We met the monster that we helped and bestowed upon us. We have found the treasure ...
In the evening artists accompany us. In the beginning we were all shy, sitting around, talking, and suddenly, out of nowhere, with a smile dancing - children, parents, all together. Neither we realized nor already there is again the end of the day, and again is ringing the bell, "quickly to cribs, because already the moon shines say goodbye to the cat. Good night to you, children! ".
Beautiful morning, the sun shines beautifully and we are going to last breakfast this weekend. At breakfast is ongoing debate to decide whether to go to the pool - "I hope it will not be cold water ..." or you go out exercise. Water polo brought us, laughter penetrates through the thick glass to the examiner in the yard, which attracted their attention. Everyone grabbed bellies with laughter ....
"Vratinoha! Come with us to shoot! "Click, click, capturing new pirates, beautiful moments and memories from this weekend.
Words brother Peter unite us even more, some cry, some are smiling. We think of our children, unforgettable moment.
After lunch we embrace, we thank and saying goodbye. The sun is shining on our road.
Dot.