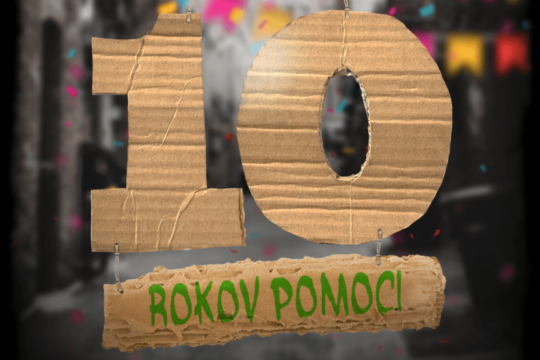 Depaul Slovakia has completed the tenth year of existence. We are extremely pleased that more and more people support us not only financially, but also morally. We are grateful for every encouraging word, or positive feedback. We are looking forward to new challenges in 2017.
For all the stories we would like to offer one with Milan. It is people like Milan for whom is your support most important.
Thank you very much, we appreciate it.
Milan and his story
I was distributing drugs after the night service. Our new client just lied there with red liquid leaking from his mouth. Panic, I had almost called an ambulance, but as I was still new to Lujza I misspelled the adress. I was trying to wake him. Milan, do you live? How do you feel? And he laconically said: "What would I be?" I just bite into my gums.
So we met. And then the whole mountain of other winged sentences - raking in, one after another:
I'm not hungry for rice, but for bacon.
Are you going to fly out of the window madam?. You look so fluffy.
If you were death i would never die.
For the rare occasions he hung his white shirt next to the bed. When they were taking pictures of him for Nota Bene magazine, we had to iron it and he waited in the shirt two hours earlier before the shooting. Though - to start preparing several hours in advance for Milan was a necessity, the pace of life was, due to health problems, not only moderato, but largo (musicians know). He was in retirement age, total homeless, the family had reportedly claimed his housing, he had heart problems and legs carry him more and more cumbersome. He did not live long on the street, thankfuly. But still he had some debts, but again it was not the end of the world. He has been with us since the spring of 2016 and finally before Christmas 2016, the social workers managed to find Milan accommodation in a nursing home. We wish you all the best Milan!