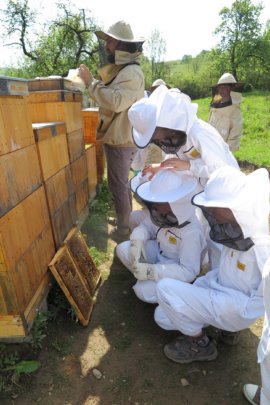 Since the end of April, the doors of our educational apiary were open to anyone who wanted to learn more about honey bees. Honey bees are an important and irreplaceable part of our food chain. Did you know that honey bees are responsible for every third bite of food we eat? Also, more than 80% of plants are directly dependent on pollination that is done mainly by honey bees. Thus, a major decrease of insect pollinators might have dramatic influence on our biodiversity and related economic activities. Without a doubt, honeybees are very important for us. That is the main message we want to give to the visitors of our educational center.

This year, we hosted many field trips for children; through high school, but mostly between the ages of 6 – 14. Some of the children were quite scared at the beginning and they didn't know what to expect. But, after putting on safe beekeeper suits they had great fun. They had even more fun when we took them to see a close-up look of the life of a honey bee colony. Children forgot about their fears and were fascinated by the number and diligence of these small creatures. We also gave many honey tastings to our young visitors, which is usually the most interesting part for the kids in our program. This year, we had tried something new in our method of education and it seems to be working really well for both sides of the educational process. We included games, team work and sport activities in teaching children. We had a lot of fun and the children didn't even notice how much they learned about the life of honey bees, about pollination and other useful insects during the different games.

Also new this year to our educational apiary is the expansion of our program from honeybees to a chicken coop, Indian runner ducks and a few sheep. Are you wondering how all of these useful animals relates to honeybees? So did the children from the M.R. Štefánik elementary school in Lucenec. Through a series of regular meetings, we introduced them to life on a farm. They had a wonderful chance to learn something new and useful by participating in building on the farm and in taking care of the landscape in an environmentally friendly way. In addition, we took them to the forest, meadows and pastures so they could see what happens to the landscape when it is not managed properly. They learned what animals can help in landscape protection and, in doing so, providing diverse food sources for bees. Together, we created colorful flower beds for attracting pollinators and did some useful gardening.

During the summer we hosted a few summer camps with children from the whole country. In addition, we had visitors from further destinations like Nigeria, Korea, Ecuador, France and India. Almost all of our weekends during the seasons were packed with beekeeping courses for beginners. It was really nice to see how many people care and are willing to help honey bees. We had almost 60 volunteers that helped us prepare the space for our most hoped for and most difficult project so far – building a small environmental center. Literally, from the beginning of this season we were dealing with obtaining different kinds of permissions and plans for the building itself. At the end of the month, we will finally start with constructing. The small building will be a big help. It will have sheltered space for lectures and workshops in any weather so we don't have to cancel any of our scheduled programs because of rain. This is a huge step for us and will help us move forward to improve our program for our visitors.

While the construction of the center is in the beginning stage, our beekeeping season at apiary is finished for this year. We continue to work with children at the elementary school in Lucenec in our beekeeping class that is running its third year already. Each year we have more and more students; which is a good sign for us. So far, it has been a busy season. Though it isn't even finished, we are looking forward to next season; when we will operate in our new environmental and educational center. If you like our project, please support us.