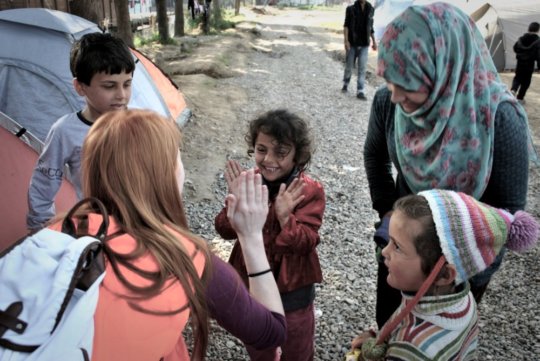 Kaja is a Live book in the Live Library of Amnesty International. She decided to tell us her story, which was formerly known as "Kaja's underpants" . The story isn't only about her and her helping people on the run - it's about how every one of us can change things for the better. You only have to start. We hope to get you inspired.
I am a 23 year old student of Political Science, a member of Administration Board of Amnesty International Slovakia and a longterm volunteer in the Slovak office of the biggest international non-governmental organization of human rights in the world. In the last year I visited several places in Europe, where refugees from different parts of the world gather. People often ask why I do that. I thought about the answer many times but in the end my effort to find it was superfluous. It was enough that I believed the things I do are simply good and needed. But the questions keeps coming back like a boomerang and I realized that it's because that's what people find the most interesting about my volunteering activities. I am going to attempt to think about this answer again, because maybe it could inspire other people.
The term refugee comes with a certain image. For some it is a person running away from war or persecution, for others it is a speculator who longs for a better financial security. We all percieve refugees as somebody who travels for months in any weather for thousands of kilometres, or undertakes a lifethreathening trip on the sea. Somebody who survives and comes to Europe and lives a for a certain period of time without proper food, or hygiene products somewhere in a tent at the periferies and doesn't know what the future holds as they wait for the decision about issuing the asylum. One would say (and I heard this opinion a lot of times): "What did they expect? They knew beforehand what the escape takes." However.
Refugees are PEOPLE in the first place. No matter where they come from, why they embarked on the journey (during which the likelihood of death, permanent health problems or uncertainty about future were so high, that I personally don't belive they would do that willingly), or whichever belief they are, or what social class they belonged to at home. I think that if the western society proves that they truly believe in ideas of democracy and protection of human and natural rights of every individual, which it proclaims proudly for centuries, it has to understand that every refugee is a human in the first place. Parent, child, partner, friend. And then a refugee.
The fact that refugees are forced to live in provisory, unsufficiently secured camps in forrests, that they are always hungry, and they don't have an access to a much needed health services is an idea which we more or less see as something ordinary. However, if we take away the imaginary label and repeat the sentence from the start, so that it were PEOPLE who came to Europe, who live in provisory, unsufficiently secured camps, while political leaders up until these days weren't able to decide how to help them (and what to actually do with them) maybe we feel a little disheartened. This awful feeling may even grow further when we call the things by their rightfull names and add that it were WAR VICTIMS that live in these provisory, unsufficiently secured camps as Europe stays silent.
That is why I help runaways. They are different from me, my family, and people I love and who I admire, "just" by the fact that they escaped certain death during the war and they hoped that the oh so sung about and developed civilization like the European one will help them to get back on their feet. And while the states don't realize it is the time to share the responsibility for human lives, the work is left to us, non-governmental organizations and volunteers.
Do you want to join us?
Thanks to non-governmental non-profit organization Animus Apertus in which name I work on a project called Together For The People On The Run you have a awesome opportunity to travel for a few day long volunteer trip to refugee camps on Serbo-Hungarian border. In case you are interested please don't hesitate and contact me through my e-mail address bernatova@animusapertus.sk Project Together For People On The Run was supported by non-governmental non-profit organization Foundation for Kids Of Slovakia from the fund of Help for Kids in Runaway Crisis.
Translation: Michaela V.