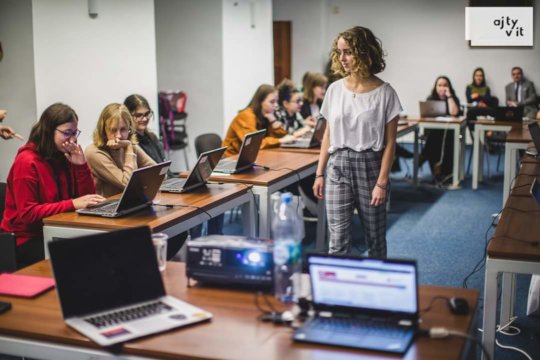 High school girls
Coding Clubs –Aj Ty v IT Coding club - were focused on creative electronics. We programmed small handy devices called "micro:bit" at a workshop led by skilled lecturer. All the participants were introduced to the logic of micro:bit and were able to code simple tasks thanks to graphic blocks. The course was aimed to all curious high school girls - age 15-19 years, who are interested in the magic of IT world. We worked on 3D printers and girls created very beautiful bags in Bratislava.
Mature women
New Academies for women
We prepared very beautiful and inspirated event- Frida. There were around one hundread participants and Women speakres who talked abou their carreer in IT.
For all women that have an interest in the world of IT, data and analysis, we are setting up a new project - Women data academy.
Those curious women who are interested in the IT world and do not know where and how to begin, can sign up for Women Tester Academy. The aim of the course is to prepare the participants for software testing of various applications and greater functional modules. .
In addition to the new academies, we also organized workshops that can not only improve the skills of our graduates, but also raise the success rate of getting a job. The courses were designed for women interested in technologies, UX and various soft-skills as well.
Project is managed by Aj ty v IT. Thank you for keeping up with us.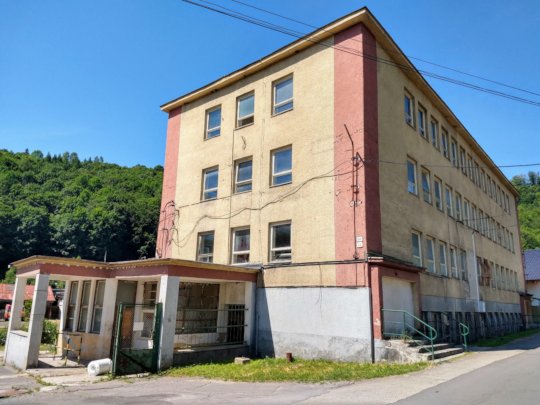 We really like to talk about great and positive news in our organization. And some big news is happing in December. We are starting our first social manufactory in small village Utekác, district Poltár.
We have been working on this new milestone for our beekeeping project since June 2019. We were looking for new space for beeswax manufactory. One of the regions with highest unemployment in Slovakia has lot of brownfields and old glass factory in Utekác turned out to be a good choice.
We have been renting second floor of formal administrative building from September. From this moment, we have started reconstructing this space for our social business.
In November, we realized two courses of beeswax processing for 20 people from the community who were unemployed in a long term.
So, it looks like everything is ready for opening… but we still need your help. On our table are still coming some new invoices. We still need your help in order to finish the heating so that our new employees could work in a warm, renovated and ready places, and they have some facilities to take a shower after work or just to have some small space to drink a coffee during their coffee break. We would be very grateful for your help, thank you very much in advance.
This project is managed by Vceli kRaj.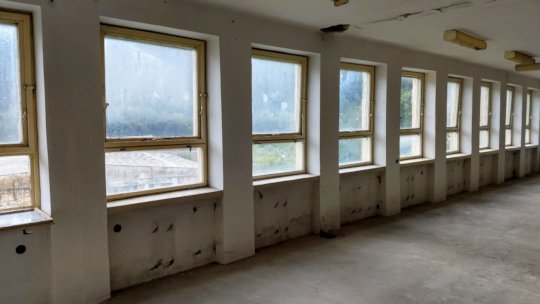 As every year around this time, we feel it. The weather is getting colder, people are starting to wear caps and gloves and nobody wants to stay outside for a long time. We see it outside, we see it in our night shelter. Beds, which are remaining empty during the summer months, are welcoming their new lodgers. That is the sign. Winter is coming.
For people living in the streets, winter is the hardest time of year. The cold temperatures make people realize how fragile and vulnerable our bodies are. Therefore, in Depaul we work especially hard to help homeless people during this time of year. We open our night shelter sooner. We make food collections to be able to cook more warm meals for clients and to distribute food also to those, who decide to spend wither outside. As night shelter functions only during the night, we try to prepare our clients for the cold weather during the day and we offer them warm winter clothes.
We also call for help to our supporters. To provide hot supper and warm safe place over night for 250 homeless people, we started a program "Bed adoption" on our web site, through which people can support a particular person in need and ensure that this person will have a warm place to sleep in and there will be a breakfast waiting for him in the morning.
This project is run by Depaul. Thank you for keeping up with us.
WARNING: Javascript is currently disabled or is not available in your browser. GlobalGiving makes extensive use of Javascript and will not function properly with Javascript disabled.
Please enable Javascript
and refresh this page.