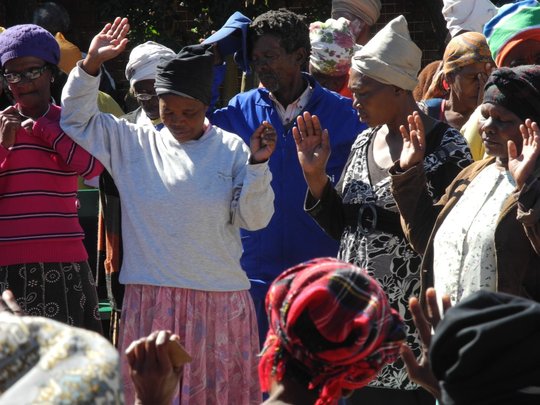 Dear friends
It is with eternal gratitude that we look back on 2014 as a wonderful year for Missionvale Care Centre, filled with many new thrilling additions to our existing programs, and they have all been made possible because of your continued belief in our cause. Your generous contributions and sustained support is deeply appreciated and I know that Sr Ethel lights a candle in thanksgiving to all of you every day. The community of Missionvale have benefited greatly from your donations, and every day they gather at the Centre and give thanks for "the people over the sea" who always remember us.
A few of our highlights this year were:
- The start of ballroom dancing classes for the children in our school, they are so talented!
- Two of our community health practitioners received bursaries to study nursing!
- Our junior and senior choirs won a trophy at the Northern Areas Choral Festival
- Over 200 sustainable vegetable gardens were created in Missionvale
- The elderly ladies in Missionvale formed the "gogo club" (granny club) and make beautiful knitted items for sale
At the moment we are gearing up towards our own Christmas celebrations which are split into two categories: 1) Father Christmas Day for the children and 2) Christmas Eve Food Parcel Distribution for Adults. The children's gift distribution is a huge annual event where over 6000 children each receive a small present from Santa Clause and some sweets. For most of them it is the only present they will receive. All the staff at the Centre dress up, Christmas carols are played and the whole Centre gets decorated. It is extremely festive and is a big highlight for all the little ones.
On Christmas Eve we distribute food parcels to the community so everyone has something to eat on Christmas day. This is a very special time at the Centre and there is always a bit of magic in the air!
We hope that you will feel that same magic surround you this Christmas and all the way into the New Year.
Thank you again for all the miracles you helped to create.
Wishing you every blessing, with love from Sr Ethel and all of us in Missionvale