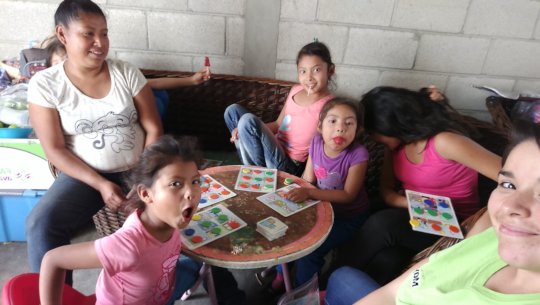 During this reporting quarter, and due to the contingency caused by the COVID 19 pandemic, the relevant authorities have not yet authorized the start of construction of the NEW MAYAMA Day Center; however, remote work continues with the 148 families that are part of the Education Model, which has allowed their continuity despite the adversity caused by the health contingency. Within the framework of the 4 lines of action implemented from the pandemic, the following goals and results have been achieved:
Zero hunger that aims to deliver pantries to the families most in need. To date, 11 large deliveries have been made fortnightly and/or monthly, delivering approximately 1,600 pantries during this period.
Zero Infected aims to provide basic information on care and hygiene measures for contagion prevention. During this period, 300 hygiene kits were delivered to Mayama families including soap, anti-bacterial gel, chlorine, water cover, surface disinfectant, among others. Information sessions on the disease continued, and in general on care and hygiene measures for the prevention of contagions.
Zero Violence that aims to establish an action plan for each family in order to face the pandemic with the support of programs of other institutions (government, companies, etc.) to support the economy, health and education. From April until now we adapt educational sessions with Mayama children and families. The sessions we held at the homes of the families were replaced by sessions by telephone or videoconference (when the technological infrastructure of the family allowed it). In total, distance sessions with an average attendance of 82% have taken place from April to October 1665.
Peace and resilience, girls and boys participating in sketching and prototyping on coronavirus issues and how it is affecting the lives of millions of people. During July and August the 214 children participated in the Corona Challenge, who using the Design Think method and the Dutch organization Designathon. In the end, 12 finalist works were selected, which were recognized and awarded. Another project carried out with children during the pandemic is the "Real Heroes and Heroines in a Real World" campaign, which consisted of creating stories about those who, from the perspective of Mayama children, have become true heroes during the pandemic. Stories about care, protection, love and resilience in the midst of the crisis. Subsequently, these stories were told through the social networks of Mexican actresses and actors to raise awareness of the new reality for Mayama families. Finally this project, with the help of professional writers and illustrators, has been transformed into a publication that will soon be shared to the world. The New Day Center and, in general, the entire Mayama Educational Model are a life expectancy for girls and boys who require our support and solidarity.
We invite you to continue supporting us to achieve our mission.