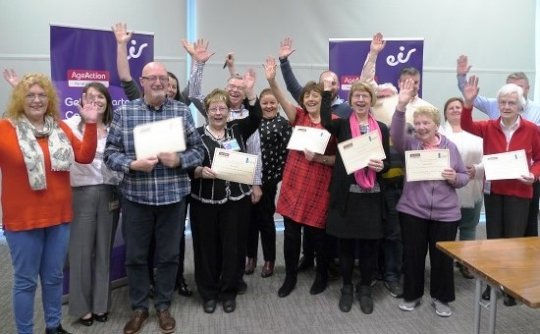 GETTING STARTED – 2018 Report
By Jennifer Glansford - National Development Manager
The Getting Started Programme at Age Action is going from strength to strength and 2018 proved to be year where we began classes in new areas and took on some new staff to co-ordinate these new classes.

The programme aims to deliver step by step training in a supported, encouraging and relaxed environment in local venues, with local volunteers to local people. The true essence of community development!

During 2018, we delivered training in:

98 separate venues including:
20 Corporate Organisations
9 Sheltered Housing Complexes
3 Age Action Offices/Training Spaces

We had 5073other contacts with people attending our Drop In Services in Dublin and Galway, Information Talks, Workshops, Extra Training and Technical Support appointments.

We trained 2,657 people who availed of 10 hours of one to one training.
Classes were provided in 16 counties including new counties of Wexford, Clare, Kilkenny and Tipperary.

We are supported by the Digital Skills for Citizens Fund under the Department of Communications, Climate Action and Environment and while we are delighted to be grantees of this fund, extra funding allows us to extend our services such as Drop In Cafes, Technical Support and Information Talks.
The volunteers who support the Getting Started Programme are without doubt the backbone of the service and are the biggest resource. Without their commitment, time, fun and friendship, we could not continue offering one to one training – the piece that makes the difference for older people who have taken the leap to engage in the digital world.
Thank you to all who have supported us this year including volunteers, venues, corporates, schools and Dublin City Council.
Wishing you all a very successful 2019 – the sky is the limit!

Jennifer & The Team.