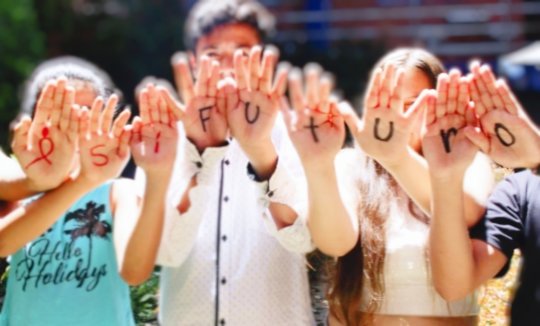 Dear Benefactors
We are very proud to tell you that in 2018 we reached:
-855 students with workshops on education for sexuality and HIV prevention,
-2737 young people with the itinerant educational exhibition on HIV "KNOW AND DECIDE";
-1195 attendees of the artistic exhibition "HIV a look through art",
-89 children and caregivers affected by HIV with psychosocial support (psychological care, home visit and social work attention), 12 workshops for adolescents and 10 workshops for adults.
During the first semester of 2019, we have continued all our activities, we need to continue with your support.
At the moment we have only obtained 1390 of the 10,000 dollars that we require for our prevention project. We look forward to your help and dissemination with your friends, please. We leave you with the photos of the last activity of our organization, when we celebrated THE DAY OF THE FAMILY in the foundation with families affected by HIV, which had a delicious snack, games, tango show, gifts and basic markets for the families
Estimados Benefactores
Estamos muy orgullosos de poderles contar que en el 2018 llegamos a:
-855 estudiantes con los talleres de educación para la sexualidad y prevención del VIH,
-2737 jóvenes con la exposición educativa itinerante sobre el VIH "CONOCE Y DECIDE";
-1195 asistentes a la exposición artística "VIH una mirada a través del arte",
-89 niños y acudientes afectados por el VIH con acompañamiento psicosocial ( atención psicológica, visita domiciliaria y atención de trabajo social), 12 talleres para adolescentes y 10 talleres para adultos
Durante el primer semestre del 2019, hemos continuado todas nuestras actividades, necesitamos continuar con su apoyo. Al momento solo hemos conseguido 1390 de los 10000 dólares que requerimos para nuestro proyecto de prevención. Esperamos su ayuda y difusión con sus amigos, por favor.
Los dejamos con las fotos de la última actividad de nuestra entidad y de nuestro equipo primario, en la reciente celebración del DIA DE LA FAMILIA en la fundación con familias afectadas por el VIH, el cual contó con un rico refrigerio, juegos, espectáculo de tango, regalos y mercados básicos para las familias