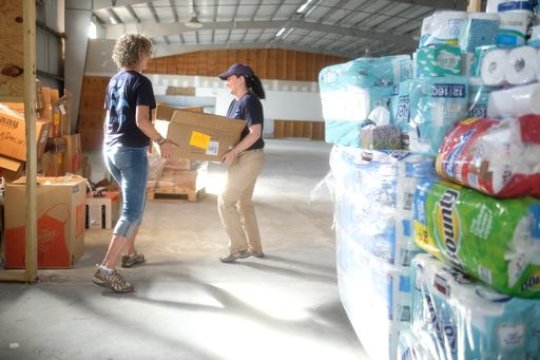 The Bahamas was hit by Hurricane Dorian in September 2019, claiming the lives of at least 70 people and causing some $3.4 billion in damage. Seawater surges contaminated the wells, leaving these previously safe water sources with extremely high levels of salination. With buildings and homes severely damaged, schools were closed, leaving children and their families without a daily routine and no safe spaces to play. Locals experienced a sharp shortage in supplies ranging from food to cleaning products to hygiene items.
IsraAID launched an emergency response mission to support affected communities. On New Providence, IsraAID's Protection Team worked in the capital city, Nassau, supporting the influx of evacuees relocated to shelters from their homes on Abaco and Grand Bahama. To provide a daily space for children to play, learn, and grow IsraAID's Protection Specialists set up Child-Friendly Spaces on Abaco and Grand Bahama. We recruited and trained local volunteers to facilitate these spaces, focusing on key Psychosocial tools to support children in times of uncertainty and chaos. In order to address limited access to safe water and other basic supplies, the IsraAID team established water distribution points for locals and a warehouse to provide emergency items to the community.
COVID-19 EMERGENCY RESPONSE
Since the beginning of the spread of the deadly Coronavirus in January 2020, the disease has claimed the lives and infected hundreds of thousands of people around the world. The World Health Organization declared a pandemic on March 11. There are currently at least 64 cases of COVID-19, with 8 deaths, in the Bahamas.
With mass quarantine, canceled travel, and a disrupted lifestyle across the globe, IsraAID's teams are working to help respond to this most recent public health challenge. The need to isolate the infected and those potentially infected can break down the social ties and connections that are acutely needed in times of crisis, both for logistical preparation and response purposes, but also for our emotional wellbeing.
Vulnerable communities are at even higher risk. Without access to regular services, populations still working to
recover from earlier disasters are facing additional difficulties in obtaining the support they need. The current marked shift back to crisis mode can be extremely difficult, particularly for children. With communities still working to overcome the destruction caused by Hurricane Dorian, people are at high risk for the rapid spread of disease. This could cause a secondary crisis, exacerbating humanitarian needs. Although our programs have been put on hold due to government restrictions, we are committed to getting back to work as soon as possible.
Supporting children's psychosocial needs: Although IsraAID's nine Child-Friendly Spaces have been temporarily closed due to COVID-19 restrictions, the team continues to provide children with an outlet in these difficult times using remote/online initiatives. With many other routine activities canceled, and amid rising anxiety ahead of hurricane season's arrival, it is essential that children can maintain their routines and attend facilitated expressive sessions to build their resilience. Programming also addresses hygiene promotion, quarantine preparation, and expanding children's coping mechanisms in times of stress.
With school closure since March 15th and limited access to electricity or the internet, IsraAID is working to supply child-safe data-enabled tablets, solar chargers, and data packages to provide the necessary platform for Abaco children and other displaced children in the Bahamas to continue their education online. To complement the distribution IsraAID is providing pamphlets for the children's parents about the usage of the tablets and the Virtual School, cyber safety, psychosocial support, hygiene promotion, and Covid-19 background information.
Thank you for your support during this global crisis!