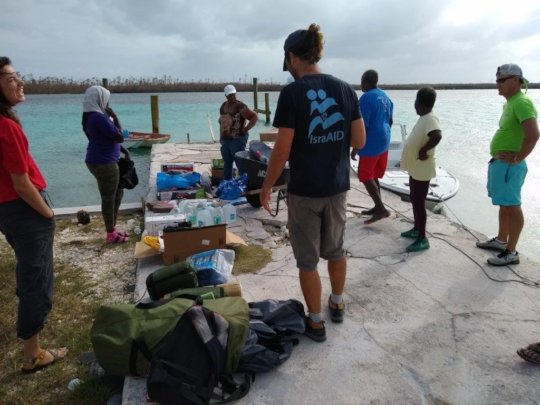 Hurricane Dorian hit the Bahamas in early September, severely damaging key infrastructure, and claiming the lives of at least 57 individuals with hundreds still missing. Windspeeds at more that 220 mph and storm surges reaching 23 feet caused widespread devastation, primarily affecting the islands of Abaco and Grand Bahama. Power lines were downed and roads were destroyed, further exacerbating emergency response efforts.
IsraAID's Emergency Response team arrived on the ground on September 5, 2019 and launched a rapid needs assessment to identify areas of intervention. IsraAID, in collaboration with its partners in the Bahamas focused on three main sectors of work: relief item distribution, providing Protection services and psychosocial support, and implementing Water, Sanitation, and Hygiene programs to return access to safe water to affected communities.
IsraAID's first water expert arrived in the Bahamas in early September, to asses and ascertain the major interventions needed on Grand Bahama. The team met and established partnerships with a variety of key local water actors, including the Bahama Water Authority, the Grand Bahama Port Authority, and other NGOs providing immediate support on the island.
Upon arriving at the heavily-affected High Rock district located in the eastern part of Grand Bahama, the team detected and tested fresh water in numerous private wells. The team distributed 4 Sawyer water filters and trained local community members on their use, thus making this fresh water safe for drinking.
Unfortunately, the situation on High Rock was an isolated scenario. Other wells across the island were tested and had suffered high levels of salination, rendering Sawyer water filters insufficient to ensure water safety. The WASH engineer visited and tested additional communities and locations across the island, including Sweetings Cay, an area accessible only by boat from the eastern point of Grand Bahama, which had been devastated by Hurricane Dorian.
On September 29th, the team launched a widescale partnership with Israel's Ministry of Foreign Affairs, to establish water distribution centers. The first was established in Pineridge Urban Renewal Center located in Freeport, followed by two additional centers at Pinder's Point and Eight Mile Rock, allowing the IsraAID team and its partners to provide more than 30,000 gallons of safe water over 4 weeks.
IsraAID's WASH specialists continued to test the water in existing wells, and to track salinity levels, as well as the speed of the aquafer healing rate using specialized kits and GPS technology. An Israeli government hydrologist joined the IsraAID WASH team in October.
IsraAID's WASH experts succeeded in providing water measurements and samples for a total of 25 wells on Grand Bahama and 25 wells on Abaco. These tests and measurements are currently being processed by the Grand Bahama Water Authority, to create a plan moving forward and addressing long-term water safety programs for residents of these islands.
In the coming months, IsraAID's WASH programs will transition from these immediate, emergency response solutions toward long-term, crisis-resilient water systems, including aquifer rehabilitation processes and water harvesting plans, as part of sustainable, Disaster Risk Reduction efforts.
Thank you for your support!