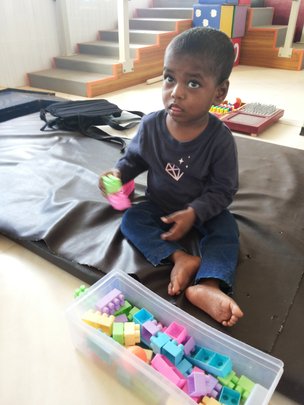 Sunder is four years old. He endures spasticity and was abandoned by his parents in Vellore district. He was rescued by the police and handed over to Sri Arunodayam through Child Welfare Committee, Vellore.
His milestones are delayed. Every day, he is given passive and active movement and walking training using gaiters. With the help of continuous physiotherapy he is now able to walk with the support of the gaiter. His interests are playing with toys and watching television. Presently, he is able to sit for a long time and walk independently with gaiter. His speech is affected so he makes gestures to communicate.
Thank you so much for your support. Your support has been helping many special children like sunder to realise their dreams.
Every child has a story at Sri Arunodayam- of happiness, of strength, sometimes of tragedy and sometimes... of hope!
Mukesh, 10 years old was begging on the streets of Chennai a few years back. The Child Line volunteers rescued him and his mother who was mentally ill.
While his mother was admitted to a psychiatric home, he was referred to Sri Arunodayam assuming that he was mentally challenged. During our medical and psychological evaluations we discovered that his IQ was normal. We enrolled him in to a blind school where he recently got promoted to the 5th standard. We regularly monitor his progress. He has been doing well academically and is a well-behaved child.
There are more than 3,00,000 child beggars in India today. Every year at least 40,000 more are added to the 'begging mafia racket'. Mukesh's story is a story of faith and hope... that every child beggar can aspire. We at Sri Arunodayam are proud of how far Mukesh has come, further strengthening our purpose and mission. Thank you all for your generous support.
It was a warm summer day on Friday, 31st May 2013. The Sri Arunodayam family decided to visit the Marina beach, Chennai's favourite tourist spot. Around 60 of us, including 45 children and 15 staff members boarded the bus on Friday morning.
The children were visibly excited, soaking in the sights and sounds of the city. Small children were delighted as they pointed out at buses and cars. Once we reached the beach, we took the children to the play area, where they rode the merry-go-round. Later on, we took them near the shore to play in the water. Curiosity and excitement were palpable among the children, as they explored the waves, sand and sea—the joy on their faces when the waters tickled their toes, the furrowed eyebrows as they picked up the seashells at the shore, the shy smiles at the passers-by.
The children then settled down to nibble on some snacks. We had a few generous visitors offering children sweets, trying to engage them. The children enjoyed their time on the beach, and returned home with sand in their hair and a smile on their faces.
WARNING: Javascript is currently disabled or is not available in your browser. GlobalGiving makes extensive use of Javascript and will not function properly with Javascript disabled.
Please enable Javascript
and refresh this page.