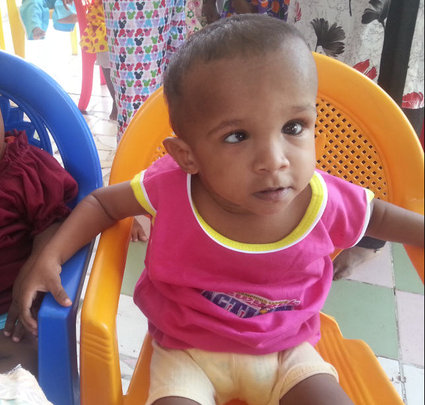 We bring you the story of Mento who is improving every day. This story will help you understand that like all of us, differently abled children also need love, care, attention and little support to express their selves beautifully.
When Mento was one year old, he was found abandoned in Theni district in Tamil Nadu. Left at the Government Hospital in Andipatti, the District Social Welfare officer rescued the child and sent him to an adoption agency. Mento has developmental delay and squint in both eyes, he requires special rehabilitation and care. The Department of Social Welfare sent the child to Sri Arunodayam.
Mento was admitted into Sri Arunodayam on 22nd November 2013. At the time of admission he was totally dependent on others for his activity of daily living. He was hyperactive, could not stand or walk and movement was by bottom shuffling.
Listen to Physiotherapist Naveena – When Mento came to Sri Arunodayam, he had neck control, but could not sit stably. He would lean forward in the sitting position. I worked to strengthen his back muscles and now, he is able to sit upright without support. Now, we are working to strengthen the lower limbs and he is able to stand without support. He can walk with support. There is tightness in the hamstrings and I give stretching exercises to alleviate the tightness.
Mento is very smart and is good in grasping concepts. I just need to demonstrate an activity once and he would repeat it perfectly. He is a lovable child. All he needs is love, care and a little support to become independent.
Valli, the Special Educator talks nineteen to the dozen about Mento, Oh this child! He would never sit in a place, loves to explore the room. He is very attentive, I teach him to string beads and solve puzzles once and then he does it on his own. He is very friendly with another child, Sai Lakshmi. He would look out for her in the classroom and sit beside her, play with her. Even during mealtimes, he insists on sitting with her. When older children call him to join in their play, he plays with them but prefer to be alone or with Sai Lakshmi.
In the class, I give him quite a few activities. To improve his fine motor skills, I train him to curl his fingers and hold objects. During mealtimes, I encourage him to pick up food with his fingers and eat. To improve his expressive language, he is asked to imitate movement of lips and sounds. To improve receptive language skills, I place a few objects before him, name an object and ask him to pick up the object.
In about seven months, Mento has improved tremendously. Sri Arunodayam team is happy about it and they are enthusiastic about working harder to give Mento a better life.