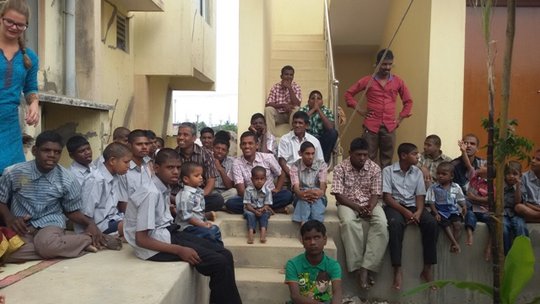 Dear Friends,
Greetings to you from Sri Arunodayam,
I hope you are doing well. All the children are keeping well. We are happy to share this report with you. Thank you so much for your continuos encourgement and support to Sri Arunodayam. With all your support and wishes we are now taking care of 120 differently abled children. We celebrated the harvesting festival recently at Sri Arunodayam. Here is the updates.
However science and technology may improve our lives, there are certain practises that we remember, celebrate and honour. In this report , we share with you how we celebrate the nature. In different parts of india , farming , harvest, the sun, rivers, mother earth and many aspects of nature are celebrated.
In Tamilnadu, the state we live in, we celebrate pongal - the harvest festival. this is a four day festival. On day one - Bhogi, we clean up our homes and paint them up beautifully. This has an inner significance of cleaning up old clutter and making way for new...
On day two - The pongal, we offer everything to the sun - the natural energy on which nature thrives. We clean the barn yards , sprinkle water, draw designs with rice flour and decorate the place with mango leaves and flowers.
As the pongal is cooked , we offer all the harvested vegetables , fruits , sugarcane , ginger and turmeric which form an integral part of indian couisine. We also make a tasty gravy with all the fresh vegetables.
After offering all the produce in raw and cooked form to the nature forces, we partake the food and enjoy the lingering taste of new rice.
Our children enjoyed the festival. All the children sat around the decorated yard , while the women folk prepared and offered pongal to the forces of nature. Our children enjoyed it. Attached some of the pictures for you.
Happy reading
Thank you so much