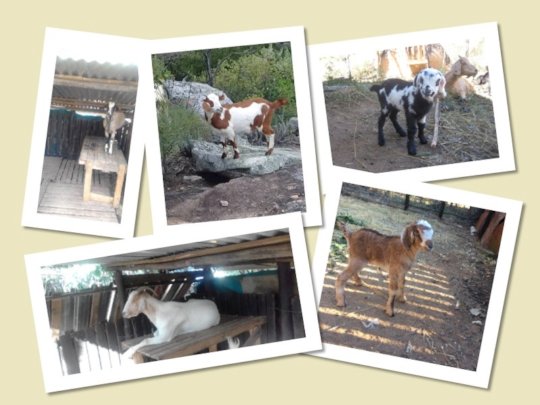 What uncertain and turbulent times we suddenly find ourselves in! Times of confusion, fear of what tomorrow will bring, and if the 'normal' that we have grown to know will ever return.
We have a new baby on the farm! Sheila, one of our original does, gave birth to a bouncing little girl, weighing in at 7pounds 7 ounces! Fred, our Saanen (Dairy) buck is the sire. Sheila has given us some very good babies in her time with us.
We have been connecting with several potential beneficiaries. After some training and checking of shelters, the team has been able to transfer to four homes; that means at least 12 of our pregnant does have left the home herd to help establish herds and therefore independence in vulnerable homes in our community. Exciting! We will then have only a few pregnant does remaining in the herd, and those are pregnant by Fred, our dairy buck. We will now wait a few months before we introduce any does to the bucks so they will not give birth in the winter months. Giving birth in our cold winter is hard on the mums and kids in our environment and we try to prevent pregnancies occurring during this time.
The little brown and white doe, Jakey, was returned to us by one of our beneficiaries, Victor, recently as the first of his 'pay backs'. The little black and white kid next to her, Jami, is actually Jakey's mother! Jami was handed out pregnant just over a year ago. The reason I show you these pictures is to indicate how well the programme is working in our community. I previously introduced you to Easy, one of our beneficiaries. Prayer would be appreciated for her health as she has been struggling for several months now. With the Covid-19 now appearing in Zimbabwe, she could be very compromised.
As I sign off, I pray for safety and health for you all, may we not be brought down by fear of what tomorrow may bring. People keep saying to me that they cannot wait to get back to 'normal'. What is 'normal', I ask myself? Daily things change – what was normal last year or even 10 years ago, is not what tomorrow's normal may look like. We move on into different seasons and different experiences daily. Let's not be scared of change but embrace it (from a distance at the moment!) and be excited by what lies ahead after we deal with this virus that has caused such apparent havoc in our lives.
A quote I read today by Brene Brown spoke loudly to me: 'We are being given the opportunity to stitch a new garment. One that fits all of humanity and nature.' There IS a silver lining in it somewhere. Let us keep looking for it while we support those who have experienced loss and additional hardships.
Everyone here at the American Foundation for Children with AIDS, and our partners in Africa. thank you for your continued support of this important project. If you would like to learn even more about this project and others, please contact Tanya Weaver at tweaver@AFCAids.org.