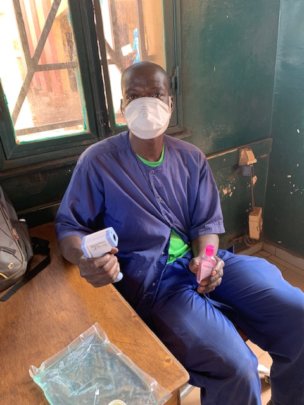 As populated by our headlines for the last several months, COVID-19 has placed normal
life at a complete standstill, overwhelming healthcare systems throughout the world. The most
vulnerable, unfortunately, happen to be many of the patients we work with here at Hope Center Clinic
HIV+ patients/those at risk of HIV infection in Mali are uniquely disadvantaged in that they are
both geographically and medically at risk. Many Malians lack access to proper healthcare and those who are HIV+ and immuncopromised are threatened by a virus that attacks the respiratory system. While encouraging treatment and
access to care was already challenging (and a major goal of GAIA Vaccine Foundation) without
a global pandemic, COVID-19 has overwhelmed health care resources in Mali, leading to many
of Malians unable to regularly attend their appointments or hesitation to do so. This can have
disastrous consequences... without your help!
Here at GAIA VF, we aim to raise funds that will be used immediately to help curb the
challenges of COVID-19 as they affect HIV+/high-risk populations in Mali. Namely, we aim to ensure
that our programs continue and that individuals are still receiving the proper care that they need.
Currently, we have been able to purchase limited PPE (masks, thermometers, etc.) for our clinic,
but more is urgently needed. In order to continue funding our programs that have been clinically
demonstrated to decrease contraction of HIV, GAIA is fully committed to addressing COVID-19
precautions while also maintaining/expanding access to HIV+ care.
Here's a brief idea of how your contribution helps save lives in Mali:
(1) As of today, more than 21,000 pregnant women have been tested in our "Chez Rosalie"
MTCTP program, targeted towards counseling pregnant women- through GAIA, all
babies born to HIV-seropositive mothers have been HIV-free.
(2) Teenage Malian girls are at a higher risk of developing HIV/AIDS. The Teen Peer
Education Project has provided weekly health education sessions on reducing the risks of
acquiring STDs, HIV, HPV to more than one thousand Malian teenagers.
(3) At Hope Center Clinic in Mali, we have achieved dramatic success, providing access to
free HIV testing despite strikes, shortages of testing, and political strife. COVID-19 has the potential to not only severely disrupt our ability to test HIV, but also the proven preventative measures we have taken to help reduce the spread and contraction of HIV/AIDS in Mali. With your donation, we will not only be able to take enhanced precautions at the clinic accordingly, but also be able to ensure no abrupt halt of treatment or education that threatens a resurgence of the disease in Mali.