Dear Patrons,
We are glad to share that the funds donated by
patrons like you through Global Giving has been
used to partly fund a a 50 seater school bus for
the Villupuram School! We thank you from the
bottom of our heart for the donations made by
you to make this happen.

Utilized funds raised through Global Giving: INR 683,407
Bus Registration no. : TN 15A 2701
Driver: Mr. Akkim / Caretaker: Mrs. Padmini
Villages served: Arasur (10 kms), Mamandhur (9 kms),
Kanthalavadi (8 kms), Madapat (5 kms), Sirithanur (4 kms)

Boomika, a 6th grade student, who uses the bus shares:
"I travel a distance of nearly 74 kilometers every day to attend
school. My father got immobilized because of an accident and
my mother became the sole bread winner of the family. She
works as a housekeeper in Chennai leaving me in the care of
my maternal grandparents. Every morning I start from my
home in Panjamadevi by government bus at 6:45am and reach
Villupuram by 7.45am. From Villupuram, I board the school bus.
Being in scholarship, I am able to afford the bus fees. My family
feels happy and supported and considers the bus a lifeline.
In my life, our school bus is the only thread for me for a bright
future...."

Bus driver Mr. Akkim shares: "Both my parents passed away
when I was 4 years old and my aunt brought me up. Since they
were also very poor, I had to discontinue studies after grade 8.
I've been working with Isha Vidhya as a private van driver since
last year and feel really happy to see these poor children getting
a good education, which I didn't have access to in my childhood.
I also get a lot of respect from people around me as I work for
Isha Vidhya."

We are attaching photographs of the bus, and the photographs
of Boomika, Akkim, and Padmini. We are sure you are pretty
happy learning that your donations are put to great use!

Your opportunity to get involved in Isha Vidhya's work:
Recurring donations are a great way to contribute small
amounts of money every month to be continuously involved
in Isha Vidhya's work, and making an impact on these
children's lives!

We are glad to share that Global Giving will be matching the
first donation of a recurring donation made between
September 21th and September 27th, if the donation was
continued for 4 months. Please note that donations upto $200
will be matched dollar by dollar, and donations above $200 will
be matched with $200.

Link to donate: Recurring donation link
When to donate:

(1) India: Between Sep 21st 09:31 AM and Sep 27th 09:29 AM
(2) USA Eastern: Between Sep 21th 00:01 AM and Sep 27th 11:59 PM
(3) London: Between Sep 21th 05:01 AM and Sep 27th 04:59 AM

We request you to make use of this opportunity, which will
create additional benefit for creating infrastructure of Isha Vidhya
schools!

If you have any questions or need clarifications about this
opportunity, please email to global.giving@ishavidhya.org

Again, we thank you for everything that you have done for
Isha Vidhya!

Thanks & Best Regards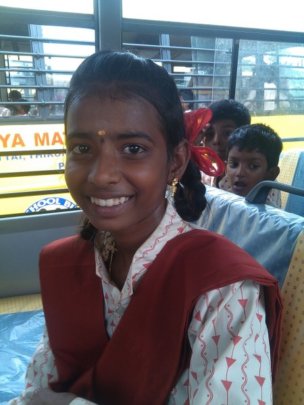 Links: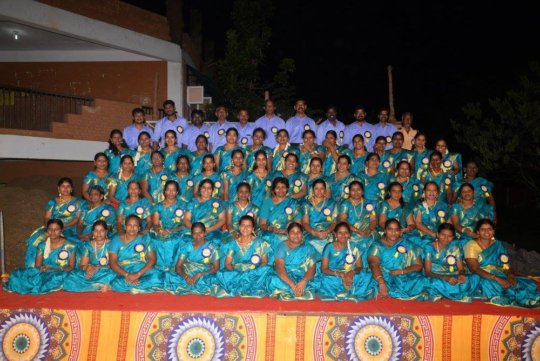 Isha Vidhya Nagercoil school celebrated its 10th anniversary recently.
The theme "Unity is Strength" selected by the school which was
reflected in all aspects of the event.
Chief guest Dr. Vijayakumar, Vice President of the Commonwealth
Medical Association in London. U.K., presided over the function. After
invocation by 9th grade students, the audience learnt about Isha Vidhya's
journey over last 10 years through the words of Ms. Betsy, Principal of
the Nagercoil School. The school was started with 101 students in 2007
and now has 849 students!
Dr. Vijayakumar spoke about his experiences studying in a Government
school and then his eventual admission to the medical college. He said
that sincere professional practice has resulted in him becoming the
Vice President of the Commonwealth Medical Association, London. He
advised students to work hard and appreciated the students for their
discipline and creativity.
Students who had made outstanding performance in subjects in the 10th
exams were recognized. Teachers and staff, who made significant
contributions to the school were also recognized.
The evening ended with music, dance and skit performances. The cultural
program began with Bharatanatyam performance followed by performances
by each class. After the cultural program, dinner was served.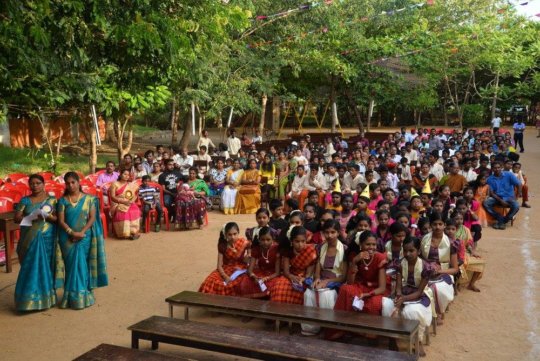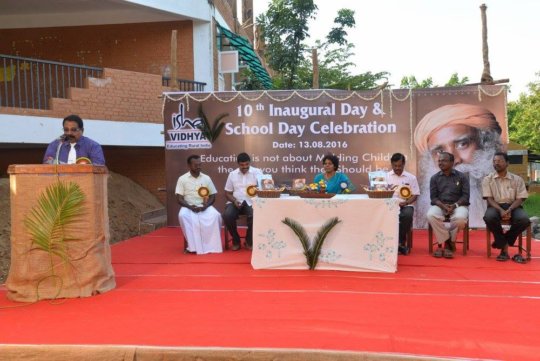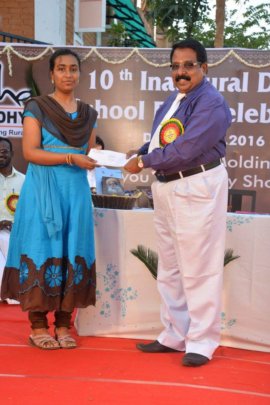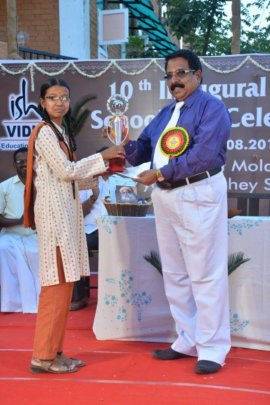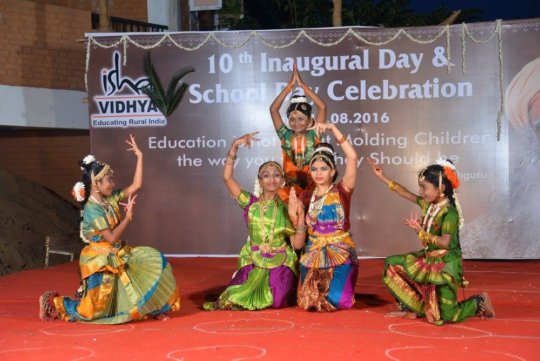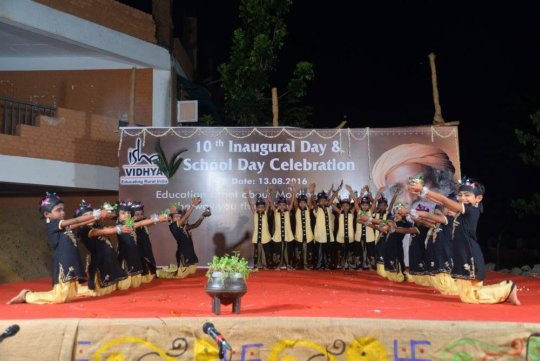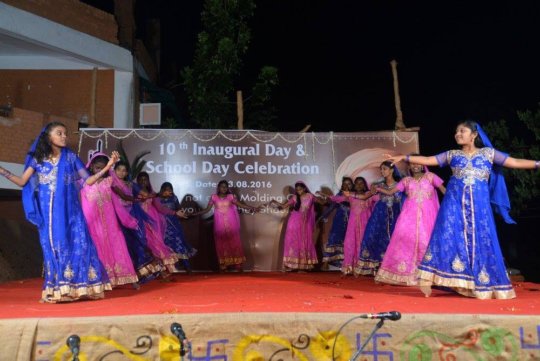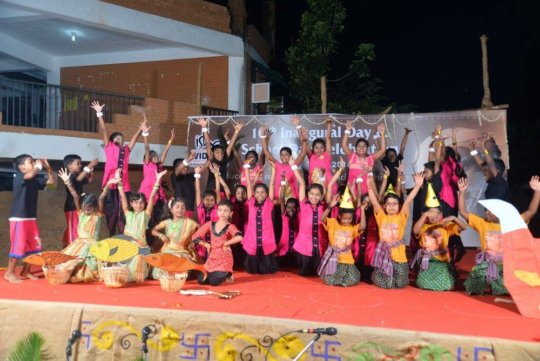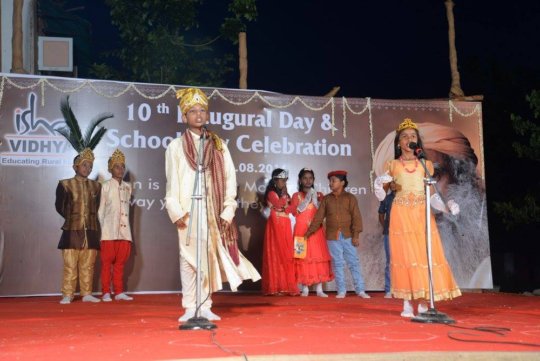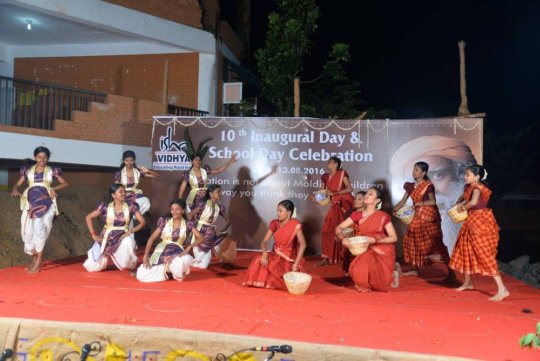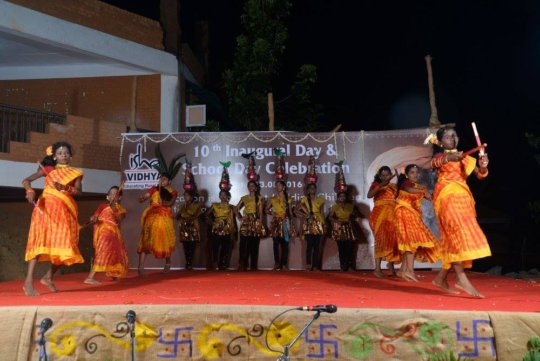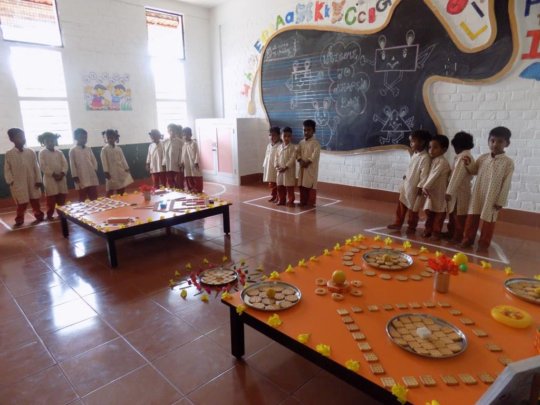 Kindergarten learning is not complete without
getting to recognize shapes. Cuddalore School
KG section organized the 'Shapes Day' when
several activities were conducted. They had been
learning about shapes and 'Shapes Day' was the
day of testing their understanding while having fun.
In the morning of the 'Shapes Day', when students
entered the classroom, they saw objects of daily use
sorted and displayed according to their shapes. They
were intrigued to find snacks, vegetables, books,
household items together sorted by shapes.
The teachers shared: "The activity that elicited maximum
squeals of joy was the one where kids had to rush to the
shape drawn on floor when called out by us. It was a race
among the students as they ran to reach the shape first!"

If you have ideas about ways of teaching shapes, numbers,
alphabets, etc, to kindergarten students (LKG, UKG), please
do share them via email to global.giving@ishavidhya.org,
and we will pass them on to the learning co-ordinators to
be considered in the learning curriculum of our schools!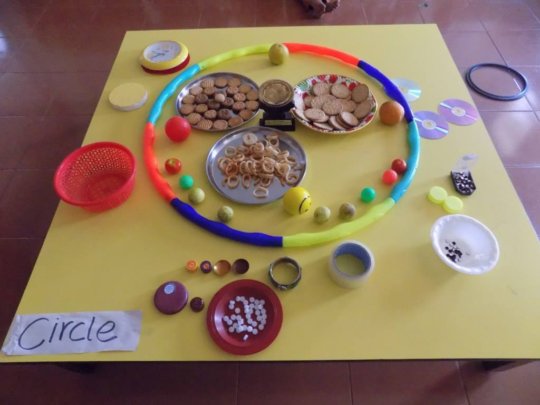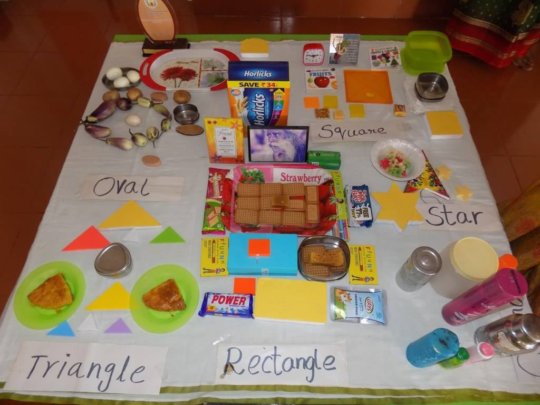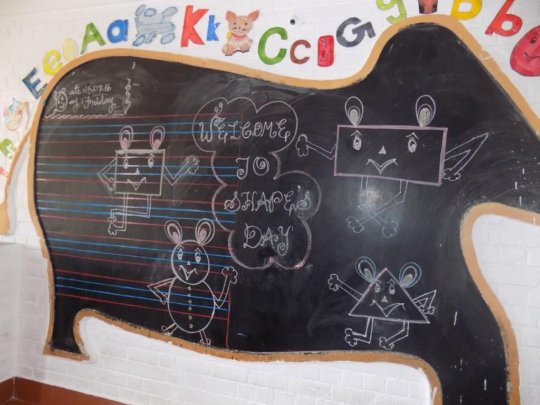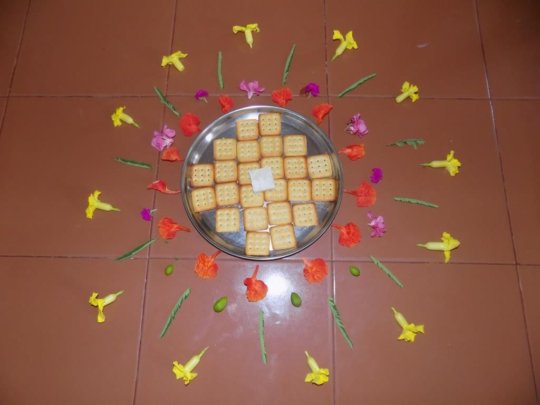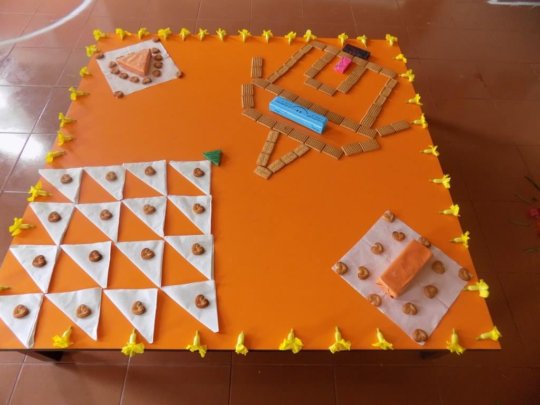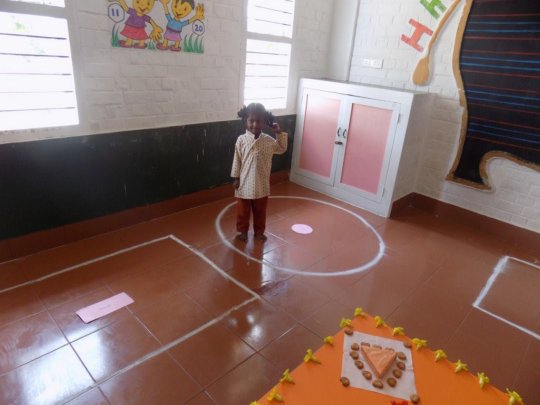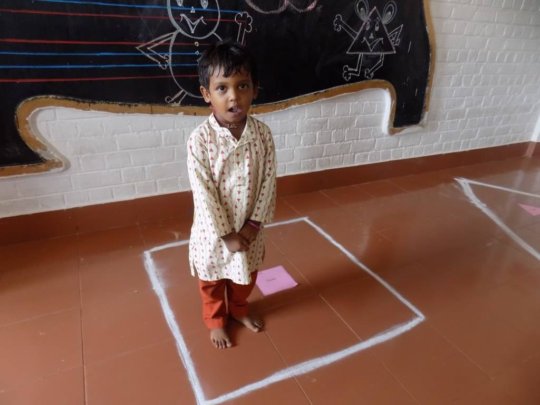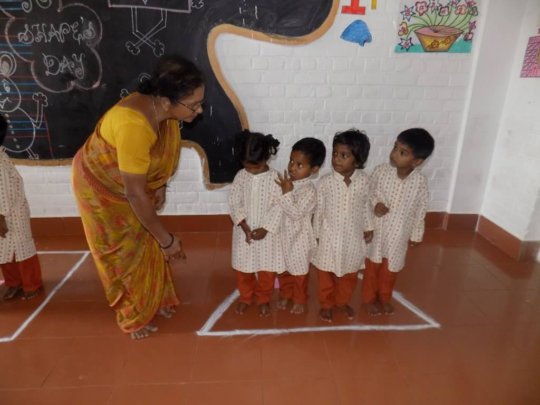 WARNING: Javascript is currently disabled or is not available in your browser. GlobalGiving makes extensive use of Javascript and will not function properly with Javascript disabled.
Please enable Javascript
and refresh this page.