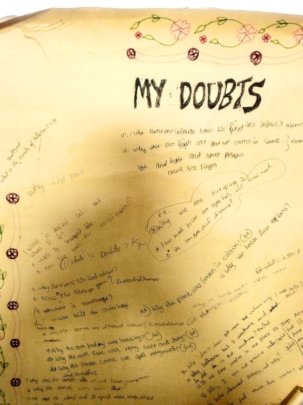 Happy New Year!

Enabling the thought process is an important part
of education. Children, who look around the world
with curious eyes come across so many questions
that are unanswered to them which leads them to
wonder, and making them seek out for answers.

Especially, students at the schools indulge in
incessant questioning of many things that they don't
know, thanks to the subjects and topics that they
learn in the schools, in addition to what they
experience in and out of the school.

An environment that encourages questioning
and helps students find answers is very important
for the learning process. Teachers, mentors and
guides help answer students' questions. Libraries
serve as the store of knowledge for students to
pick books in which they need something to learn
about. It's also important for students to know that
questioning is not wrong, and they are welcome to
ask and seek anything that they want to know.

Towards this, the Dharmapuri Isha Vidhya school
came up with 'Question Corner', which is a chart
activity for students to write their questions! The
'Question Corner' idea was given by the central
academic team of Isha Vidhya, and implemented
for the 7th and 8th grade last year. It has been
implemented now for the 6th and 9th grade now.

Around 200 questions have been written by the
students so far! The answers to the questions are
usually discussed during the morning assembly.

You might be interested in taking a look at some
of the questions, which we are providing below:

** Which came first, egg or chicken?
** The hair is not growing in the palm, why?
** When we exposed in sunlight, our skin turns
blackish, Why?
** We have two ears and eyes, but why don't we
two nose or mouth?
** Why are trees cylindrical in shape?
** Why is the moon white in colour?

Interesting, isn't? When was the last time when
you ever wondered about something and let your
thoughts flow? It's not just the children but we
adults also should practice this activity! What
do you say?


Best Regards,

Support Isha Vidhya schools by starting
a small monthly recurring donation as low
as $10: Monthly recurring to Isha Vidhya


Links: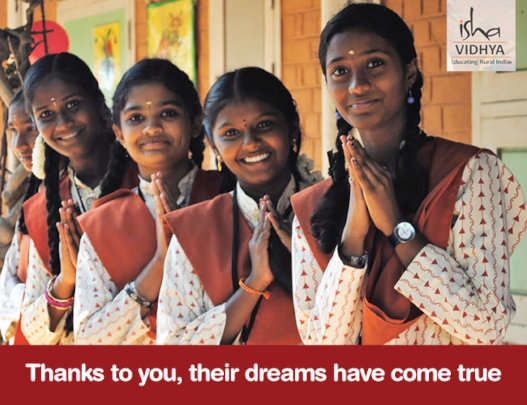 Dear Patrons,
A very warm greetings from Isha Vidhya, your project,
which is continuously striving to educate the underprivileged
rural children of India.

We would first of all like to thank from the bottom of
our hearts all our donors who have donated as well as
volunteered for Isha Vidhya in the past year through
Globalgiving.

We are happy to let you know that with all your support,
from January 1st, 2017 through December 27th, 2017,
Isha Vidhya has raised around $70,000 (INR 45,50,000)
towards schools infrastructure and government schools
teachers salary and academic learning aids, and around
$3270 (INR 2,12,550) for Life Skills education at the
Coimbatore district government schools.

Some of these funds (January 1st, 2017 through March
31st, 2017) have already been deployed for infrastructure
requirements (as detailed in the project reports filed earlier).
We have also used some of the Life Skills funds in December
2017, and look forward to utilize the raised funds fully in the
first four months of 2018. We will continue to file utilization
reports for all the expenditures fulfilled, through project
reports at Globalgiving.

We would like to express our special gratitude for our
recurring donors for their unwavering support. Isha Vidhya's
number of recurring donors has increased to 33 this year.
We have been able to raise $10,349 between January 1st,
2017 and December 27th, 2017 through the recurring
donations. We encourage more of you to become recurring
monthly donors for Isha Vidhya, as we are looking for
expanding infrastructure as well as additional teachers'
salary expenses in 2018. Those of you that are already doing
recurring donations, please continue to do so. Thank you!

We would like to give you a quick update on the Life Skills
program fundraising for Coimbatore area Government schools.
This fundraising effort will expire on December 31st, 2017, and
there's still $727 (INR 47,255) to be raised. We request you to
donate as much as you can to get this project full funded through
Globalgiving. To donate, please visit:

https://www.globalgiving.org/microprojects/ishavidhya-govt-lifeskills-oct2017/

2017 has been one of the best years for Isha Vidhya fundraising
at Globalgiving, and we expect 2018 to be even better. We request
your continued engagement, donations, volunteering and co-operation
to enable us to raise as much as funds as possible for Isha Vidhya
through Globalgiving, so that we can educate the deserving,
underprivileged rural children of India together towards their glorious
future and to make them well-educated global citizens of tomorrow!

If you have any questions, please email global.giving@ishavidhya.org

Once again we thank you for all you did for Isha Vidhya!

Thanks & Best Regards.
Links: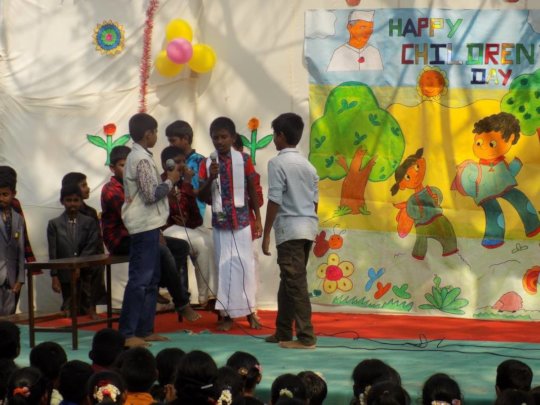 Donate and Sponsor a child's education at Isha Vidhya!

The holiday seasons are in full swing with many
thoughtful individuals donating to the causes
that are close to their heart!

We know that you are looking for sponsoring
a child's education at Isha Vidhya, and this is
the last week to do it with a Globalgiving match!

Till Dec. 31st, Globalgiving will be matching 100%
your first donation in the series of recurring donations.

All you need to do is simply visit the following link
and start a recurring donation with $40, $60 or $80
option, which you will continue further for additional
5 months, 3 months and 2 months respectively (the
cost of a sponsorship is $240).

http://www.globalgiving.org/projects/ishavidhya?show=recurring

We encourage you to start recurring donations
that will help a rural child continue their education
at an Isha Vidhya school. We will provide the report
on how the child that you sponsored is doing as and
when possible!

We look forward for your thoughtful donation!


Skit Competition at the Erode School:

The Erode Isha Vidhya school recently conducted
a very colorful skit competition that created awareness
about cleanliness and honesty!

Students from 6th to 8th grades formed 17 teams
that participated in the competition. The students
managed the entire production starting from the
concept, the skit-writing, direction and the presentation!
Their teachers guided them as and when the students
asked for suggestions or if they had questions.

The students showed great enthusiasm in handling
everything by themselves. We observed that the
students from the lower grades were also inspired
by the effort, and were eagerly asking when they
will get a chance to perform!

We are attaching fabulous pictures of the event for
your viewing.

Thank you for all you have done for Isha Vidhya!

Best Regards.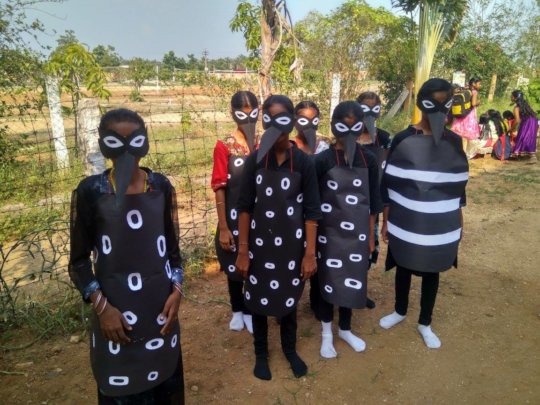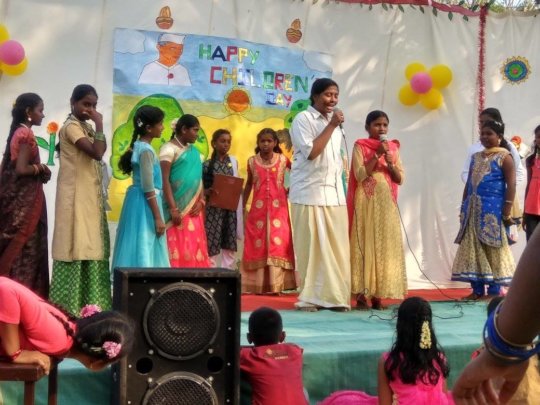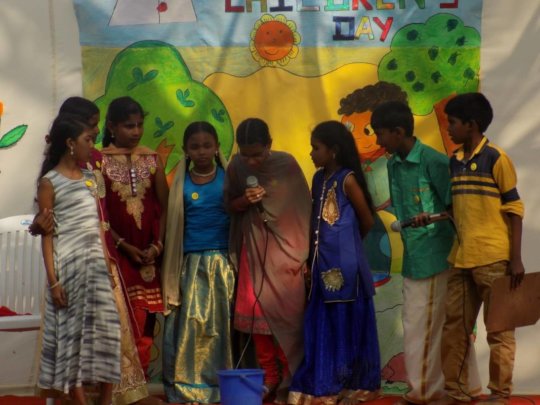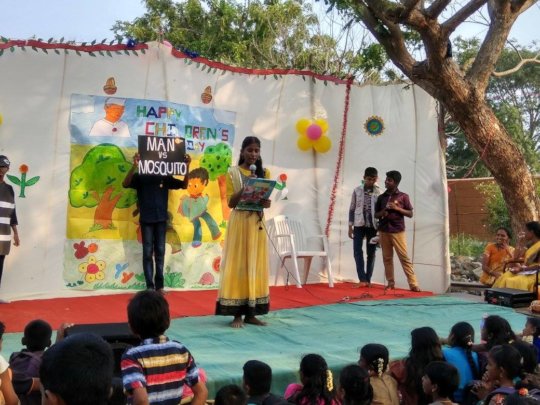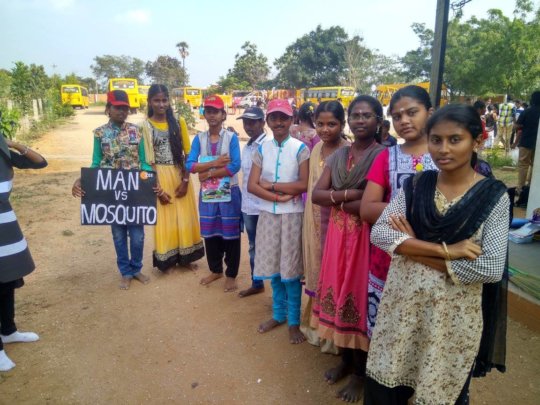 Links:
WARNING: Javascript is currently disabled or is not available in your browser. GlobalGiving makes extensive use of Javascript and will not function properly with Javascript disabled.
Please enable Javascript
and refresh this page.