Creating awareness about cleanliness

Isha Vidhya schools create awareness about cleanliness
not only among its students, who are from underprivileged
rural background, but, also make an impact on the
communities they serve in, around the schools.

We feel that it's pretty important to inculcate the importance
of cleanliness and hygiene in the minds of the students, so that,
they can carry this message wherever they go in the world,
and live in whichever circumstances that they are put in.
Tuticorin Isha Vidhya school's cleanliness initiative

One such cleanliness campaign was initiated by Tuticorin Isha
Vidhya school recently. The students enthusiastically asked
about and decided to participate in a drive to clean the public
areas around the areas. The students of the 8th and 9th grades
of the school, along with the class teachers participated in this
drive. They were provided with gloves and masks to protect them
from dust and infections.

The Village Panchayat (administration) pitched in, by joining the
school in this drive, and collecting the bags containing the
garbage that was collected by the students. Plastic waste, carry
bags, etc, which were collected by the students, were put in a large
bag, and removed by the village Panchayat for proper disposal.

Stagnant water in some areas were shown to the students, and they
were made aware of the dangers of such stagnant water, especially
during the rainy season, which becomes a breeding ground for
mosquitoes, which spread diseases like viral fever, dengue, malaria,
etc.

Active participation of the local public

The villagers, noticing the students cleaning the public area, also
engaged with them to participate in the awareness building aspect
of the drive. Without complete involvement of the general public,
the cleanliness drive could not have succeeded.

Sathya from 9th grade shares:

"I feel happy to share my participation in cleanliness campaign.
One day, we cleaned our school surroundings for about 100m.
I and my friends were very happy to do that work. We didn't feel
bored as we were enjoying it. Our Principal gave us some
instruction for our safety. We felt very happy when we saw the place
that we cleaned. From that moment on wards we pledged to keep
our surroundings clean. We should be clean and make our
surroundings clean. We have to create awareness programme
among people. If we keep our surroundings clean we can maintain
good health."

Suresh from 8th grade shares:

"I would like to share my feeling about a rally on cleanliness
campaign. There were a lot of plastic covers and non-bio degradable
wastes which will not allow the rain water to reach the ground. If we
leave it as it is, it will cause many harmful disease. So my principal
said to clean all those things far away.

My friends and I did the job perfect fully with joy. By hearing my
principal'swords I did not use plastic covers yet. I did not allow my
parents as well as my friends to use plastics. I create awareness
among students to clean our surroundings."

So, it looks like the environmental education along with cleanliness
and hygiene awarenes has indeed sinked in to our Tuticorin school
students. What do you think, patrons? Please do let us know your
feedback!

For any suggestions, please email us at global.giving@ishavidhya.org

Thanks & Best Regards,
Links: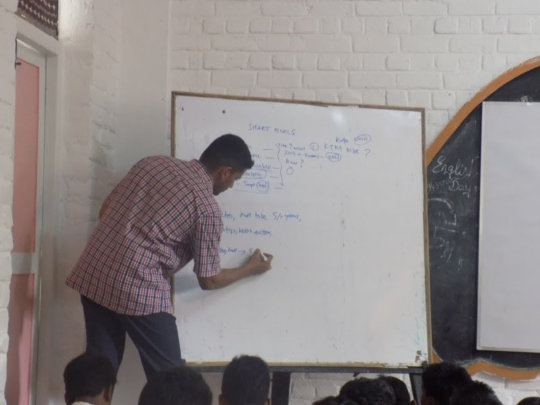 Isha Vidhya's ten years towards India rural education

The first of the Isha Vidhya schools was started in Coimbatore
in 2006, and since then, 7 additional schools have been constructed
and being operated in Erode, Salem, Dharmapuri, Cuddalore,
Villupuram, Nagercoil and Tuticorin.

We have come a long way indeed. One of the initial schools started
was the Nagercoil school which had 100+ students, which has grown
today to 800+ students!

Career guidance and 'Profession with Passion' series talks

As the children and the schools grow, the need for higher grades at
the schools, and guiding the students in their career becomes very
important!

Profession with Passion, is a series of talks by individuals from
various professions, presenting about their career, and about the
career choices that the students can make.

Ranjeet Varhman's presentation

In one of such talks, Mr. Ranjeet Varhman, Project Manager at
Rees Elsevier India Private Limited, Chennai, conducted two
sessions for Cuddalore students, which covered:
A glimpse into Project Management in a publishing house
How to plan your career, and what are the possibilities
Students from 9th to 11th grades participated in these sessions.
The sessions were interactive, in which the students participated
actively.

Ranjeet shared:

"I was surprised that the students promptly answered my questions
to them, as well as asked many sensible questions about the
publishing house careers."

The students expressed their satisfaction that the session was very
useful for them, and looked forward to many sessions like these in
the future!

If you would like to do a 'Profession with Passion' talk at any of the
above mentioned schools, please send an email to
global.giving@ishavidhya.org expressing your interest. Thank you!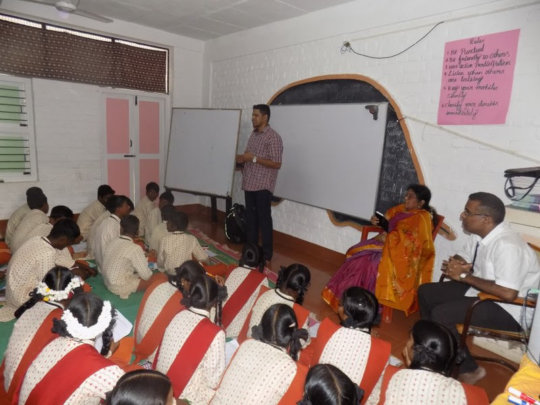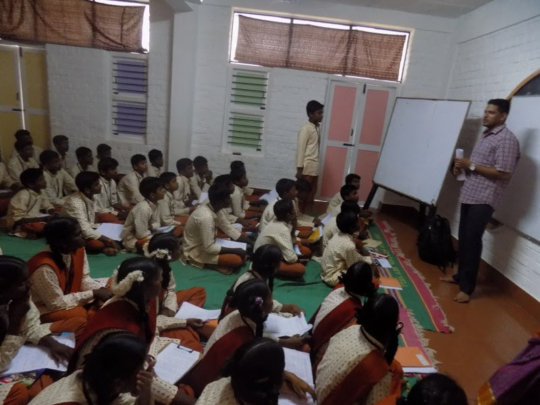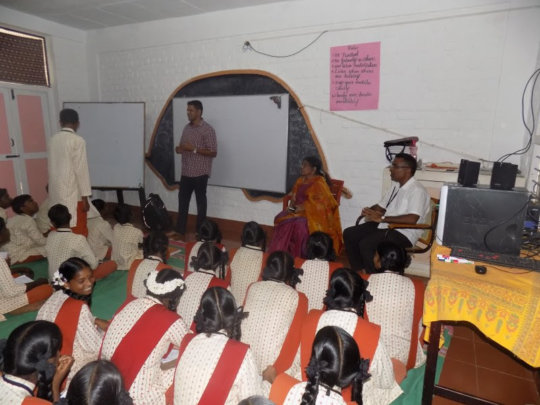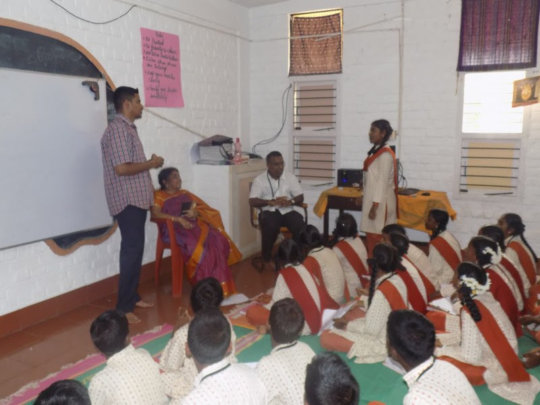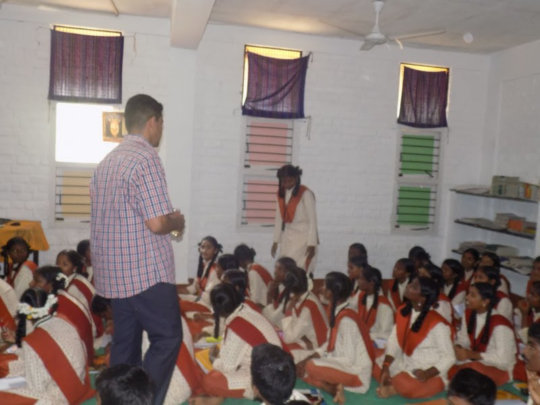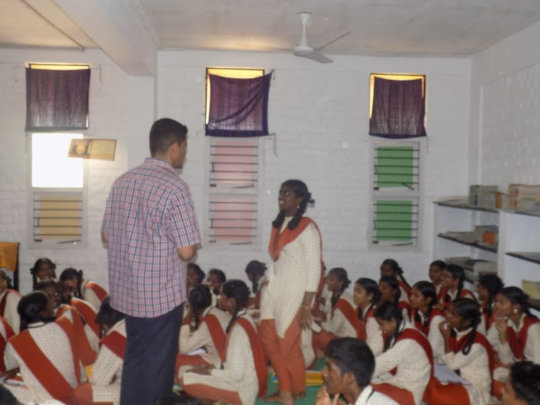 Links:
Dear Patrons,

As you already know, creating awareness among the
students about nurturing the environment is one of
the top priorities at Isha Vidhya schools.

Towards this, Dharmapuri school planned last month
to plant saplings, so that it's timely for the planted
saplings to receive the monsoon rains that are
expected this month.

50 saplings were planted near and along the Dharmapuri
school compound. The effort was arranged by the science
teachers, in which the students eagerly participated.

Office staff Mr. Arun and Mr. Muniappan put in a lot
of effort to make this happen. Our special thanks to them!

We are attaching the pictures of the planting. See the
young students taking part in the activity with full
enthusiasm!

Attention UK based patrons!

Global Giving UK's Little-by-Little-by-Little donation
campaign!
Did you know that Isha Vidhya is registered with
Global Giving UK ?

http://www.globalgiving.co.uk/projects/ishavidhya

Global Giving UK has announced a donation campaign
in which your donations up to 50 GBP (Great Britain
Pounds) are matched 50% by them till 31st October!

Please also note that if you are an UK tax payer, your
donation is eligible for Gift Aid !

So hurry, please donate and support Isha Vidhya before
the matching funds (a little over GBP 5500 as of writing
this article) run out!

We thank you for everything you did for Isha Vidhya,
and look forward for your continued patronage!

Best Regards,
Venkat Ramakrishnan


Links:
WARNING: Javascript is currently disabled or is not available in your browser. GlobalGiving makes extensive use of Javascript and will not function properly with Javascript disabled.
Please enable Javascript
and refresh this page.