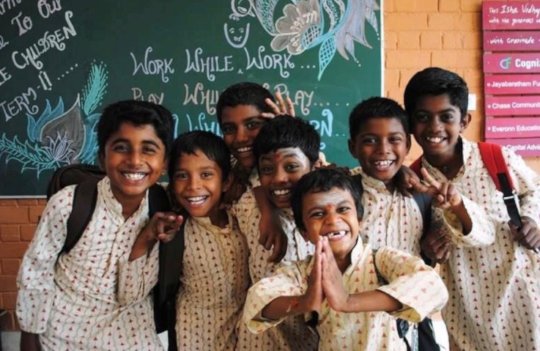 Dear Patrons,
At the outset, our heart-felt gratitude to all of you for your continued support of Isha Vidhya! The academic year 2018-19 has started, and the students are joyfully learning in all of our 9 schools.

Utilization of donations:
With the funds donated by you till March 31st, 2018, we have initiated procurement of the following items for the schools as mentioned below:

1. Arts & Craft stationery items in 4 schools: INR 77,308
2. Tamil language long story cards in 7 schools: INR 3,60,520
3. Karadi Path in 5 schools: INR 2,47,873
4. Science lab materials (6 to 8) in 8 schools: INR 3,30,958
5. Science lab materials (Hr. Sec) in 6 schools: INR 3,23,485
6. Math Learning material: INR 1,80,744
We are glad to share that we are working on planning for the library books. We will be submitting one more project report on the split-ups of all the above items (school-wise) and the library books along with students' sharing and photographs pretty soon.
Participation in GG Rewards Bonus Day
At this juncture, we are glad to share that we are participating in Globalgiving's GG Rewards Bonus Day on July 18th! The first month donation of the new recurring donations started on this day will be eligible for a 100% match, provided it's continued for 3 more months! That means, if you start a recurring donation for $30, another $30 will be added to your donation by Globalgiving, so, Isha Vidhya will get $60, and you have to continue the recurring donation for next 3 months.
We strongly encourage you to start a recurring donation if you have not done so already. This will help you contribute to Isha Vidhya's cause on a continual basis, helping the children with academic and infrastructure needs!
Link to donate: http://www.globalgiving.org/projects/ishavidhya?show=recurring
When to donate:
USA Eastern Time: July 18th between 9:00 AM and 11:59 PM
India Time: July 18th between 6:30 PM and July 19th 9:30 AM
We really appreciate all you have done for Isha Vidhya, and look forward for your continued support!

Best Regards.
Links: