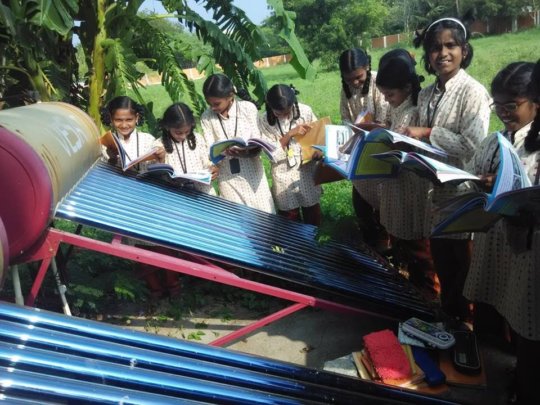 Coimbatore School Science teacher, Mrs. Jamuna, decided to make
the class room learning interesting by teaching the lesson outdoor.

The topic was 'Save Energy' with content on renewable resources like
solar energy. All Isha Vidhya schools have facility of heating water
through solar energy. This was sponsored by generous donors and has
helped us save a lot of fuel while heating water for mid day meals.

Mrs Jamuna took 5th grade students to the solar water heater panel
and off grid solar photo voltaic power plant area for the lesson. Students
were already familiar with the idea that solar energy can be harnessed
as an alternate source of energy. They asked many questions about
working of solar plant, capacity, application cost of installation etc.
and wanted the teacher to explain.

The teacher Mrs. Jamuna shared:
"I was delighted with their interest in wanting to know about how
the solar system functioned. A simple change of location brought
increased interest and easy learning among students!"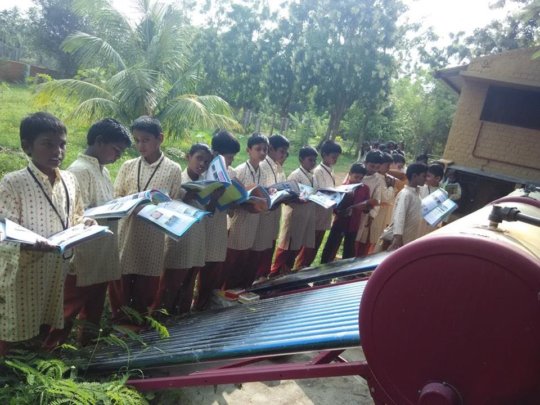 Links:
Dear Patrons,

Every year, the Academic Council of Matriculation Schools conducts
award functions to honour the schools which produced 100% students
passing in the SSLC (10th grade) examinations, and the Higher Secondary
Board (12th grade) examinations.

In the last week of November, such a function was conducted which was
attended by the Coimbatore school. The school received an award for
producing 100% result in the SSLC exams in 2016, as well as for producing
lots of 100% scoring in Maths, Science and Social studies, by the school
students!

Teachers of those subjects also received certificates of appreciation.

The award and the certificates were given by Inspector of Matriculation
Schools officer Mrs. Vanaja, and District Education Officer Mrs. Thenmozhi.

The school staff share:
"We felt very happy to receive the award. We've shared the same with our
students & staff in the school assembly!"

We attach a couple of pictures of the same for your viewing. We hope and wish
that more and more Isha Vidhya students excel in the subjects and clear the
examinations such that they can chart their path for their higher education
or gainful employment of their choice!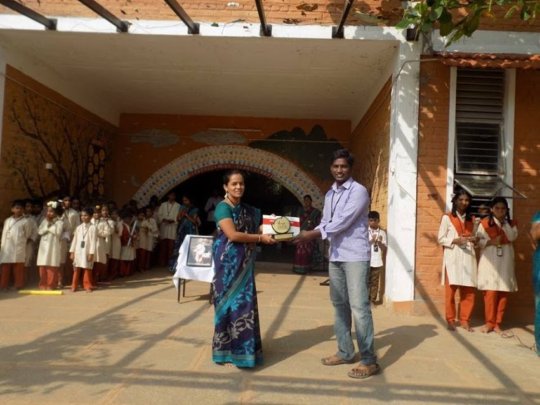 Links:
Dear Patrons,
The fund-raising platform Global Giving, through which
you donated to Isha Vidhya on #GivingTuesday, when
we raised around $27,000 on a single day, has partnered
with 'Imprint' to design a custom-made 'Thank You' note
to all of you who have supported Isha Vidhya so far.

This note is prepared by all of us at Isha Vidhya.

You can see the note here:
https://imprint.us/imprints/e1f480c58cc0y/present
We would like to bring to your attention that the recurring
donation match campaign is still on at Global Giving (subject
to matching funds being available at the time of your donation).

If you start a recurring donation and sustain it for atleast 3 months,
Global Giving will match one of those donations 200%. That
means, if you donate $75 ($25 each month), Global Giving will
put $50, so Isha Vidhya will get $125! We request you to
make use of this opportunity, as it will also enable you to
contribute in small amounts monthly towards Isha Vidhya.

Link to start a recurring donation:
http://www.globalgiving.org/projects/ishavidhya?show=recurring

Please feel free to share this message with your circle of
friends, colleagues, relatives, partners, etc, so that they
get to know too.

We look forward for your continued support for Isha Vidhya.

Best Regards.


Links:
WARNING: Javascript is currently disabled or is not available in your browser. GlobalGiving makes extensive use of Javascript and will not function properly with Javascript disabled.
Please enable Javascript
and refresh this page.