Dear Patrons,

Hope you are all keeping well.
We thank you for your continued
support and interest in the
activities of Isha Vidhya!

We would like to update you
that all the Isha Vidhya schools
have been closed as a measure
of precaution because of the
spreading of Coronavirus.

We take the health and safety
of our students and staff
pretty seriously, and hence this
measure. The local government
has also put in guidelines to
follow during this trying times.

Although the schools have been
closed, we still need to report
a few activities/events that
happened in the schools last
month. We will be reporting
these in the coming weeks.

Again, thank you so much for
your awesome support for
our project! We look forward
for your continued engagement.

In case if you have any questions,
you can email us at
global.giving@ishavidhya.org

Best Regards,




Links: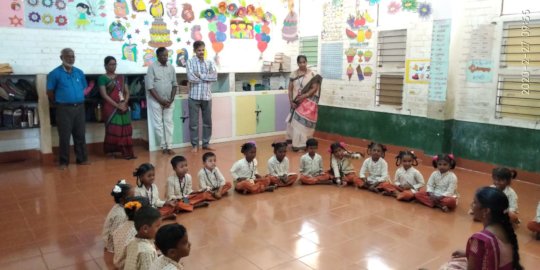 February 27th was a proud moment for
Cuddalore Isha Vidhya, when the
Director of School Education of the
neighbouring Union Territory of
Pondicherry Mr RudraGouda and
Chief Educational Officer Mr.Meenakshi
Sundaram visited the school to see
the unique teaching methodology.

They were accompanied by Pondicherry
Transport Officer. One of our dedicated
volunteer Captain Prathap was also
with them. His words of praise about
the functioning of Isha Vidhya had
motivated the guests to visit our school.

The Principal and School Administrator
gave a brief introduction about the
school. The Vice Principal explained the
methodology. The guests were then
taken around the school. They were
very impressed with the amenities
found in a rural school which can usually
only be seen in international schools.

Being educators, they were keen on
observing all the activities happening
in the school, and also spend quality
time interacting with the students.

The director of Pondicherry expressed
his desire to Isha Vidhya schools in their
Union territory. He commended the
service done by Isha Education.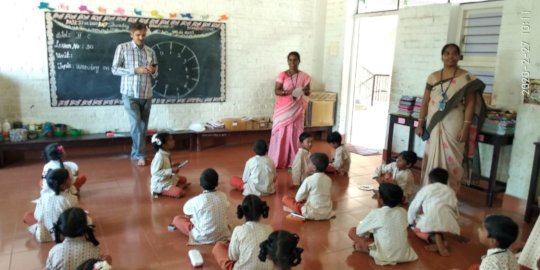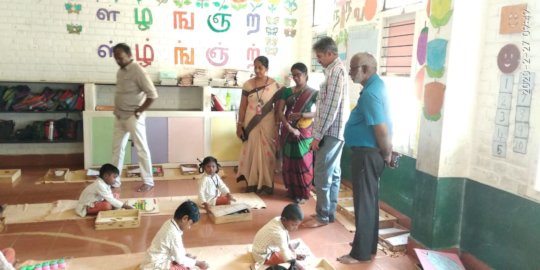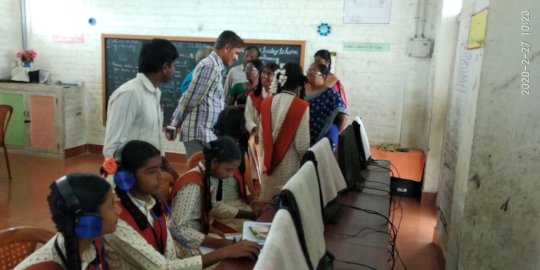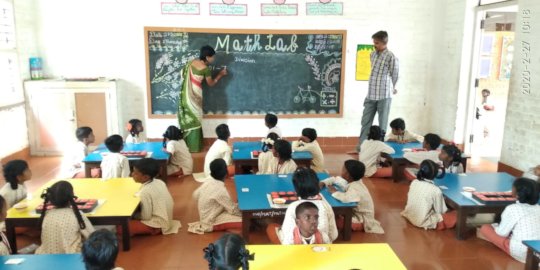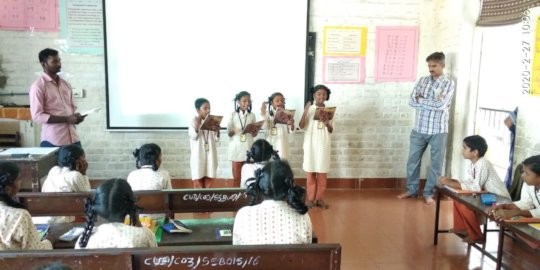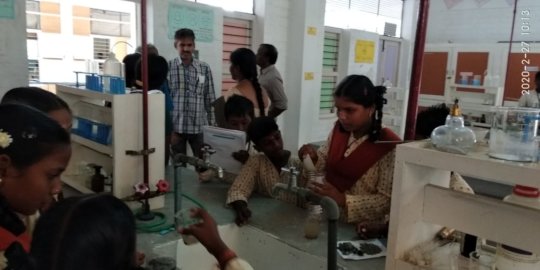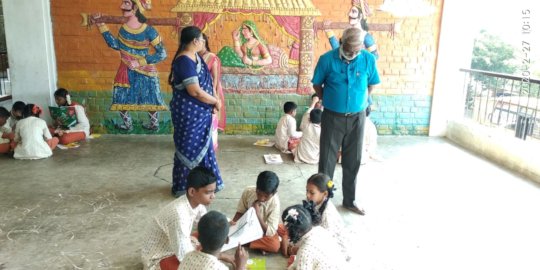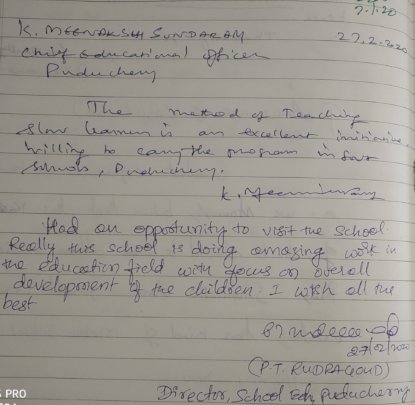 Links: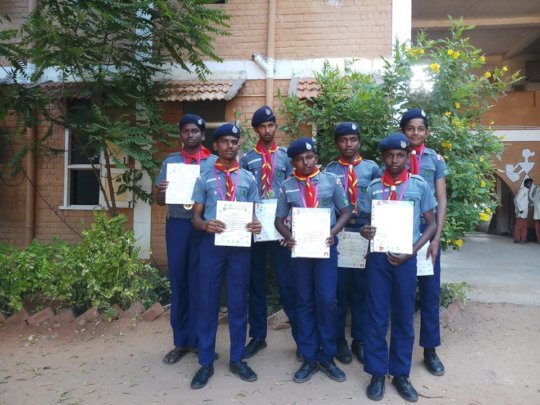 8 students from Isha Vidhya Tuticorin school
were awarded the Rajya Puraskar Certificate
in Bharat Scouts and Guides. Tuticorin's
collector Sandeep Nanduri distributed the
awards to the school's Scout teacher
Barathakala.

Here is a list of students who got the awards:

10th grade:
Megalingaraj
Sankar
Lurthus
Arjun
Nithish

8th grade:
Periyasamy
Santhosh
Mareeswaran

We share here the sharings of some students
in their own words how they felt after they
received the awards:

Megalingaraj: "I felt very happy when I
received this award from our district
collector Mr. Sandeep Nanduri. I am
proud to be a scout student. When I
wear the uniform, it shows my
patriotism. It gives me confidence,
power, and strength to do all needful
for my nation and my people."

Sankar: "I received this award from
my school principal in the assembly.
I felt very happy. This award gave me
confidence. In this scout camp, they
taught us how to make a tent. I like
to make tents, and I have done a tent
at home. From this scout camp, I
learnthow to help others. This gave
me the skill of doing work with unity
among us."
Lurthus: "I felt very happy. I received
the award from my principal in the
assembly .This is the first time that
I received the award. This made me
very glad. My mother also works in
our school. She too felt very proud
have interest in cooking. Cooking
is also a part of scout training. They
taught us how to cook with fire,
without fire, using vessel & without
vessel. We got a chance to taste
varieties of food in the camp. With
this we learnt the art of cooking with
available things."
Arjun: "My teacher informed if we
receive award from scout it will help
us to get a job in railway department.
This information made me join scout.
I am very happy that I received this
award. This award will surely help
me in my later life. Apart from this
I have learn different skills like unity
cooking, cleanliness activities and
much more. So I am very happy."

We are inspired by the students who
are happy and looking forward to serve
the nation! Are you?

Best Regards.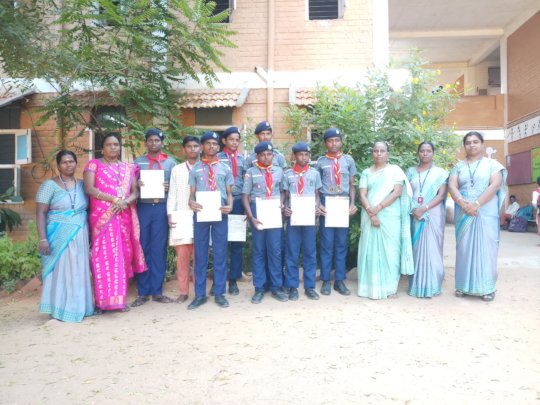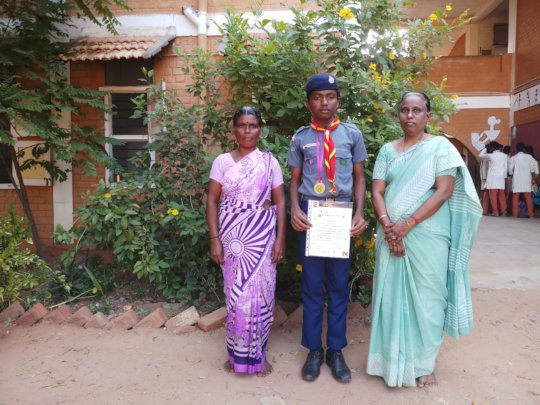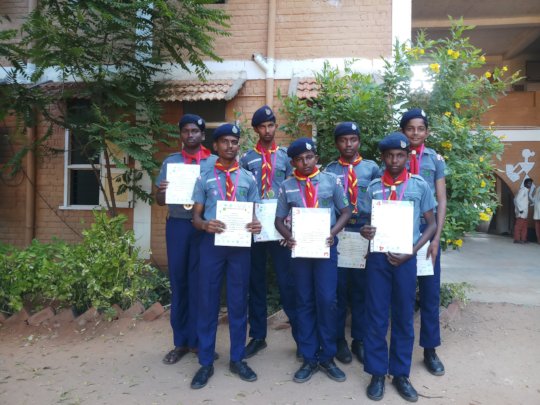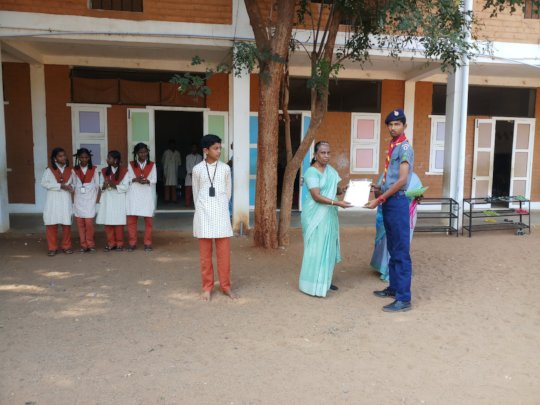 Links:
WARNING: Javascript is currently disabled or is not available in your browser. GlobalGiving makes extensive use of Javascript and will not function properly with Javascript disabled.
Please enable Javascript
and refresh this page.