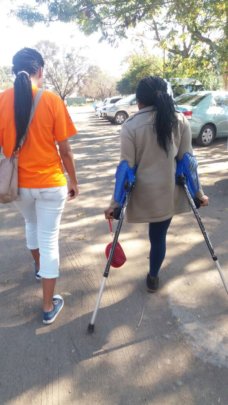 The economic challenges facing the country are affecting the health delivery system. The public health system is having challenges in coping with its priorities. However, cancer management is not one of the top priorities and childhood cancer is one of the least. Children with cancer have limited support in the fight. Kidzcan in many years has been battling to give assistance single handedly in the face of ever increasing demand.
The local sponsors have reduced as the country's economic status is getting skewed by the day. Kidzcan is delighted that our plea was heard from a distance and corporates from Bulawayo came to our rescue. Fashion Design Expo held two fundraising events which were preceded by a kind donation to 6 children with cancer as well as 120 other children at Mpilo Children hospital. Part of the donation was given to more than 40 children in Parirenyatwa Group of Hospital' Children Cancer Ward.
During the Fashion Design Expo fundraising Events, three girls from Girls College Zimbabwe (together with Michelle Mayiseni, a cancer conqueror), showed a lot of concern as they also walked door to door in the neighbouring suburbs asking for donations, selling T-shirts and Bandanas in a plight to raise money for children with cancer. There were various teams of tiny tots, toddlers and bigger children and even dads during the sport event competing with the knowledge that this was not just a game, but a lifesaving game for a child who does not have the opportunity to play and see the light of the day.
In a heartwarming gesture, another group of university students held a glow run which was attended by many students from various schools across the country. The Glow Run was an amazing even and the organisers (Roman Catholic Rhodevile Youth) worked tremendously to put the event together. This was a fundraising event for children with cancer in Zimbabwe. The attitude of young people is Zimbabwe is plausible and their concern towards children with cancer is amazing. They understand what childhood is and all the pain that comes along with not getting the childhood any child deserves because of confinement to hospital and the pain the children with cancer endure.
Many children with cancer deceased during this season and even those that seemed strong and doing better with medication. A gloomy play room in the hospital without Dr Rumbie. There is no explanation of what could have been done differently to save her life. Due to the complications of Acute Lymphoblastic Leukemia (ALL), she had a peaceful rest on the 20th of July. She and the other 2 girls deceased in an interval of a day apart. Watching them getting into the hospital never to come out, was traumatic especially with the bond that Kidzcan has with these young cancer fighters. The 3 girls were part of the 33 heroes and heroines that lost the fight since the beginning of the year. We believe there are many factors that contributed to this, some of which are, the quality of treatment children with cancer in Low Income Countries get, the lack of funding for research in order to understand our genetic, which seem quite different than what history says it is, human resources (there are no paediatric oncologists in the country) hence paediatricians that have some experience with oncology have been trying as much as they can, poverty and centralization of cancer services which are more than 400km for some comminutes, among others.
During this month of September Kidzcan will carry the Golden Light and shine it very high as we stand in solidarity with children fighting cancer. We invite all in sundries to stand with us too.
Kidzcan believes, Children have the right to good quality health care, to clean water, nutritious food, and a clean environment, so that they will stay healthy; and that Rich countries should help poorer countries achieve this.
Our Desire is to ensure access to affordable cancer management services for Children with cancer reflected in increased allocation of resources towards cancer services provision in the national budget.
To see Communities changing in their Knowledge, Attitudes, Practice and Behaviour (KAPB), and ultimately increased concern regarding cancer as well as cancer causing habits and agents.
To see Rich Countries and agencies of Rich Countries helping Zimbabwe as a Low Income Country, help children with cancer access treatment and care.