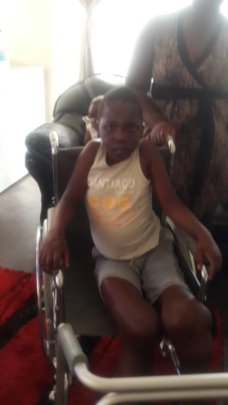 Story of Tanatswa
Kidzcan continues to strive in provision of chemotherapy drugs and psychosocial support with the aim of Reducing childhoodcancer morbidity and mortality through implementation of evidence based, cost-effective prevention and control interventions and providing palliative care to improve quality of life of children living with cancer and their families.
Born( 9) nine years ago in Harare Tanatswa which means" we have been blessed and life has been perfected in our lives by having a child and a boy child for that matter as per Shona culture the family name will go forward.
Tanatswa had a normal development in the first two years of growing up however he only walked at 2 years. Parents also noticed that his feet were not of the same size, when this was mentioned to the family elders mum was told that even Tanatswa' s father had the same problem as a child of one bigger foot than the other which he overcame as he grew up. This kind of message left the mother content and did not seek any medical interventions. Parents got used to buy two pairs of shoes of different sizes but was able to use one shoe from each pair. As he grew up Tanatswa's right leg and foot continued to grow longer than the other.
Tanatswa's maternal grandmother decided to help by taking Tanatswa into her care since mum had another young child sibling to Tanatswa. Grand mother lives in the same area and this did not strain the parents to visit their son. As he grew older the right leg continued to grow long. He is big for his age and was walking using a broken walking frame and sometimes they would use a wheelbarrow to get him to school when they do not have money to hire a car.
Early this year they took him to the Doctor for investigations because the femur bone of the right leg just went long. As a family they have managed to take him to the doctors and were told he has a problem of overgrowing bones but needed more tests to establish the problem. Tests were done a few months ago now awaiting results as these are done in South Africa.
A friend from Grandmother's church posted Tanatswa's plight on Face book and that's how Kidzcan came to know about his needs. Kidzcan visited Tanatswa's mum and grandmother at home who took us to the School and we met Tanatswa and his teacher. Tanatswa was given the wheelchair and walking frame and everyone present were so happy. Tanatswa actually said "Now I can go and buy airtime for Grandma" Grandmother was all tears and thanked Kidzcan saying "now I don't have to lift him up he can get himself to places". This is the work of Kidzcan alleviating pain and suffering for both child and caregivers in the community.
To alleviate such problems of late detections, Kidzcan is embarking on a Cancer awareness campaign in two cities, as a pilot. 310 from 50 clinics will be trained on early detection and symptoms. A cancer detection card will then be attached to the baby vaccination card that every mother has in Zimbabwe. Hence every mother will now be aware of childhood cancers and demand to be screened with any fear of cancer as a stigma. This will then reduce the number late presentations in years to come.
Please see the attached flyer on the campaign.
PLease continue to support Kidzcan to make a difference in the fight against childhood cancers in Zimbabwe,continue to GIVE through Global Giving and MOST of all THANK YOU
Links:
Attachments: