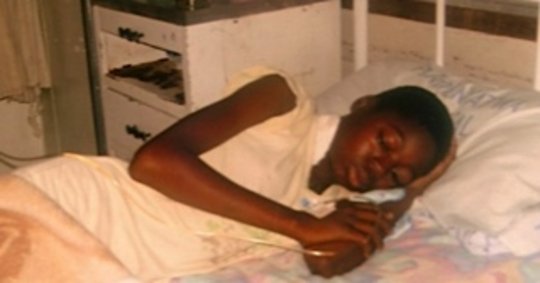 A Visit with Karen
"Love is what makes you smile when you're tired." I think of this quote from the mouth of a 4 year old, while I sit talking with Karen and her family. How tired they must have been over the past year, and yet, they are all smiling and enjoying time together.
Karen is 12 years old. She was diagnosed with Leukemia last year. Her mother remembers the day vividly. It was November 18, 2011. Karen had been unwell and had a lump on her neck. On the advice of her local doctor, Karen's mother, Maidei, took Karen to Parirenyatwa Hospital. They travelled from Norton, 45 kilometres outside of Harare. Karen was frail, so she was immediately admitted to the hospital. Both Karen and her mom stayed at the hospital for over a week, waiting for the results, knowing there was a chance that Karen had cancer.
Meanwhile, Maidei's sister, Daderai, was at home taking care of Karen's younger brother and the other household members. Daderai and Maidei, work together selling vegetables and fish in Norton. They travel to Mbare, Harare's largest market, to buy the vegetables and other items, and then to Darwindale, where they buy the fish. These sisters are very close, not only in business, but in their family lives. They were living together and raising their children together when Karen fell ill.
Daderai not only helped at home, but also spent many days visiting Karen in the hospital, where Karen has spent many months over the past year. When Karen came down with an infection in February, she was readmitted and remained there for almost 3 months. She then came back for another 6 weeks when her health failed again in July. Both times, the doctors stopped chemotherapy until she was stable. It was during these times that both Madei and her sister worried that Karen would not make it.
Karen's aunt tells me about these times and the point at which Karen said, "Help me God, I need a rest. I now surrender." Such poignant words from a young child. But Karen is a stoic pre-teen. Not many words from her, but what she does share is thoughtful.
Karen leaves the room and comes back with this photo - it's of her when she's at one of her lowest points. She wants me to share it so that others can see that you can go from this to feeling well and strong again.
Karen is a typical tween who wants a cell phone so that she can join Facebook and What's Up - to chat with her uncle in South Africa, she tells me.
Karen is back in school, and seems to have not missed a beat. After missing 3 terms, she has managed to catch up and reenter at her grade level. Her mother transferred Karen to a school that has smaller class sizes after learning of the importance of keeping Karen away from possible sources of infection - crowds tend to be a major culprit. Not only that, but they have moved out of the house they were sharing with Daderai and her family, to further reduce Karen's risk of infection. This must be a financial burden for Madei, but a sacrifice she is willing to make for her child.
Karen mentions her best friend, Panashe (who happens to be Daderai's grand-daughter). I ask her what they like to do, and she tells me, "play with dolls, do puzzles and play Uno." She tells me that she learned to play Uno at the hospital. "Sally, Christine and Vimbai taught me how to play." She says. "They used to play with me when I was stuck in hospital. And, I taught Panashe."
Sally, Vimbai and Christine are Kidzcan Ward Volunteers. They visit the children on the wards each week and play games, do arts and crafts, or simply read to the more frail children. Their gift of spending time with the children continues to give long after a child leaves the ward.
Karen seems strong and on the track to survival. She will continue chemotherapy for 2 more years, traveling back and forth from Norton for monthly treatments.
Madei hopes to afford a bone marrow transplant for Karen, however the nearest facility for this is in South Africa. Once she raises enough funds, they will go down there, stay with Madei's brother, find a donor match, and get Karen the bone marrow transplant. This is beyond the scope of services Kidzcan provides, but we continue to provide services here in ZImbabwe. We hope that Madei and Karen are successful in their efforts to secure funding for the transplant. When it happens, Kidzcan will be here waiting to help when they return to Zimbabwe for their follow up treatments.
Christmas Is Coming!
Kidzcan Volunteers have been busy making Christmas decorations with the children in the A4 Special Playroom. They set up the Christmas trees and decorated them with the children this week, and everyone is excited about the gift-giving on December 13th!
We will send you photos of this next week!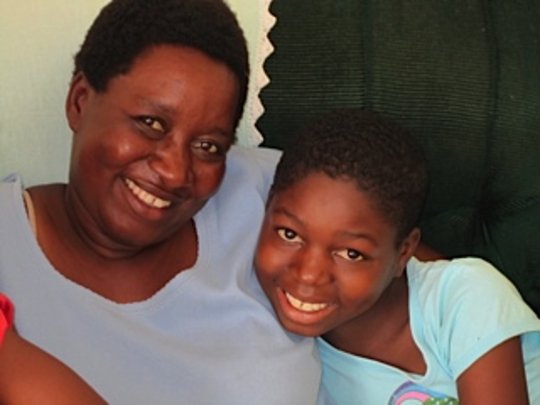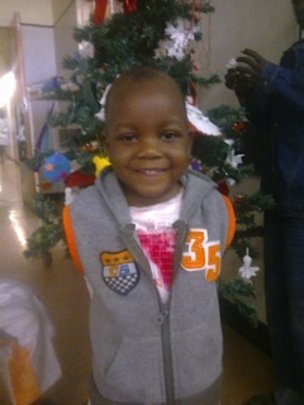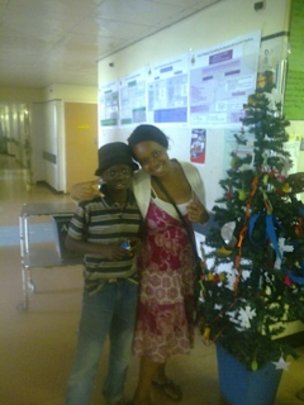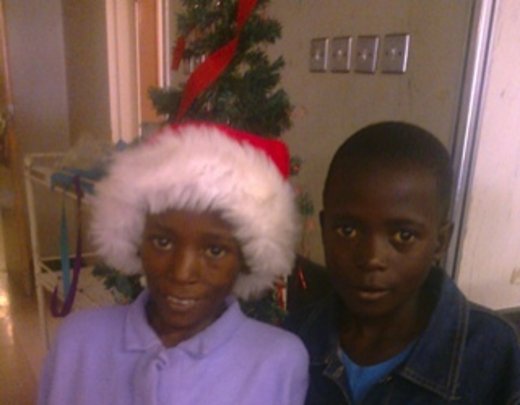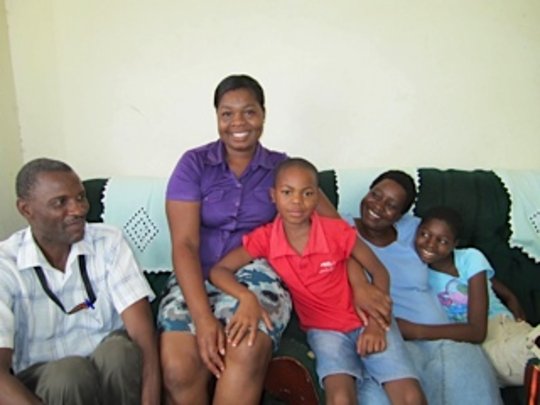 Links: