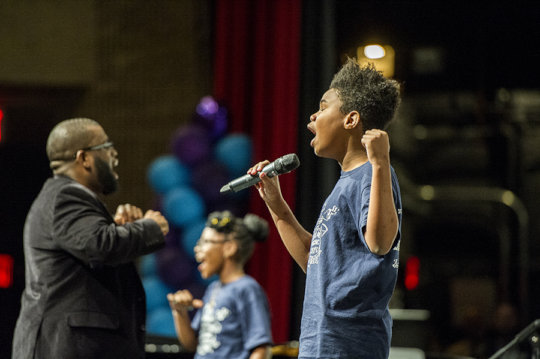 Summer vacation is almost upon us, and the students in ETM partner schools have come such a long way since the fall! Over the last three months, ETM partner school students have wowed audiences at spring concerts and the annual ETM Festival. This year, in addition to having a band day and an orchestra day, the festival also featured a day for choir. Over the course of the three days, 2000 students were able to showcase how far they've grown throughout the year. They were able to express themselves and be a part of a larger community with their peers from other schools.
One student in particular has come particularly far since the fall. Noah, a third grader at an ETM partner school in the Bronx, is a model student, but that wasn't always the case. Back in September, Noah was well-known at his school for being a trouble-maker. So much so, that his music teacher was warned of his disruptive behavior and lack of focus. However, she was certain that music class could be just what Noah needed, and it turns out that she was right! She instantly noticed Noah's aptitude for music. Noah constantly expressed his desire to learn new instruments, particularly the Djembe drum. His teacher told Noah that if he behaved himself during class, he could play the djembe at the end. Since starting music class, Noah gets to play the drum at the end of almost every class. He has shown a strong natural talent for drumming, and this gave him a major self-esteem boost. With his newfound confidence, he no longer acts out.
Noah's drumming excellence is just one part of his transformation. His music teacher noticed that his behavior has greatly improved, and he is less of a problem in his other classes because of his stellar motivation. Music has given Noah an opportunity to express himself that is appropriate, and has helped him become that model student who understands the importance of listening and focusing.
Noah's music teacher shared that when his class received recorders for the first time this year, he took initiative and reminded his peers how important it is to take care of the instrument, as it is just like using your voice. Music has helped Noah grow exponentially as a student and a person, and his teacher is confident that music will continue to be a part of his life.
By supporting ETM, you are helping students like Noah soar with confidence, leading to better motivation and focus. Thank you for supporting ETM and helping us serve the students that need it most. Show your support for ETM by sharing this report with a friend; let them know how great your impact is!