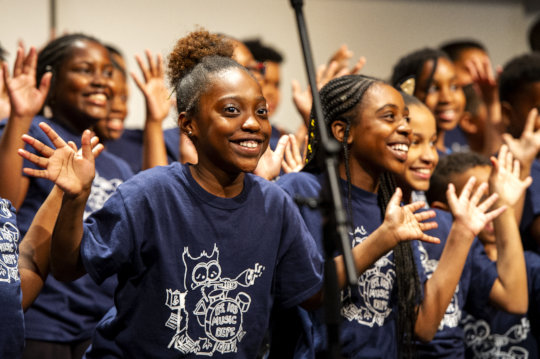 Happy summer from ETM! As our partner schools and their students are working hard to end the year on a great note, we are excited to share another report with you. This year, ETM's programs reached 34,000 students in 65 partner schools across New York City—schools that did not have the resources or capacity to provide comprehensive music education for all students before partnering with ETM. The impact that these programs have had on each partner school student over the course of the year will stay with them for years to come.
The impact of an ETM program is evident in the story of Cassie, an alumna of an ETM partner middle school in the Bronx who just completed her senior year of high school. In her own words, Cassie recently shared her ETM story:
"My journey with ETM began when I started 6th grade at Middle School 180 in the Bronx. The music program at my prior school wasn't ETM affiliated and was quite small and under-funded. It was always a dream of mine to play the violin, but my parents couldn't afford to pay for private lessons and the school did not have an orchestra, so that dream was put aside. Thanks to ETM, M.S. 180 was able to offer a wide variety of music programs in which I could participate, including orchestra. I signed up and the rest is history.
You might think that I would be the best violinist in the class because of how much I dreamt of playing, but unfortunately, that was not the case. In the beginning I enjoyed it, but soon I began to struggle. I stopped practicing altogether and gave up on myself. But my music teacher always encouraged me to keep practicing and to believe in myself. It took me a little while, but in my 8th grade year I finally let go of what was holding me back and began practicing every waking moment of the day. I was finally enjoying it and was passionate about continuing my music journey.
Music has been such a big part of my life that I can't imagine where I'd be today without it. In the fall, I will be attending the Crane School of Music at SUNY Potsdam as a music education major. I hope to one day be able to advocate for music programs to be placed within all schools, so that more students can have positive experiences like mine. Music has given me a voice and form of expression that is indescribable and I want to bring light to how beneficial it is to have comprehensive music programs like ETM within schools."
Your support helps bring music to students just like Cassie all across the city. Funding provides students with access to general music instruction, enrichment opportunities, and ensembles, as well as training and mentoring for music teachers and engagement of whole school communities. Collectively, these are the keys to quality, meaningful music programs that enrich students' lives. On behalf of Cassie and ETM students and alumni across the city, we thank you for your generosity. Don't forget to show your support for ETM by sharing this report with friends or family, and let them know how they too can make an impact!