For the past few months, ETM's partner school students were busy preparing and performing in holiday and winter concerts. The students worked extremely hard to learn their repertoire, and also had fun, as one 8th-grade student noted in his concert reflection: "One of the things I learned from this experience is that while working hard you can still have fun and enjoy yourself. I felt a sense of accomplishment and happiness because we were doing a great job, which was acknowledged and rewarded by the audience response; they gave loud applauses and cheers. Our conductor commended us for a job-well done."
Each January, ETM's first-year band and orchestra students also make their debut performances. These petit performances offer parents, local officials and school communities an opportunity to hear students perform, while learning about the ensemble programs over juice and bagels; the event is called "Breakfast with the Band" or "Breakfast with the Orchestra." This school year, ETM offers band at six partner schools and orchestra at six partner schools.
The Breakfast with the Orchestra at M.S. 529 in the Bronx was a celebratory event that drew many parents as well as a liaison from newly-elected Councilman Andy King's office. The orchestra played a series of short pieces, finishing with a selection that demonstrated their understanding of blues progression. Parents snapped photos and recorded videos throughout the show, clapping and cheering for their kids.
In addition to the choral and instrumental concerts held on school grounds, students from partner school MS 180's Special Education classes visited the Bartow Senior Center in the Bronx to share their holiday cheer. The students, who use xylophones and small percussion instruments in class as a learning technique, were eager to perform the songs and recite the poems they rehearsed with their music teacher, Leah Potteiger. According to MS 180 Principal Frank Uzzo "The students loved sharing their new found talent with the seniors. It made the holiday season special for them."
We are so proud of all our partner school students for immersing themselves in the learning process to prepare for their concerts; their hard work truly shined through in the performances!
Please consider sharing our program with a friend or colleague to ensure that NYC students can continue to have these rewarding experiences through music, which help to build self-confidence and creativity in students.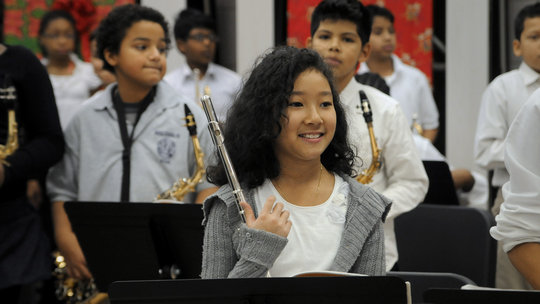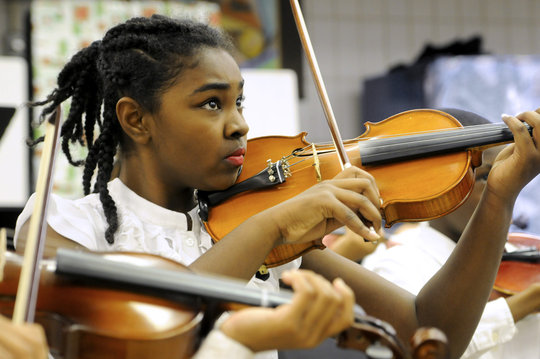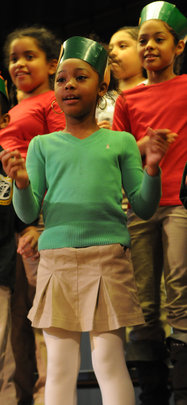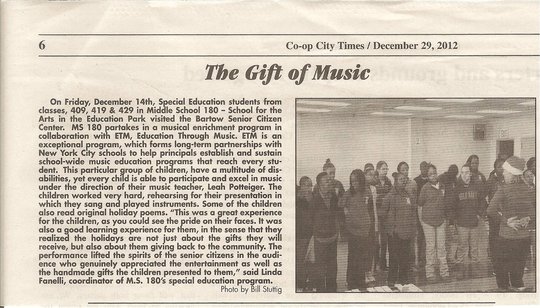 Links: