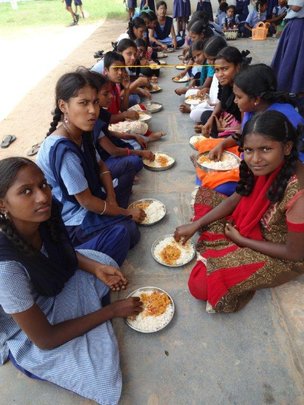 Thank you for your gift to feed hungry school children in India. Your gift is having a significant impact on a child living in poverty who wouldn't be able to afford a good meal or even go to school. Last quarter, 200 school children at three different schools in Andhra Pradesh received a healthy lunch every day.
According to UNICEF, one-third of the world's malnourished children lives in India. Having no food limits a child's development and capacity to learn.
Many children in the villages come from poor families, and their parents are unable to feed them or send them to school. Because of you, children are not only able to eat a healthy school meal but they also receive a valuable education. You are equipping children with one of the most powerful tools to overcome poverty!
Ramya and Ramana are two sisters who have benefited from your gift. They were left by their parents at a young age and had to live with their sick grandma. They couldn't go to school because they had to work so they could support their grandma and have something to eat. They went house-to-house looking for menial jobs, so they could earn enough money to buy food. They felt sad and jealous of the other kids their age who went to school.
When the girls learned they would receive a free lunch at school every day they were so happy. Instead of working for scraps of food, they could go to school, get an education, and enjoy a satisfying and nutritious meal. Going to school changed their lives forever. Ramya and Ramana are excited they get to study, learn, play and eat a good meal every day. Their dream is to finish their education and get a good job.
Thank you for your support. You are feeding children like Ramya and Ramana with nutritious meals and helping them get a good education.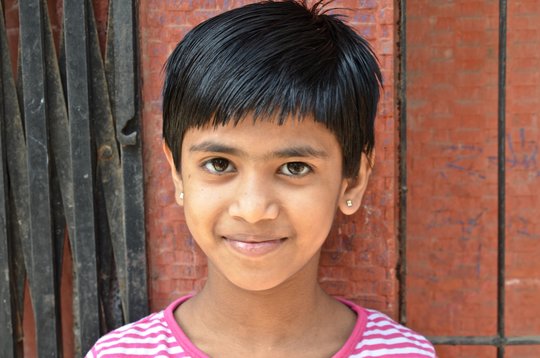 This past quarter, 68 trafficked women and 79 children residing in Mumbai's red light districts have been helped. Your gift is making a tremendous difference in the lives of women and children trapped in prostitution.
The women and children have benefited from counseling, pre-primary and remedial classes, medical interventions, feeding programs, fun clubs, and weekly gatherings.
Khushi is one of the girls who is so grateful for your gift. Khushi was constantly surrounded by violence and abuse in the red-light districts. Her mom is a sex worker and she realized Khushi needed a safer place to live.
Fortunately, Khushi is now safe and is living in a better place. Your gift is providing food, clothing, counseling, and an education. Khushi enjoys activities like arts and crafts, sports and particularly looks forward to singing and dancing!
Thank you again for your gift. Because of your support, Khushi and other children like her have a safe home where she can live, learn and grow.
To help more children and women in Mumbai's red light districts, you can give another gift today! You will be changing their lives forever by providing them with a safe place to live.
Because of your help, 48 women received sewing training at tailoring schools in India. Many of these women come from very poor families and don't have jobs. But you have given them valuable skills and so much hope. The women recently graduated from the tailoring schools and receieved their very own sewing machine.
Women like Sundara are grateful for your support. Sundara had a very limited education and didn't have a job. She has two children, and after her husband left them it became difficult to support her family.
Fortunately, Sundara got accepted into the tailoring school, and she worked very hard and learned how to sew. Sundara is very happy because after she graduated, she got her very own sewing machine and was able to start her own tailoring business. She now earns enough money to send her two children to school and provide a daily income for her family.
Thank you for your compassion and generosity! If you would like to help other mothers like Sundara, please give another gift today.
WARNING: Javascript is currently disabled or is not available in your browser. GlobalGiving makes extensive use of Javascript and will not function properly with Javascript disabled.
Please enable Javascript
and refresh this page.